I receive compensation for content and many links on this blog. You don't have to use these links, but I am grateful to you if you do. American Express, Citibank, Chase, Capital One and other banks are advertising partners of this site. Any opinions expressed in this post are my own, and have not been reviewed, approved, or endorsed by my advertising partners. I do not write about all credit cards that are available -- instead focusing on miles, points, and cash back (and currencies that can be converted into the same).
---
The brand new American Express Blue Business Cash card is the only no annual fee ever small business 2% cash back card (See Rates & Fees). Small businesses charges $50,000 or less per year on a card, who prefer cash over points, will benefit from this product.
American Express Blue Business Cash is the cash back version of the Blue Business® Plus Credit Card from American Express which earns 2 Membership Rewards points on the first $50,000 spent each year (1 point thereafter).
Now American Express has a points and cash back small business pair like Capital One® Spark® Miles for Business and Capital One® Spark® Cash for Business. Neither Capital One card caps 2x earning, but both have $0 annual fees the first year then $95.
These 2 American Express no annual fee cards are the Amex entry level business offerings. There's also the more premium:
The retooled American Express® Business Gold Card which earns 4x points on the two categories you spend the most in each month out of: airfare purchased directly from airlines; U.S. purchases for advertising in select media; U.S. purchases at gas stations; U.S. purchases for shipping; U.S. computer hardware, software, and cloud computing purchases made directly from select providers. (This is available for the first $150,000 in combined purchases from these 2 categories each calendar year.)
The Business Platinum® Card from American Express which is benefits-heavy, giving you access to American Express Centurion lounges, Delta lounges when flying Delta same day, and a Priority Pass Select card for lounge access as well along with Hilton and Marriott status. You can enroll to get up to $200 in statement credits annually ($100 semi-annually) for U.S. purchases with Dell as well as one year of Platinum Global Access from WeWork (enroll between 2/15/2019 and 12/31/2019).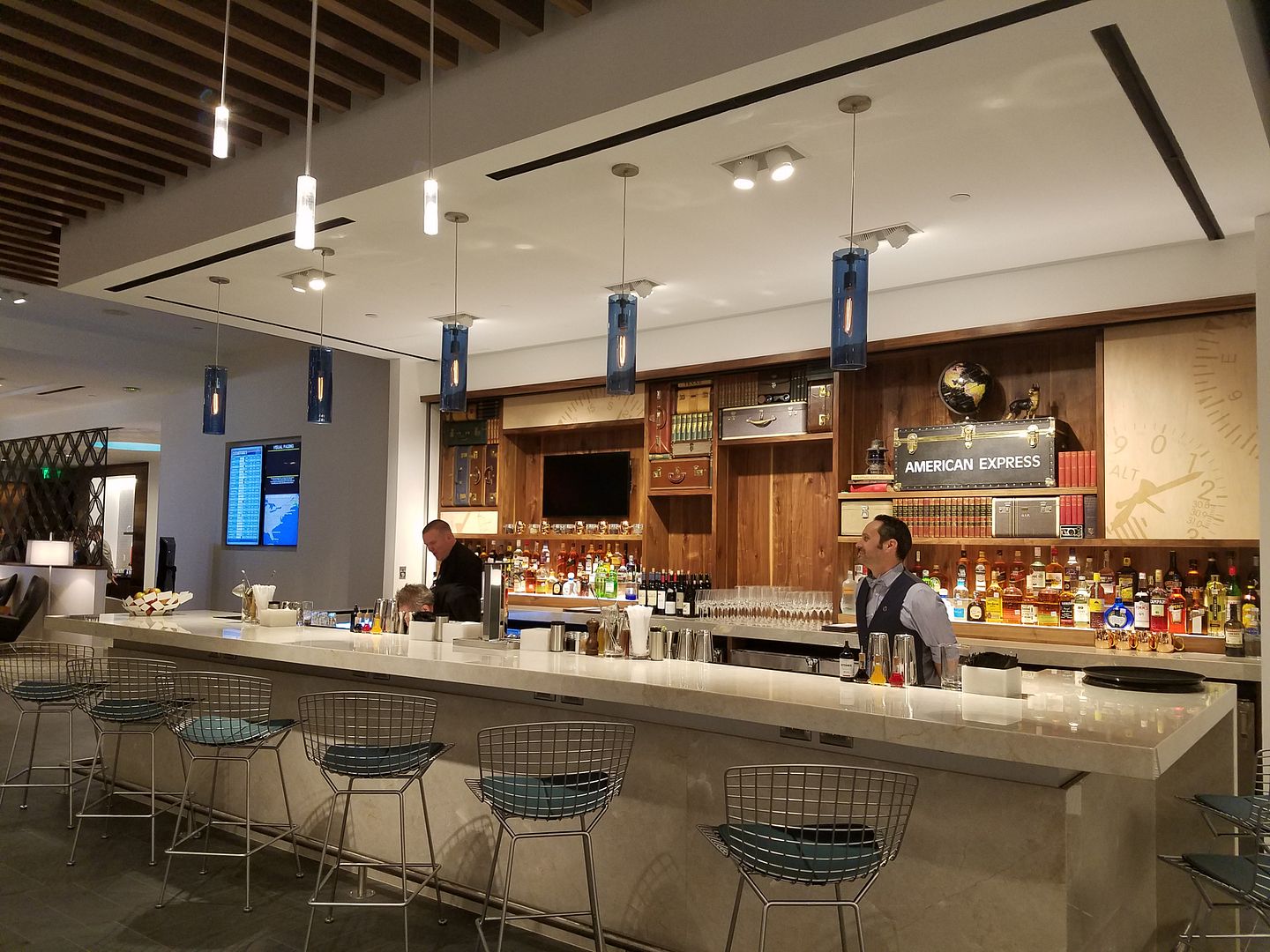 American Express Centurion Lounge Houston
There are two things I'd like to see differently about the new American Express® Blue Business Cash Card.
No cap on earning 2% back. When you grow to reach $50,000 in charges you may get more as a Business Gold customer but why make customers reach a decision point to keep earning rich rewards? That customer might choose a different card issuer! This no annual fee American Express® Blue Business Cash Card seems designed for smaller businesses who aren't spending much more than $50,000 on a card, rather than assuming Amex really lowers its per-cardmember rewards expense. So why not keep customers as they grow?
Don't even offer this as a separate card. Currently Blue Business Plus lets you earn 2x Membership Rewards and this new card lets you earn 2% cash, why not offer a single card that lets you choose instead of having to make the choice of which card to apply for up front? American Express revamped Business Gold Rewards so that customers automatically earn 4x in the categories they spend the most, instead of having to choose rewards categories up front, that same learning ought to apply to the entry-level products.
All that said I think two things are correct: American Express® Blue Business Cash Card is a nice niche addition as the only small business card with no annual fee and 2% cash earning, great for those spending under $50,000 a year on the card, and also that the existing Blue Business® Plus Credit Card from American Express is a more valuable product because it earns 2 Membership Rewards points per dollar and I believe each Membership Rewards point is worth meaningfully more than a penny.
Indeed, Blue Business℠ Plus is the most rewarding card for the first $50,000 spent that wouldn't earn an initial or category bonus with another card product.
For rates and fees of the American Express® Blue Business Cash Card please click here
For rates and fees of the Blue Business® Plus Credit Card from American Express please click here