One of my most frequent and best uses of American AAdvantage miles over the past 7 years has been booking first class awards on Etihad. I've used them to fly to the Maldives four times, to India, to the Gulf region and from the Mideast to Australia to name just a few.
While they've eliminated some US flying, cutting back in New York and Los Angeles and eliminating Dallas and San Francisco flights, they still offer service from New York JFK, Washington Dulles, and Chicago (without a first class cabin).
And they offer an excellent hard product in first class — suites with doors, and on their Airbus A380 the 'First Apartment' with an on board shower. I find their meal service to be excellent as well. Business class is a reasonable hard product, and very good on their Boeing 787s and Airbus A380s.
Spencer of Straight to the Points writes at the God Save the Points blog that there's fantastic award availability on Etihad's New York JFK flight in both first class (First Apartment) and business class between January and June.
Key things to know:

Often Etihad has offered award space from Abu Dhabi to New York but not from New York to Abu Dhabi. That's not the case this time.
Recently they hadn't offered much award space on this flight at all, so it's great to see availability back.
Using American miles you can connect onward to India, the Maldives, or elsewhere in the "Middle East and Indian Subcontinent" for no additional points.
Brand new you can now use Etihad to connect between North America and Africa on a single award as well as between Europe and Asia, Australia, and Africa and between Africa and both Asia and Australia.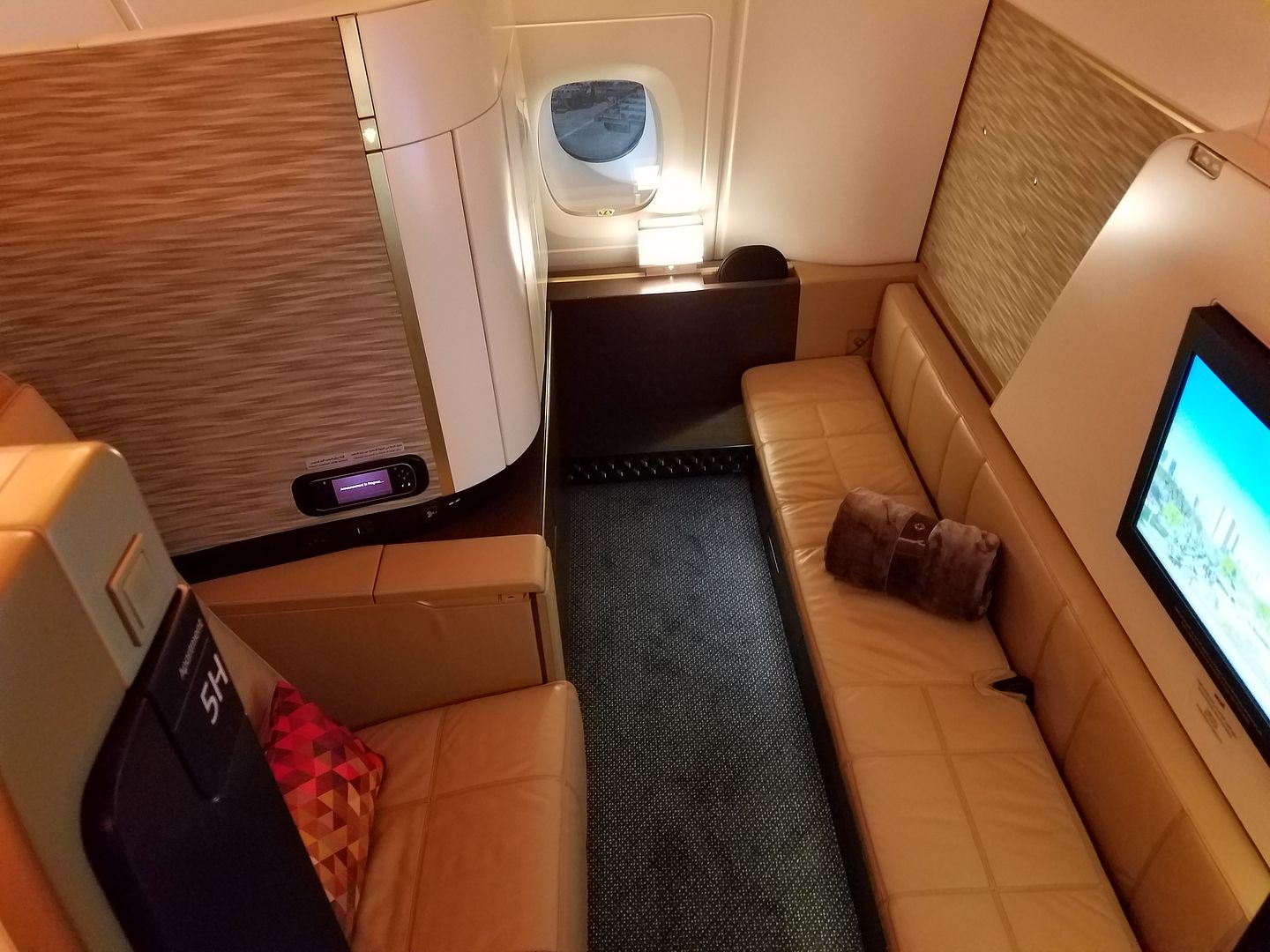 Etihad First Apartment

Etihad First Apartment
It's important to note that much of the space that Spencer found is not bookable at AA.com (especially from the US to Abu Dhabi in First), though American now allows online redemption of Etihad space, but if the seats you want don't show up on the American website you can always call. American charges 115,000 miles for first class each way or 75,000 miles for business when traveling between North America and the Mideast/Indian Subcontinent.
If you don't have American AAdvantage miles, Etihad itself partners with all the transferable bank currencies except Chase Ultimate Rewards. So you can use Citi, Amex, or Capital One points to book these awards by first transferring to Etihad Guest. (Award prices vary by destination.)

Etihad First Apartment

Etihad A380 First Cabin
If first class is too many miles, or you have a lot of people in your party, there are apparently even dates in April and May where 9 or more business class seats have opened up.