Here's a story from my Facebook feed this morning. It comes from a woman who flies American Airlines regularly (she's a top tier Executive Platinum member). And she's the kind of customer American likes.
She regularly buys first class tickets.
If she buys an economy ticket, and it looks like her upgrade won't clear, she buys up to first.
I think it's fair to say she's allergic to coach. In fact she may even qualify for an accommodation under the Air Carrier Access Act: she needs an emotional support seat up front!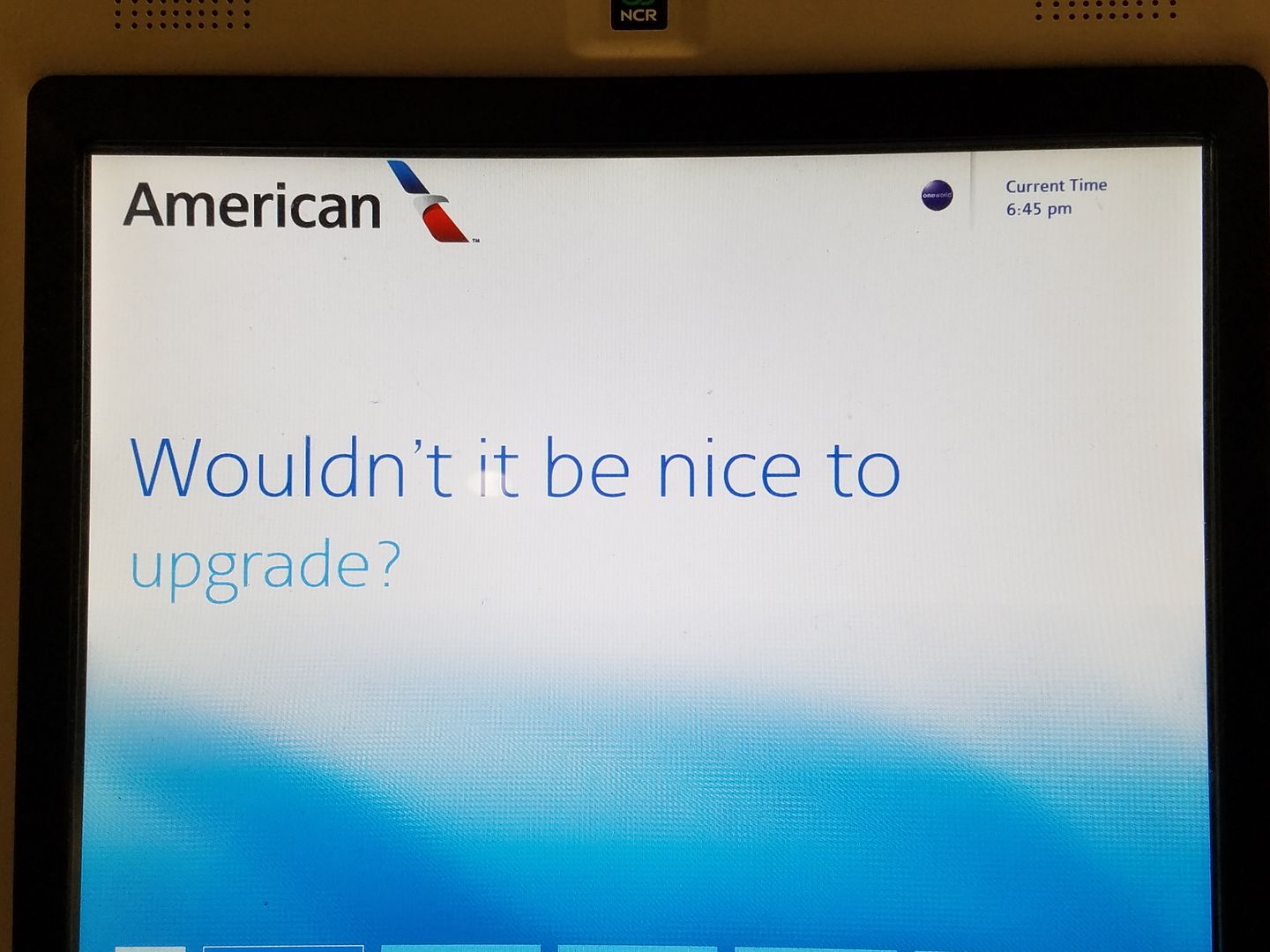 However she experienced a situation that highlights one of the perverse things wrong with air travel today, and with American Airlines customer service.
She purchased a business class ticket Miami – Los Angeles on their Boeing 777-300ER with international lie flat direct aisle access seats. It's a five and a half hour evening flight, and she wanted to ensure she flew up front.
Upon boarding, a passenger seated in the row behind her got on "with a rather large dog" who she says "tried to jump on" her.

American Boeing 777-300ER Business Class
She says she's "allergic to animals" and asked a flight attendant for help getting re-seated. They offered her another seat in the back of the cabin, but there was a dog in the seat next to that one too so she declined.
That's when she had an unexpected problem.
I said to a[.. flight attendant] that I hope we don't need to make an unplanned stop to which she replied "we don't want that to happen" I replied that I didn't want that to happen either.

I returned to my seat and did my best to shield myself from the dog.

A few minutes later the [gate agent] came up to me and said that I had to get off the flight. I thought he was joking but when I realized that he wasn't, I complied as I know the FAA rules concerning crew member compliance.

As I disembarked, a few of the [flight attendants] were applauding and cheering because I was being removed.
Although there were still two more Miami – Los Angeles flights last night, she didn't get to her destination. Instead she was on a flight this morning on a narrowbody, not the lie flat seat she purchased.
There's not a lot you can do if you have an allergy and you're seated near an animal onboard. I offer 9 tips for planning to deal with pet allergies onboard.
It seems to me though the the crew should have handled this differently from the get go.
If a dog isn't being well-controlled in the cabin, the owner shouldn't be allowed to fly until they demonstrate that it can be properly managed. I'm somewhat sympathetic to disability claims here, I also think that if someone is going to fly then they ought to bring an emotional support animal that fits under the seat and doesn't try to jump on other passengers. At the same time, someone concerned about animals may misinterpret such an action.
The crew should have done more to try to reseat the passenger. I think it's fair to announce, "a passenger in business class has an allergy to dogs, is there anyone willing to trade seats with her?" Maybe there isn't, but American could have made that effort.
I'm ultimately fine with animals on board, provided they are well-controlled and behaved and airlines need to be better at accommodating passengers with allergies too once there's a conflict.
At the point that the crew wasn't going to handle the situation, once the passenger mentioned the potential to divert I can understand concern. It shouldn't have gotten there but an airline reasonably doesn't want to risk flying with a passenger that's contemplating needing the aircraft to stop mid-flight.
I wasn't there and we have only the passenger's version of the story. However applause from crew over this passenger's removal is mortifying. It's clear that she is sincere in her telling, she believes this is exactly what happened. Yet American advised her that she is "due no compensation" but that they "hope to see [her] on another AA flight."
She's clearly a good, valuable, frequent customer. She's not a novice traveler who doesn't understand the rules (I can separately attest to this). She let American know that she was mortified and embarrassed by a situation on their flight, not just inconvenienced. American should be bending over backwards to make this right to her because she's made it clear that this incident is highly significant to her, an inflection point for her as a customer of the airline. Their response to her was tone deaf and has her questioning her loyalty to American.
I think there are lessons here beyond the treatment of one customer as well.
We're seeing increasing conflict onboard between passengers over emotional support animals. Whether airlines like it or not they need to become better at resolving these conflicts.
There are many great crew out there, but largely they're great by virtue of their own commitment and personality. Handing out big raises won't in itself change the culture, and for the most part US airlines have allowed themselves to forget that they're a service business.
Airlines have been too generous with compensation at times in the past. That was a matter of explicit policy, like United (prior to being taken over by Continental) deciding it was better to pay out vouchers to complaining customers than maintain the interiors of their aircraft. However customers who represent significant income streams need to feel like their voice is being heard, and it's in the airline's financial interest to make sure that happens.
US carriers — and not just American — would be wise to listen to this woman's story not because it's beyond reproach (it was probably unwise to mention a potential diversion!) but because she's a profitable customer speaking clearly about what's important to her. And businesses ultimately make money by providing their best customers who are willing to pay the prices asked with what they actually want.