I receive compensation for content and many links on this blog. Citibank is an advertising partner of this site, as is American Express, Chase, Barclays and Capital One. Any opinions expressed in this post are my own, and have not been reviewed, approved, or endorsed by my advertising partners. I do not write about all credit cards that are available -- instead focusing on miles, points, and cash back (and currencies that can be converted into the same). Terms apply to the offers and benefits listed on this page.
---
This year has been has been a wild ride of new card launches, many of them are compelling and some are disappointing. And several cards have re-launched or revamped their benefits.
It's an incredibly competitive market for rewards credit cards. It used to be that most of the money went to the banks, travel partners are getting more but now consumers are too. An arms race for premium rewards cards to capture the attention of consumers started last year, but has only accelerated — products that have been a year in the making have finally launched.
So it's an embarrassment of riches. Cards that used to be appealing and strong aren't anymore — even though they've remained the same — because even better products have come along. With so many new options it can be tough to sort through what's the 'new' best.
Chase Has Launched New Hotel Cards
Hyatt
The new card this year I'm most excited about is The World Of Hyatt Credit Card. I'm already using it.
Hyatt has been my top hotel chain for several years. I didn't love how they made elite status harder to earn, though I did qualify for top tier status again last year. This card makes getting status much easier. And they're awarding more points, and more free nights, along the way.
The initial offer is to earn up to 60,000 Bonus Points – 40,000 Bonus Points after you spend $3,000 on purchases in the first 3 months from account opening. Plus an additional 20,000 Bonus Points after you spend a total of $6,000 on purchases within the first 6 months of account opening. [Offer expired]
You'll receive 1 free night every year after your cardmember anniversary at any Category 1-4 Hyatt hotel or resort and earn an extra free night at any Category 1-4 Hyatt hotel or resort if you spend $15,000 during your cardmember anniversary year.
The card lets you get automatic World of Hyatt Discoverist status for as long as your account is open and 5 qualifying night credits toward your next tier status every year and also earn 2 qualifying night credits towards your next tier status every time you spend $5,000 on your card.
$15,000 spend on the card gets you two free nights each year plus 11 elite night credits. When you hit 30 nights with Hyatt you get another category 1-4 free night. When you hit 60 nights you get a category 1-7 free night. And each 10 elite nights beyond 60 earns a choice of 10,000 bonus points or a confirmed suite upgrade.
Marriott
With Marriott's new program there Chase gets exclusivity over the primary personal co-brand card. The Marriott Rewards® Premier Plus Credit Card has an initial bonus to earn 2 Free Night Awards (each valued up to 35,000 points) after you spend $3,000 on purchases in the first 3 months from account opening. In addition cardmembers receive 1 Free Night Award (valued up to 35,000 points) every year after account anniversary..

Starwood's Al Maha Desert Resort – Base Room is a Standalone Villa With Private Pool
IHG Rewards Club
Chase revamped their entire hotel portfolio this year and the IHG® Rewards Club Premier Credit Card is super attractive. It has an initial bonus offer of 80,000 bonus points after spending $2,000 on purchases within the first three months of account opening. (Offer expired)
The card comes with Platinum status, a free night after each account anniversary year, and a free reward night on points stays of 4 or more nights. (That's better than the '5th night free' from Starwood and from Hilton, and amounts to a 25% discount on four night award stays.)

Intercontinental Singapore
American Express Offers New Hilton Cards, Too
American Express bested Citi for the whole Hilton portfolio. There's now only one issuer of Hilton Honors cards. And they've really invested in the products, improving points earn and free night earning and going farther to provide status benefits as well.
300,000 Avios on Offer Thanks to Two New Cards
The British Airways Visa Signature® Card was the very first card to have a 100,000 point signup bonus nearly a decade ago. They're back with the top line number, though too many people probably signed up and dumped the card rather than adopting it for spending so now there's a higher spending requirement to earn all those points. (Offer expired)
Earn 50,000 bonus Avios after you spend $3,000 on purchases within the first 3 months from account opening. Earn an additional 25,000 bonus Avios after you spend $10,000 total on purchases within your first year of account opening for a total of 75,000 bonus Avios. Earn a further 25,000 bonus Avios after you spend $20,000 total on purchases within your first year from account opening for a total of 100,000 bonus Avios.
And what's new this year is that there are now similar offers for the Aer Lingus and Iberia versions of this card. That's a total of 300,000 Avios on offer from 3 cards.
American Express: A New Best Card for Spending?
American Express® Gold Card is the new 'it' card. You're going to want it because it earns 4 Membership Rewards points per dollar at US restaurants and on up to $25,000 per year at US supermarkets as well (then 1 point per dollar spent) as 3 points per dollar on flights booked directly with airlines or on amextravel.com.
It has a $100 airline fee credit and a $120 annual dining credit which gives enrolled cardmembers up to $10 per month in statement credits for using the card at:Shake Shack, The Cheesecake Factory, Ruth's Chris Steak House and Grubhub/Seamless.
Get the card right away and there is still time to use the airline travel credit before the end of 2018 – and again in 2019 all in your first cardmember year.
With American, Delta, and Southwest you can likely use the credit for gift cards and then buy airfare something I and other readers have had success with even though it's not how things are supposed to work.
A Credit Union Travel Card That Pays You
It's not just the big banks that are richly rewarding customers. PenFed came out with a no annual fee winner in the PenFed Pathfinder Rewards American Express® Card.
Despite no annual fee there's a $100 a year travel credit and Global Entry or TSA PreCheck reimbursement (albeit every 5 years rather than 4).
A Card Where Spending Earns Elite Qualifying Miles One-to-One
I'm not ever going to be a Frontier Airlines customer, at least until they add internet to their planes. But they really went outside the box developing new elite levels and offer elite qualifying miles one-to-one for spending.
Their 100,000 mile tier makes all ticket purchases refundable, in addition to waiving a bunch of fees and bundling things like premium seats.

Copyright: zhukovsky / 123RF Stock Photo
A New Premium Southwest Card
Chase's new Southwest Rapid Rewards® Priority Credit Card has increased its initial bonus offer to let you earn 60,000 Rapid Rewards points: 40,000 points after spending $1,000 in the first 3 months — and an additional 20,000 points after spending a total of $12,000 in the first 12 months. (Offer expired)
That's a great deal, and it's more than halfway towards a Southwest Airlines companion pass. But they've created real value for customers who fly Southwest. I like the line from Southwest's chief marketing officer about the Southwest Rapid Rewards® Priority Credit Card, it has the 3 Ps… "more perks, more points, and more priority."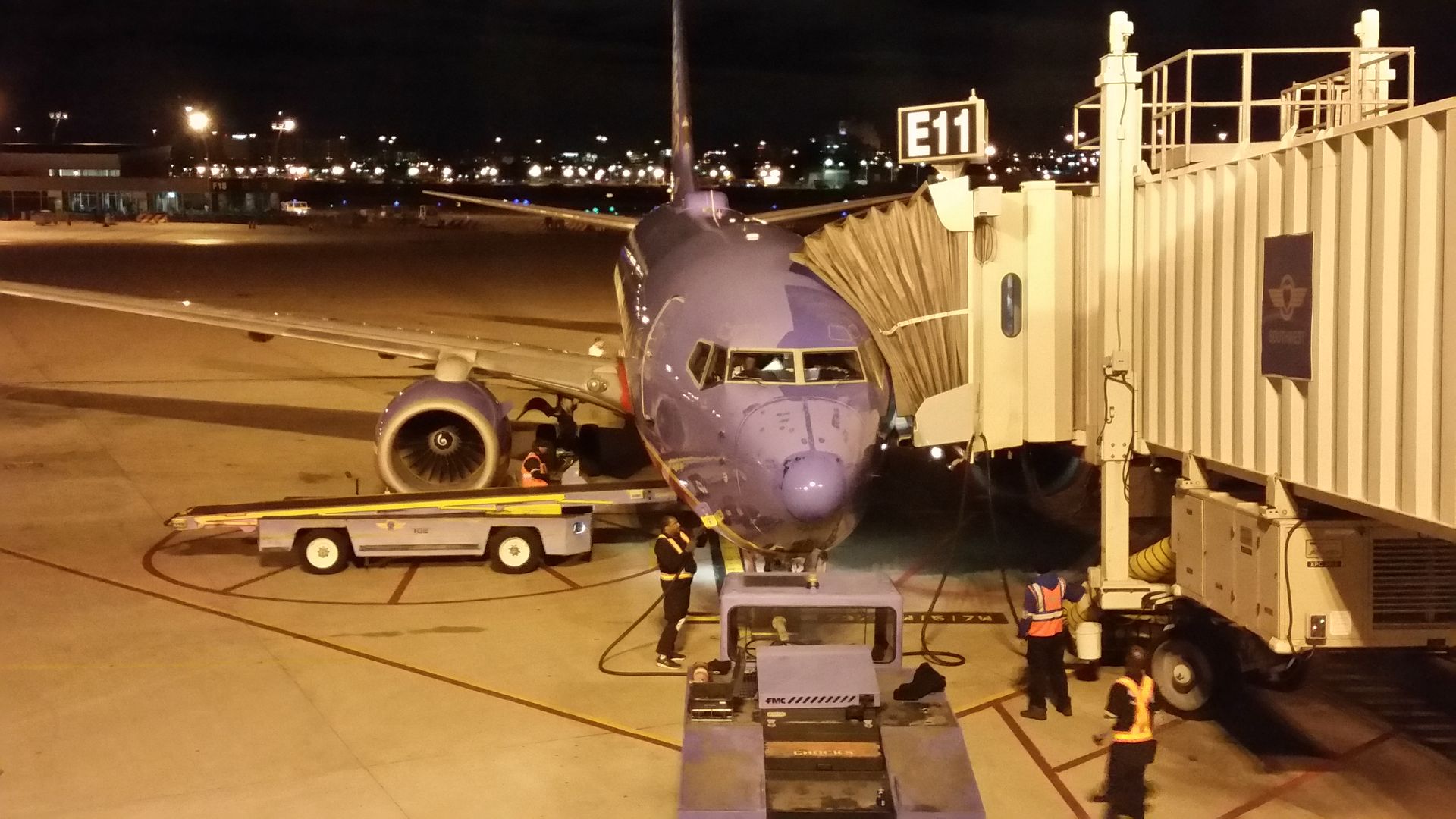 It's a $149 annual fee card that gives you a $75 Southwest travel credit and 7500 additional points at cardmember anniversary — each of which give you value worth at least half the fee.
Then you get 4 upgraded boardings per year – A1-15 boarding, which you purchase at the gate and get statement credit back for and 20% back on Southwest inflight purchases like inflight cocktails and internet.
And spending contributes towards elite status: 1500 tier qualifying points for each $10,000 in purchases (up to $100,000 in purchases annually or 15,000 tier qualifying points).
Updates to the American and United Co-Brands
Airline cards used to rule the roost. But with so much new competition they have to aggressively improve in order to remain under consideration. The Citi® / AAdvantage® Platinum Select® World Elite™ Mastercard® added 2 points per dollar at restaurants and gas stations and an annual $100 American Airlines flight discount after $20,000 spend within a year provided after card renewal (Update April 2019: this has since been increased to $125).
I don't think that fundamentally changes the value proposition of the card — which is that it has a fantastic initial bonus offer, and that it's a good card to have and keep for travel benefits on American Airlines if you're not an elite member of AAdvantage. But spending on the card, unless you specifically want AAdvantage miles, isn't as rewarding as many competitors.
Meanwhile the United co-brand just added a $100 Global Entry or TSA PreCheck fee credit and 25% back on United inflight purchases.
Chase is offering 40,000 bonus miles after you spend $2,000 on purchases in the first 3 months your account is open. Plus earn an additional 25,000 bonus miles after you spend $10,000 total on purchases in the first 6 months your account is open. That's the biggest public offer I've ever seen for the card. Your spending will earn 2 miles per $1 spent at restaurants, on hotel stays and on purchases from United. 1 mile per $1 spent on all other purchases.
What's great about this $0 the first year then $95 annual fee card is the travel benefits when flying United. You get first bag for free (a savings of up to $100 per roundtrip) when you use your card to purchase your ticket. You get priority boarding (avoid having to gate check your carry on, and indeed on a Basic Economy fare you can still bring on a full-sized carry on bag).
You'll get 2 one-time United Club passes each year for your account anniversary as well.
Cardmembers get access to last seat availability on extra miles awards as well as extra saver award availability that general members don't have. Elites with the card can receive complimentary domestic upgrades on award tickets.
Still, another good card to get and keep for the benefits but not one worth using for ongoing spend.
So Which is Best?
Of all the new cards I like The World Of Hyatt Credit Card best, at least it's the one that I'm spending the most on, because I enjoy Hyatts and they've made it possible to status earn easily — while making the spend towards that status much more rewarding.
Regardless of which hotel chain you favor you have new options this year worth considering.
I think the most creative card is the Frontier product, though I won't get the card since I'm not going to fly the card. If I lived in Denver or Orlando I might think differently.
And in the no annual fee space — which really requires creativity in order to offer a rewarding product — the new PenFed card is surprisingly good and on the business side the nod has to go to the Chase Ink Business Unlimited(SM) Credit Card.