American is sending out emails offering $50 off new club memberships.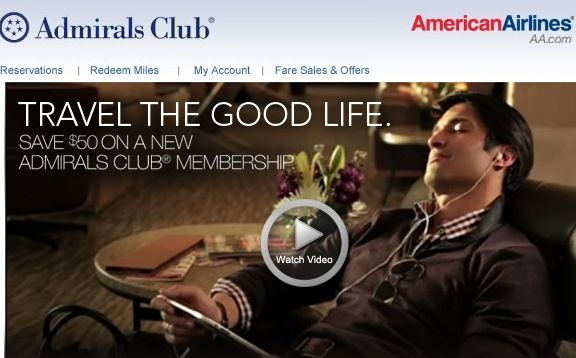 Now In most of the world, elite members of airline frequent flyer programs get access to their airline's airport lounges for free. In the U.S. the norm is to charge for access.
I do think that someone flying in excess of 100,000 miles per year will get good value out of a paid lounge membership. Airline clubs are something that I use, but I don't buy any memberships directly, there are usually better ways to get access.
The primary benefits of lounge access are:
Help during irregular operations. Shorter lines and more helpful agents, if a flight cancels head straight to the club. The environment is more peaceful and you aren't just one in a long line of people who are all unhappy. Of course I often am on the phone with the airline while I'm headed over to the club. As long as it's not Alaska Airlines where the lounge agents cannot work on ticketing due to the contract the airline has with its union reservationists.

A quiet place to sit, work, recharge electronics. Generally nicer and more comfortable seating, more space, electric outlets. Not every lounge of course, fortunately US Airways club at La Guardia doesn't exist anymore.

Snacks and drinks. Offerings vary, and it used to be you had to pay for cocktails in the U.S. with most lounges but that's changed, at least house wine and beer tends to be free with better stuff coming at a premium. United clubs have more substantive free food than American ones (where you'll most often just find an apple). Some lounges have food for purchase, I actually like the offerings at American's Miami D30 club, at D15 I'll just order a package of sushi rolls.
For me, the seating and clean bathrooms justify ensuring I have access. Better productivity and better hygiene. And if you get above-and-beyond extra help during irregular operations once a year the club can pay for itself.
But I do not have any airline club 'memberships'. Instead, looking at how I can currently access the American Airlines clubs, I count:
American Express Platinum card. This gets me:


American lounge access when flying American (ends March 2013)

Delta lounge access when flying Delta

US Airways lounge access regardless of airline I'm flying (ends March 2013)

Priority Pass Select, which provides great access to a variety of lounges internationally (such as the Gol Smiles domestic lounge in Sao Paolo) and also to Alaska Airlines lounges in the U.S. (such as this one in Portland)

British Airways Gold status. I was a british midland Gold member, British Airways acquired bmi. Bmi used to get me access to United lounges, but now my BA status gets me access not just to American's Admirals Clubs but also to their Flagship lounges (first class lounges).
Skyguide Executive Privilege Club. This program, which I paid $20 for 12 months of members, will reimburse paid lounge access 12 times per calendar year (for the cost of certified mail postage for each reimbursement).
Traveling Internationally. Lounge access in US programs generally comes along with mid-tier status when flying internationally, both on the airline whose status you have and on the airline's alliance partners. American's Executive Platinum status allows first class (Flagship) lounge access when on an international itinerary.
If I didn't have access through the above methods, I still wouldn't buy the membership. Instead, I would:
Redeem Business ExtrAA points. As I discussed last week, I double dip earning miles for my flights in my frequent flyer account and points in a company small business account. American offers lounge membership for about half the points earned within a year in that business account from my personal travels.
Consider Getting the Citi Executive Mastercard. 25,000 miles after $1000 spend within 4 months basically covers the $450 annual fee, which gets you Admirals Club access, first checked bag free, no foreign currency conversion cost, priority boarding, and 10,000 elite qualifying miles after $40,000 spend in a year. The card is a better deal – at least in the first year – than buying a lounge membership.
Lounge access has real value for a frequent traveler, unlike most international airlines the US carriers charge for it, but there are almost always better way to get it than purchasing an annual membership directly.
(The link to the American Express Platinum card does offer me a referral credit.)