I woke up to an email this morning from United offering 600 miles for joining 'Opinion Miles Club' and completing one survey.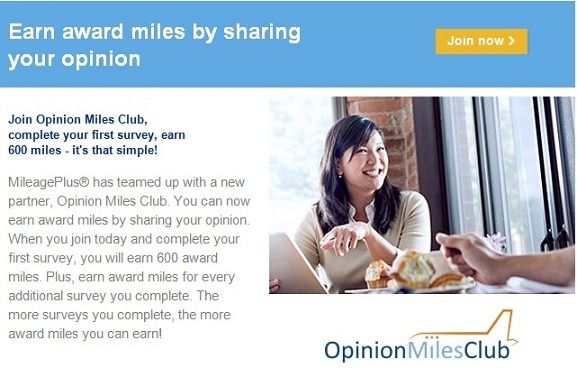 You give your name, email address, mileage number and gender. Then you go to your email to confirm.
Then they want your date of birth, home address, whether you rent or own your home, your occupation, your education level, income, and race. They also want to know who you're employed by and how much you make.
After completing registration they had another screening survey for me to take before they'd let me take a survey for miles. They wanted to know if I'm gay or wear glasses, and what purchasing decisions I make at work.
You'll need to decide if that's too much information, too invasive, and for that matter how honest you want to be if you decide to complete the quick questions required to join.
Then I was allowed to take a survey. I was told it would take 12 minutes. The first several questions were repeats of the screeners. Then they wanted to know about my last mattress purchase. For kicks I decided to say I didn't know the brand of bed I bought, and I got kicked out of the survey without miles.
This new site will be useful to some, but they really do make you work for those miles.
---
You can join the 30,000+ people who see these deals and analysis every day — sign up to receive posts by email (just one e-mail per day) or subscribe to the RSS feed. It's free. Don't miss out!