Last summer I attended 'All Access Day' at Gogo, the inflight internet provider, and shared a behind-the-scenes tour of how internet gets beamed into space so that an aircraft traveling at over 500 miles per hour can access the rest of the world (very slowly).
This past week I was invited back to sample their fastest internet, and see their latest technology which had only just been announced when I visited last summer. They promised a test flight onboard the Gogo Boeing 737 equipped with '2Ku'. For avoidance of doubt, I paid my own way to the media event and covered my own hotel.
Gogo's service to date has been from ground-based towers, which use a fairly limited spectrum. The bandwidth across their network and for each plane is limited. Satellite internet gives them both faster speeds and greater worldwide coverage.
The day began with a talk by Gogo's CEO who explained Gogo's use of space on about 180 Ku-band satellites. ViaSat currently offers satellite Ka-band coverage on their own satellites to some of United's fleet and to JetBlue. While Gogo calls their service 'fastest inflight' it's not clear that it's meaningfully faster than ViaSat's service.
Gogo's service, using a portion of orders of magnitude more satellites, has broader coverage. They claim 98% of the world's flying is covered, although coverage disappears over the Poles (so flights taking a polar route will suffer coverage gaps).
We were bused out to the Chicago-Gary airport for the test flight.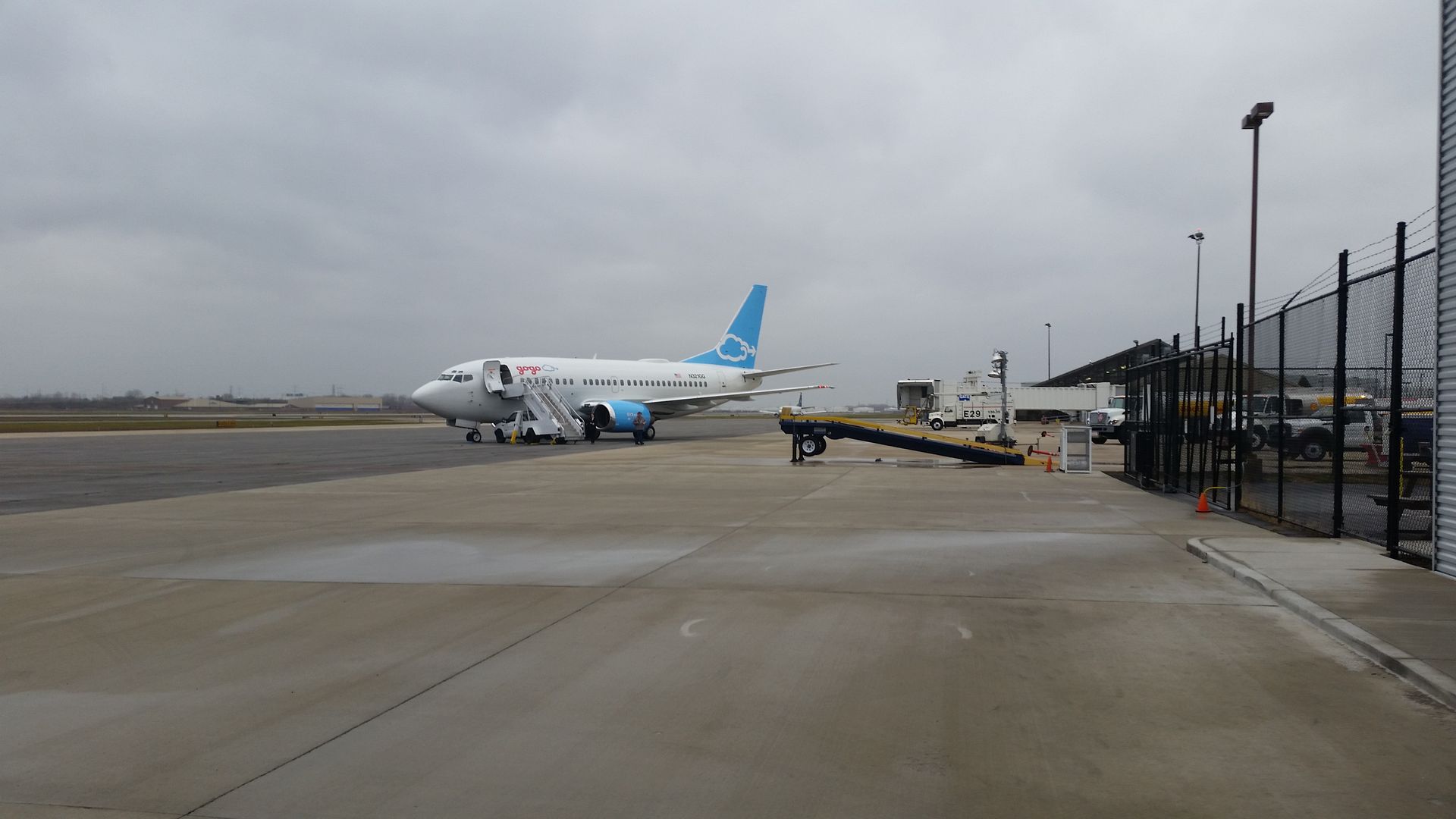 Just like Southwest Airlines, there was no assigned seating. As one of the first to board, I took a seat in the 'premium cabin/' (2×2 seating rather than 3×3) but folks didn't really keep their seats during the flight.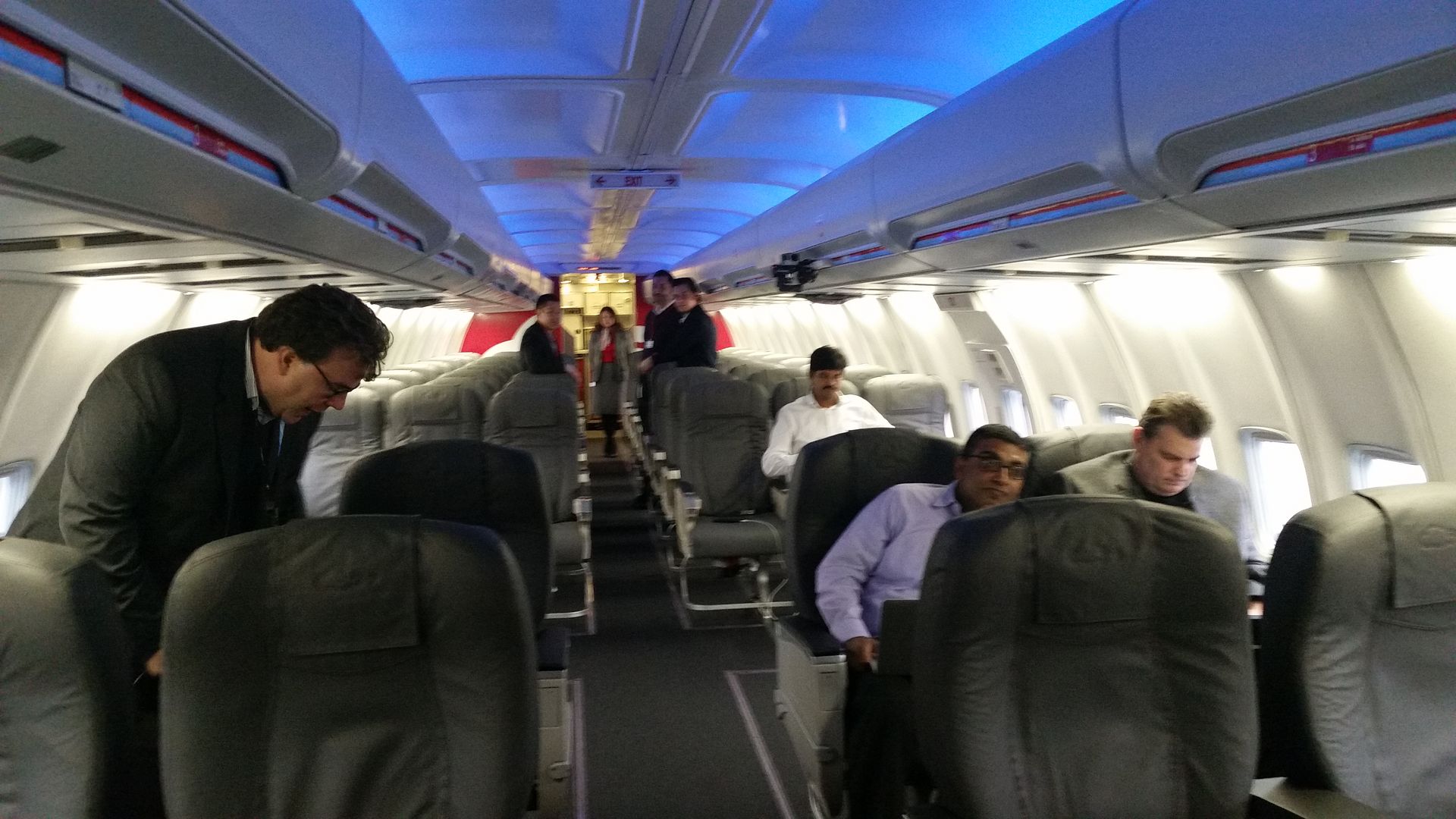 Weather wasn't great, we had a bumpy climb out. I figured that was actually good because it might limit our internet experience. I did have a quick look at Gogo's inflight sick bag.
For benchmarking purposes, it seemed like SpeedTest.net was a good website to use if only because I could compare different inflight internet speeds using the same standard. I took a screen shot of the internet on my American Airlines MD80 flight to Chicago.
As that flight went on, speeds degraded.
And got even worse…
That's the 'usual' inflight internet experience I have with the older generation air to ground service American has on many aircraft.
When I flew Southwest earlier in the week inflight internet was faster, but I was the only one using it since a flight attendant announced prior to takeoff that it wasn't working on the aircraft. I thought that service was great:
So what was 2Ku speed like?
We had internet service on the ground, during climb, and as we landed. None of this "I can't wait for 10,000 feet!" So here was the speed on the ground prior to takeoff:
Here it was as we took off:
And it sped up once we were at cruising altitude:
It did slow down, and this was the absolute worst performance point I experienced:
While there were only about 20 people using the internet on my flight, it was with multiple devices, and since uptake on most commercial flights averages about 5% that's actually substantial usage (outside of routes like San Francisco – Boston, Los Angeles – New York, etc).
And there were articles being written about the flight, like this headline from The Verge: "I just streamed Netflix, YouTube, and Spotify on a plane — all at once" so the system was definitely getting a workout.
The flight offered two channels of live TV as well. Gogo broadcasts from the ground to the plane. You don't have each passenger pulling data for the live TV feed. Once it's in the plane every passenger can access it without taking up additional bandwidth. Live TV also gets priority in the data stream (although is limited to not take the entire network) and as a result there was never any buffering — it was a smooth display throughout.
Upload speeds were lower than I'd have expected, but many of the folks on the aircraft were uploading video to Periscope so that may account for it.
Ultimately I can't say that they're faster than other satellite services, but they've definitely got speed that's far better than anything most of us are experiencing in the air today. For the average user it solves the bandwidth problems that can be so frustrating. So compared to what we're used to, it's pretty awesome.
Who's Getting Fast Inflight Internet
The largest orders have come from airlines linked with Delta — Aeromexico now has regulatory certification and will have its first plane equipped shortly, and Virgin Atlantic, Gol, and Delta all have substantial orders. There are smaller orders from United (for its ps fleet), Air Canada, and JAL. Delta will have some planes equipped in 2016, with the bulk of Gogo's 500+ order book for 2Ku fulfilled by 2018.
I fly mostly American, as regular readers of the blog know. American has some really old installs on their planes, when my internet experience is slow I have to remind myself that they haven't invested in even the latest-generation 'air-to-ground' (ATG4) with Gogo and they haven't placed any orders for 2Ku satellite internet (2Ku is much more expensive than air to ground, though Gogo doesn't release pricing).
However as Delta transitions to 2Ku hopefully that will also relieve pressure on the air-to-ground network and improve speeds on American. It won't increase the bandwidth that any plane has, but it might reduce some of Gogo's network congestion.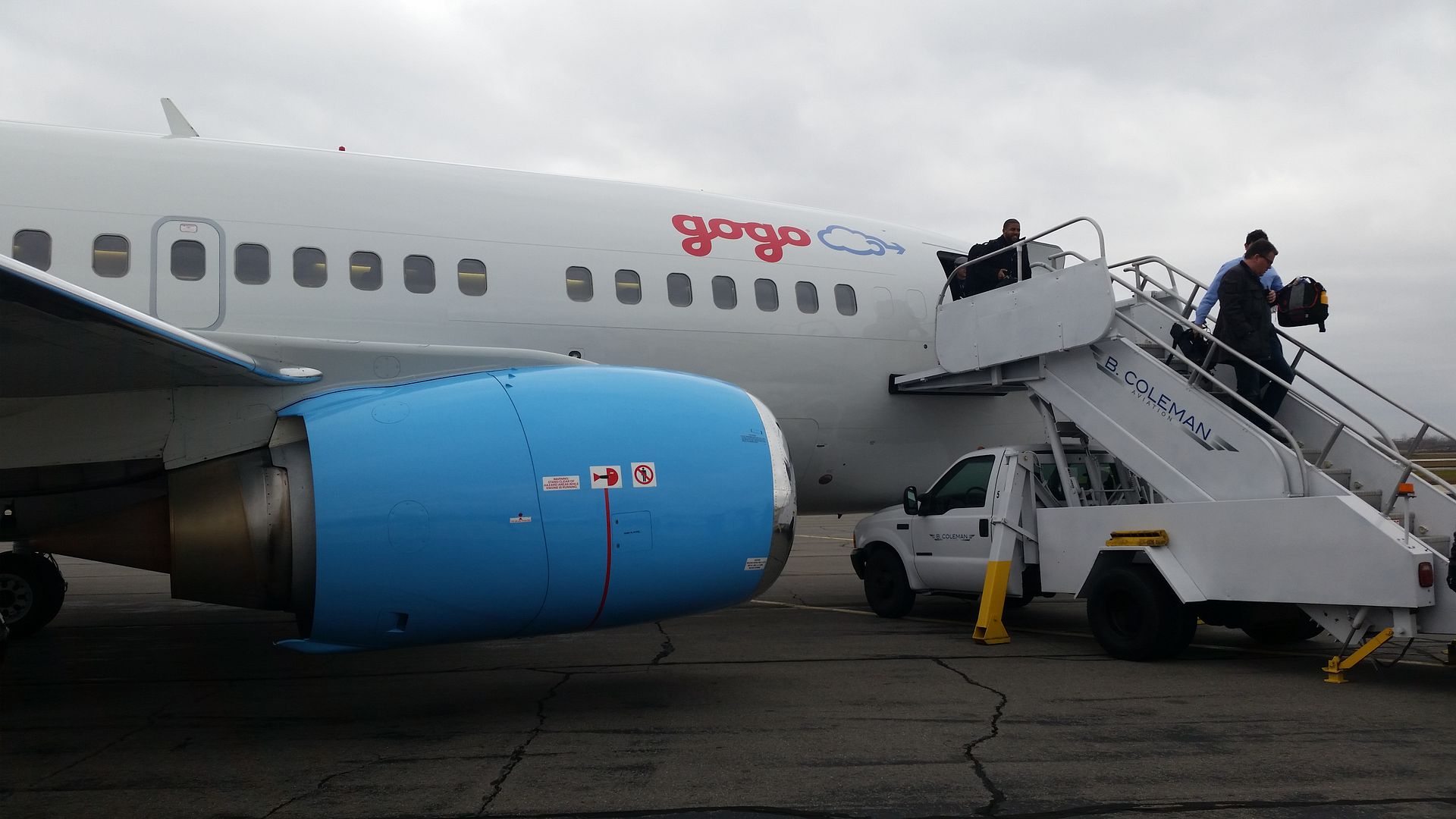 Additional disclosure: Usually disclosures involve what the writer gets from a company they're writing about. In this case it seemed worth mentioning that Gogo is a service I value enough that I pay ~ $50 a month for their unlimited use plan on American Airlines.