United opened their Chicago Polaris business class lounge over a year ago, and they expanded it because no matter what kind of planning an airline does if a lounge is good people will want to use it more than expected. Today is the official opening of the San Francisco Polaris lounge.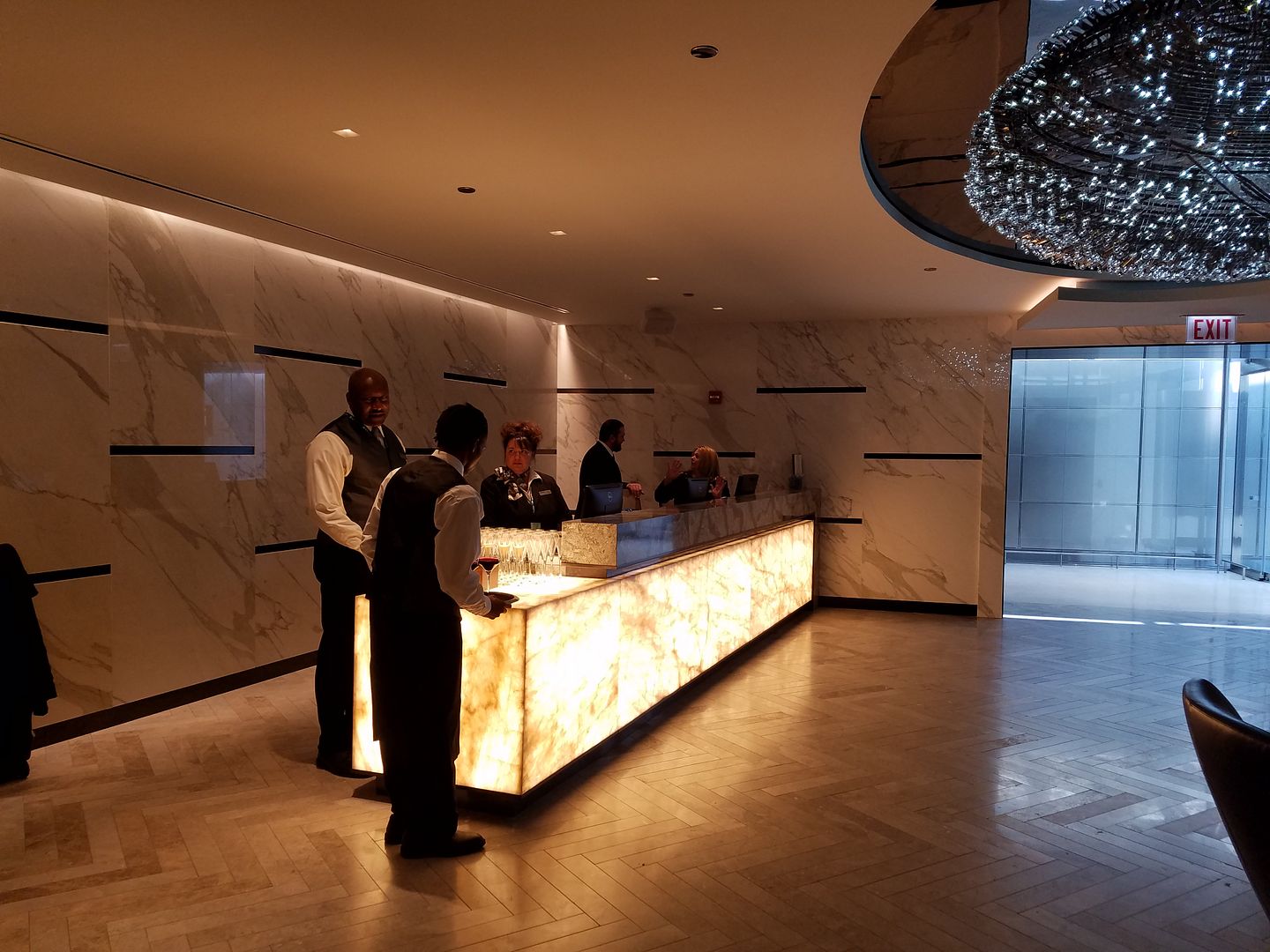 Entrance of Chicago Polaris Lounge
Newark is going to open in a few weeks' time and Houston will open over the summer. The Los Angeles Polaris lounge is supposed to open later this year. So if they stick to that schedule United should have 5 Polaris lounges open by the end of 2018.
However we're not going to see any more in 2019. The next batch won't open until 2020, which considering these were announced nearly two years ago seems insane.
Australian Business Traveller interviewed United's Director of Premium Services and has some details about the new lounges and their rollout plans.
The Newark Lounge Will Have Even More Seating Than San Francisco
The Newark lounge is almost as large as the San Francisco one — which itself is one of the largest lounges in the world, the same size as American's Miami Flagship lounge — but will have more seats because it is on a single level. It occupies the space of the C3 United Club "plus additional adjacent space on either side" and will have amazing tarmac views.
Uh Oh: Houston Will Be 'Boutique'
The Houston lounge will be more "boutique" — we'll see if it is sufficient size but there are going to be fewer eligible customers than in San Francisco, Chicago and Newark — it's the top floor of the current E concourse United Club. It sounds like the smaller size will also mean fewer features.
The Polaris lounge crowns the top floor of Terminal E, taking over that space from the current United Club.

"The lounge used to have an entry level, a main second level and then a third level above it," Dorow explains. "The entire third level is now the Polaris Lounge, above the United Club and with sweeping views over the tarmac and runways."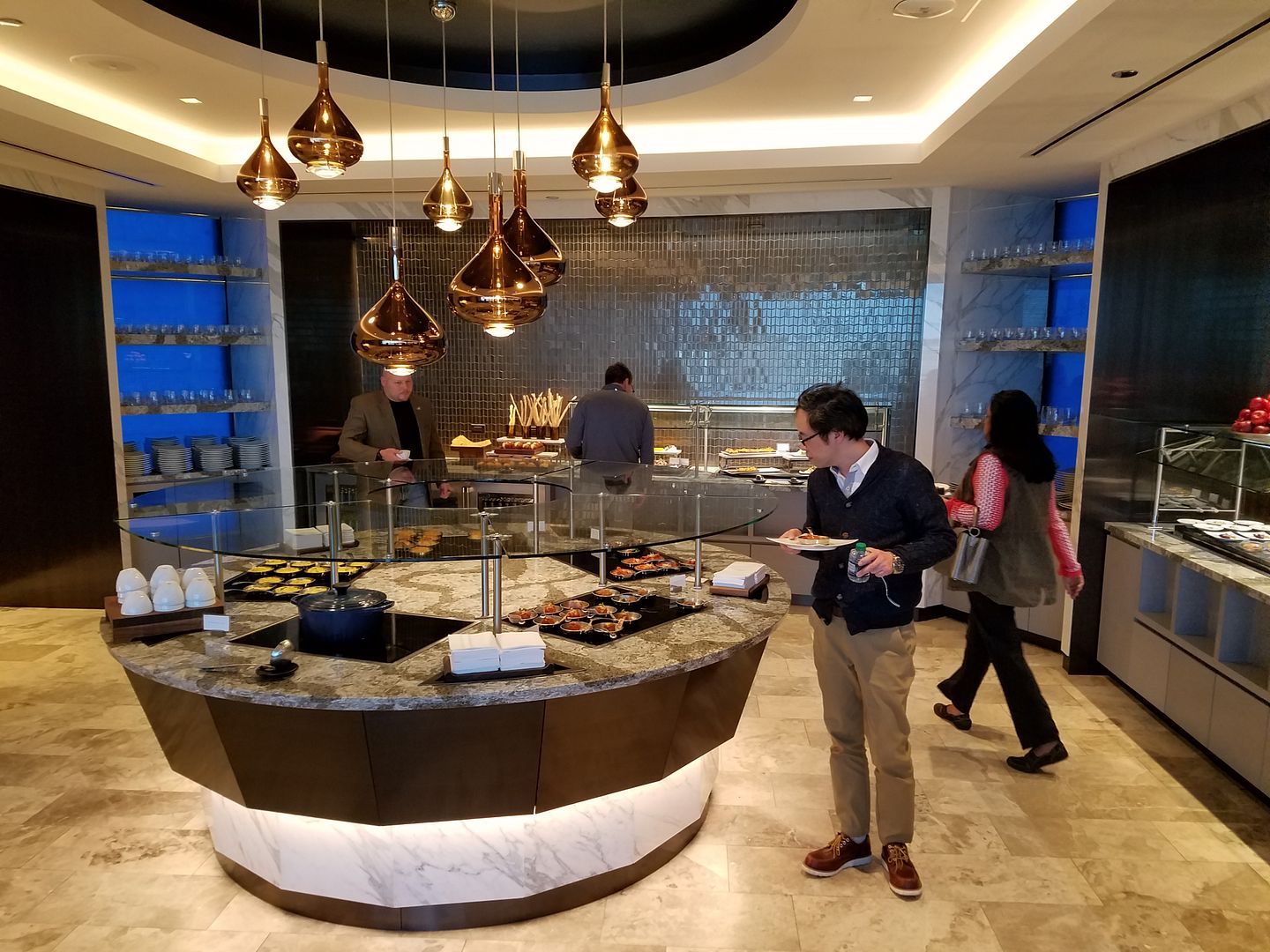 Buffet of Chicago Polaris Lounge
LAX Opens in November and Doubles the Size of the Former First Class Lounge
The LAX lounge opens in November in the former first class lounge space plus "all of the United management office spaces that we had to essentially double the size."
The resulting lounge is a 'bow tie' in shape, built around either side of the terminal's central rotunda, from which "you can actually look up and see part of the lounge, actually where the dining space is going to be."

"The bar will look very different than what you see here in San Francisco or in Newark – it really feels like you're in California, especially in Southern California, with the unique tiles that are indigenous to that area. We want the lounge to feel really 'homey' to our customers who call Los Angeles home."

Chicago Polaris Lounge Sleep Room
No More Lounges Until 2020
At Washington Dulles they had a first class lounge space, they announced the lounge in 2016, but they're only now "working through designs for that space" with plans to focus heavily on meal service late in the day because of the hub's focus on transatlantic departures.
Similarly "London, Tokyo and Hong Kong will all involve expanding and reconfiguring United's current lounge footprint at each airport." Yet despite already having the footprint it'll be at least four years from announcement to open for these.
[O]ur Tokyo lounge is one of the largest that we have (when measured) in square footage and we're going to wholly work within our footprint."

"The same is true for London Heathrow and Hong Kong lounge, where we will reconfiguring the existing space."
Access remains for business and first class long haul customers of course, with elites and paying club members remaining in less desirable United Clubs.