The J.D. Power North America Airport Satisfaction Study is out ranking the largest U.S. airports. The results are genuinely bizarre. They name Miami as the best mega airport in the United States, followed by New York JFK of all things. But to understand why this makes no sense, we have to begin with what an airport is supposed to do.
An airport's purpose is to help you get somewhere. So the best airports are the ones which do that most efficiently.
They are easy to get to (close to where people are coming from and going, with convenient options)
They are easy to get through (parking and rental car return near the terminal, security near the airport entrance, and gates near security, an efficient baggage system so that airlines that try to deliver bags quickly like Delta and Alaska may do so)
They are easy for planes to get in and out of quickly (no congested alleys, sufficient taxi and runway capacity)
High-end retail helps pay for an airport, since the airport is taking a cut of sales (and often the airlines are, too). But the shopping experience isn't integral to what makes a great airport.
Airports should also,
be clean

offer sufficiently staffed food and sundries options for travelers staying a variety of lengths of time

have decent lounge and shower facilities if international connecting gateways

offer enough space around gates, seating, power ports, and wifi
The J.D. Power airports study says they look at seven factors, but then they list just six:
Here's the J.D. Power ranking of 'mega' airports:

Miami

New York JFK

Minneapolis – St. Paul

Orlando

Phoenix

Las Vegas

Dallas – Fort Worth

Houston Intercontinental

Detroit

Charlotte and San Francisco (tie)

Denver and Fort Lauderdale (tie)

LAX and Newark (tie)

Seattle

Boston

Toronto

Chicago O'Hare
Miami is a pit. The walks are long and the terminals aren't well-connected. Depending on where you're starting from you may need to take an endless series of moving walkways to get to a train to get to the rental car center, from which you may need to take a shuttle bus to an off airport rental company.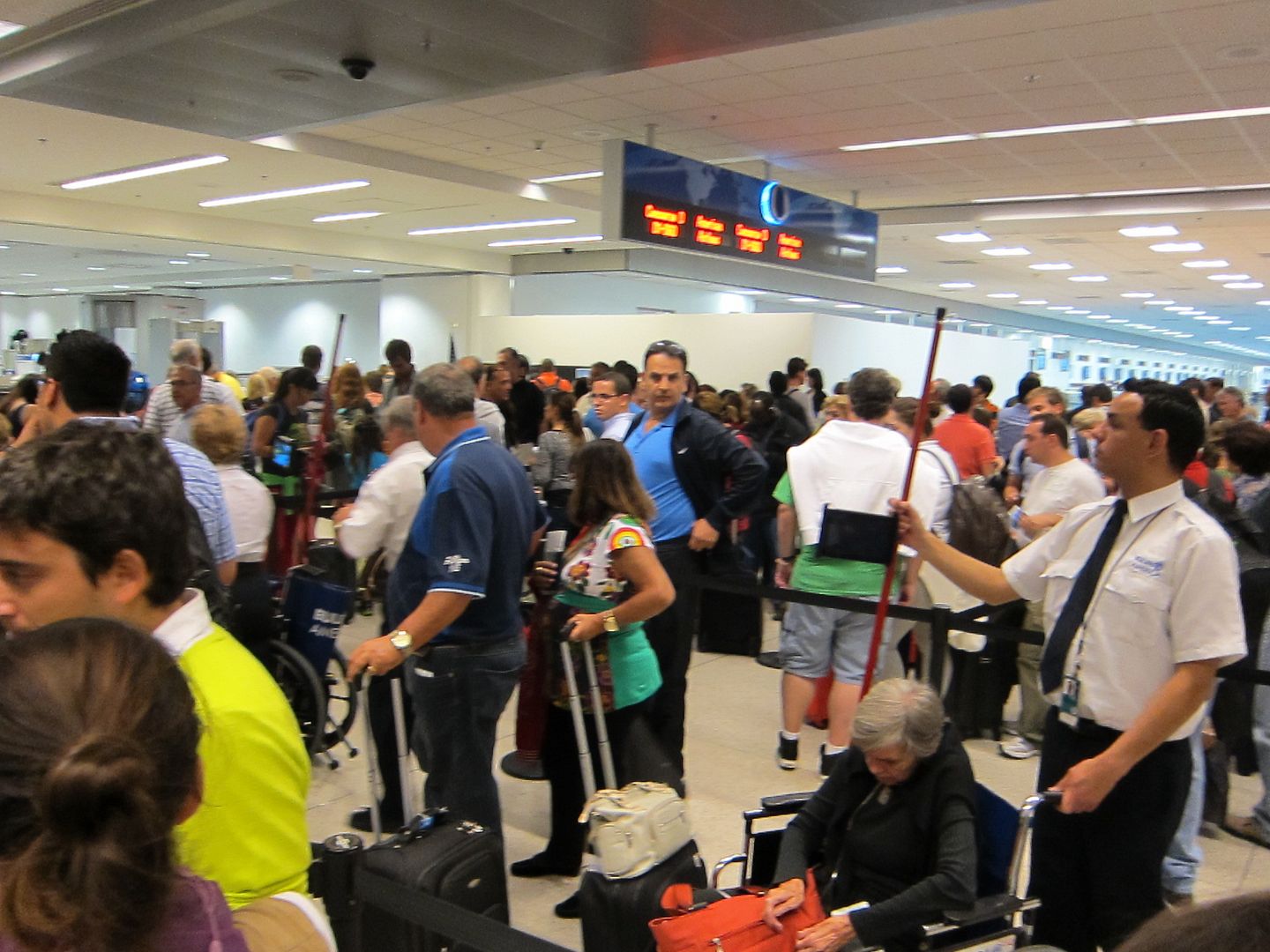 Miami Security

Miami D60
New York JFK is a disaster to navigate once on property. The terminals are poorly connected. And over the years no one has been able to decide whether what they need is a ring road around the complex or a series of ducks and weaves.
Now, Dallas – Fort Worth is a hodge podge of different experiences. The airport is efficient for Dallas-based travelers, since the entrance to the airport is near security and security near gates in most terminals. It's harder for connecting passengers, who often have to use the airport train. And while the D terminal is new and attractive, the A terminal (partially) redone, the C terminal is a disaster and proper investment there delayed by the pandemic (and cheapened by American Airlines unwillingness to spend).
The notion though that LAX and Newark are better airports than Seattle? Or that massively overcrowded Charlotte with barely room to maneuver its piers, is equivalent to San Francisco is… odd.
Phoenix is drab but generally works. Las Vegas is close to the city, even if terminals require trains and security can back up. Just hope for an efficient exit and that your cab driver doesn't long haul you.
And here's the J.D. Power ranking of 'large' airports:

New Orleans

Tampa

Raleigh-Durham

Dallas Love Field

Salt Lake City

Nashville

Austin

San Diego

San Antonio

Washington National

Portland

Sacramento and Washington Dulles (tie)

St. Louis

Chicago Midway and Kansas City

Houston Hobby

Baltimore

New York LaGuardia

Philadelphia
The new New Orleans terminal is attractive, just know you'll regret renting a car because the twists and turns for shuttles to get to the rental center will take as long as getting to the airport from downtown.
Salt Lake City has a new terminal too – which can only be dubbed a success if your goal it to reach your 10,000 steps in one go.
On the other hand perhaps Philadelphia airport – dubbed Filfthadelphia – does deserve to be worst here?
But New York LaGuardia was overly panned even before the massive investment it's received in recent years, largely because of its proximity to Manhattan. How can JFK be at the top of big airports and LaGuardia at the bottom of large ones? I'd choose LaGuardia over JFK in a heartbeat. Of course it lacks meaningful public transit, and will continue to lack it after a multibillion 'train to nowhere' investment.
Houston Hobby, Washington National, and Austin all deserve better ranking. National even has excellent public transit! All are easy access airports that should rank alongside Dallas Love Field.

Washington National Historic Terminal

Washington National
Ultimately though any study which purports to show Miami and New York JFK are the best U.S. airports is self-refuting.