Hotel: W Seoul – Walkerhill
21 Gwangjang Dong, Gwangjin Gu
Seoul 143 708 Korea
Phone: (82)(2) 465 2222 Fax: (82)(2) 450 4989
Cash & Points Rate There wasn't much traffic out of Incheon and I was hopeful, but I was leaving the airport around 6pm on a Friday and that couldn't possibly yield a quick trip. On the other hand, I was heading into Seoul and not out, I thought perhaps that would help. And indeed it did, the traffic in the other direction was worse, but while the freeway was pretty clear for the first part of the trip once we crossed the river we were pretty much in a standstill. In all, the drive took about 100 minutes.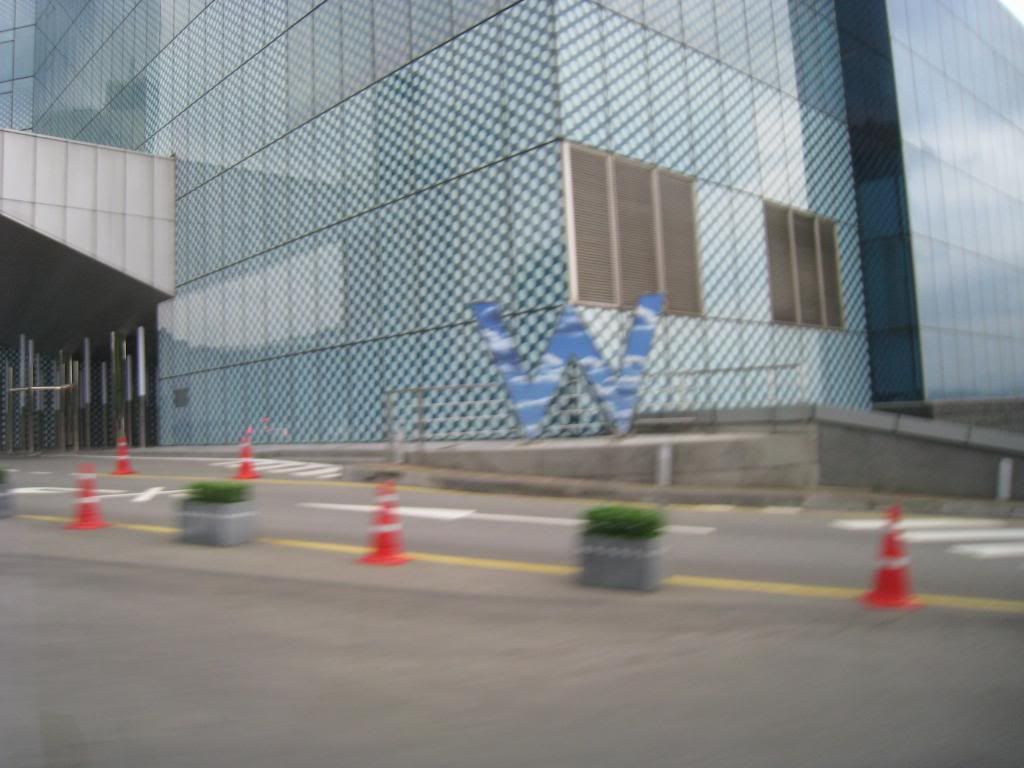 Someone was immediately available to assist with our bags, and I walked up to the desk to check in. They were very friendly and welcoming, and let me know that they were booked completely full, apparently there was a large conference taking up most of both the W and the Sheraton next door.
As a result they didn't have any of the impressive suites for me, but they did have a junior media suite which I liked very much.
After checking in they asked if they could take my photograph, a practice that has been much discussed on Flyertalk. They explained that they do this with all of their Platinum guests (I thought it was all first time guests?) so that they can instantly recognize them in the future. I went ahead with the ritual, I know that some folks demur.
As we were taken up to our room by the woman who checked us in, she told us a little bit about the hotel. They were quite proud to have the "longest bar in Seoul" though I'm not sure why length is a unique selling point.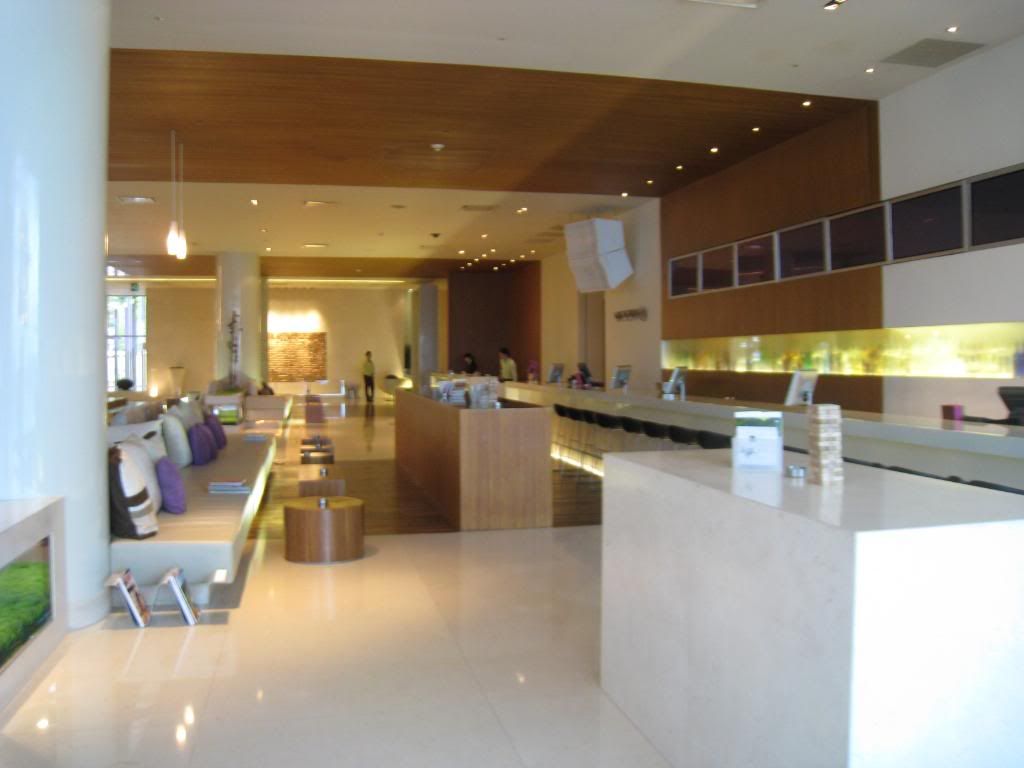 The lobby was quite busy and I didn't really appreciate it or the bar while checking in, but when it was much less crowded the next morning I really did think it was quite beautiful.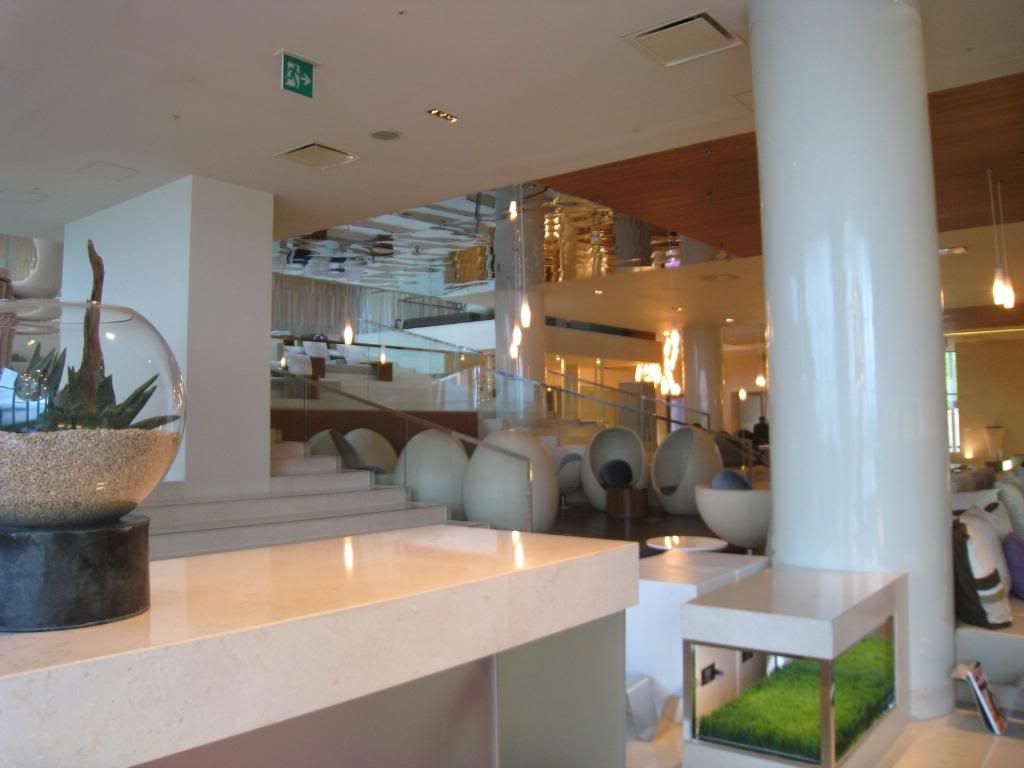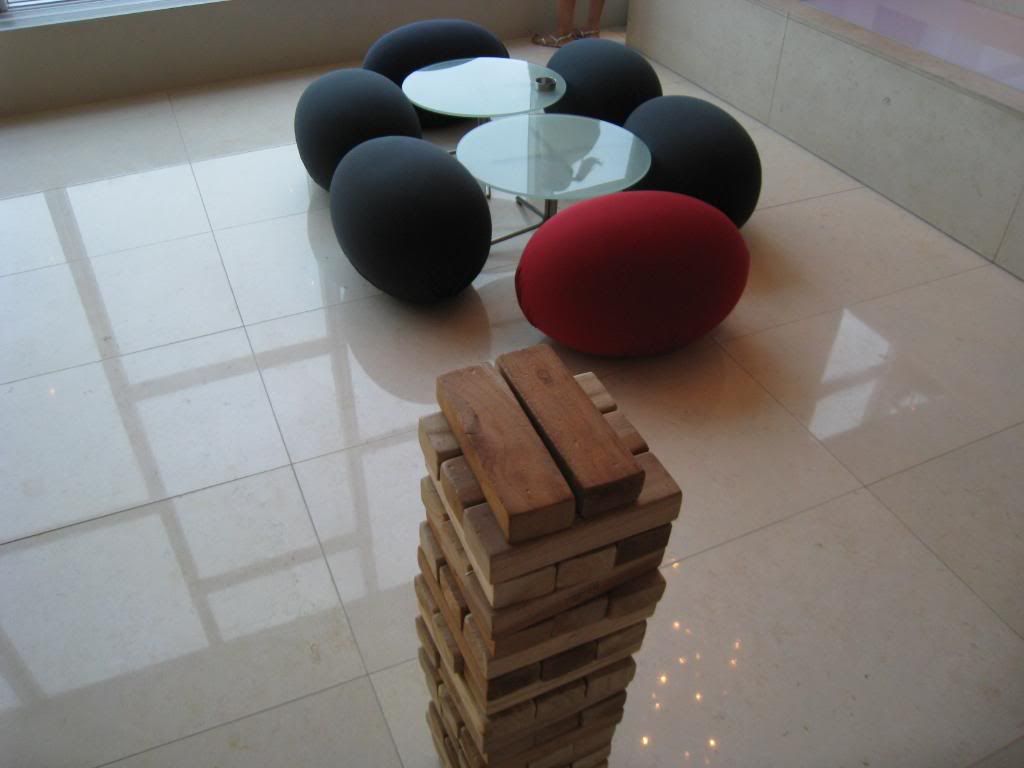 This isn't a cutting edge new hotel like the W Hong Kong, but I really did like the design. My wife tells me that it's filled with all of the elements that were coming into popularity about 5 years ago, but I wouldn't know about that.
One minor note is that the lobby restrooms, shared by the restaurant and the bar, and individual cabins – a separate room for each stall which includes toilet and sink – and which has its own flat screen TV.
We went up to our room and were immediately impressed, I had hoped for a media suite but this junior version fit the bill perfectly. It had the ultra-cool round red bed (though not nearly as comfortable as the W Hong Kong bed), the long red and white bathroom with Jacuzzi, speakers speakers everywhere, and it was plenty large enough. The TV that my wife described as "mounted on a stripper pole" was a neat feature as well.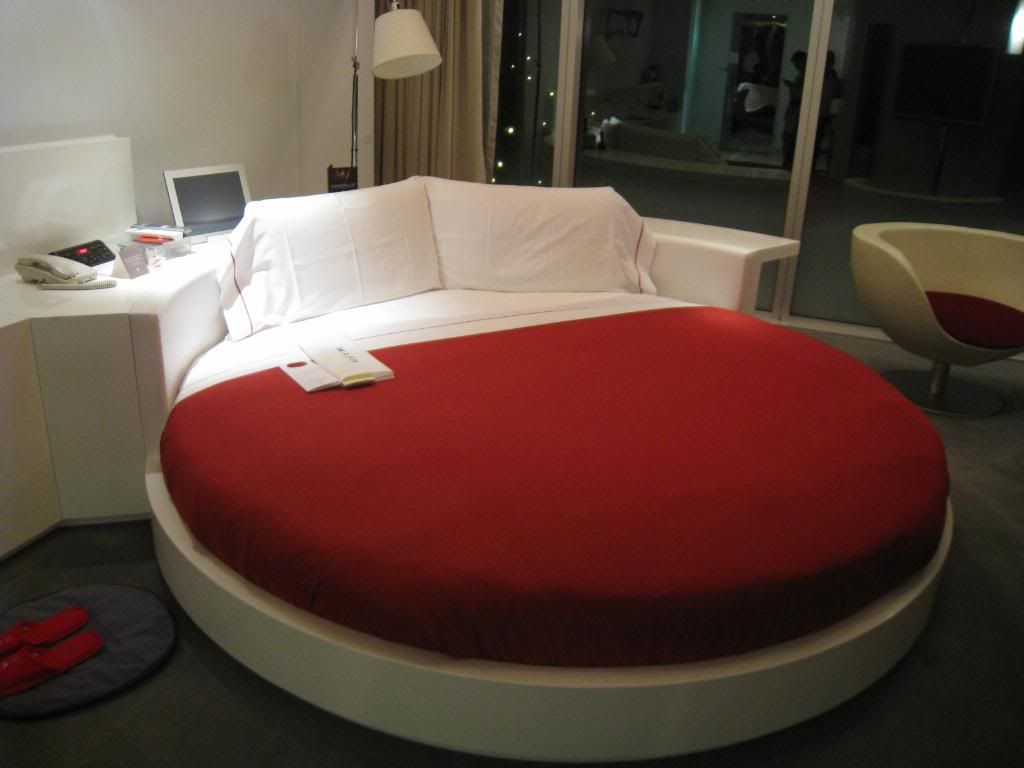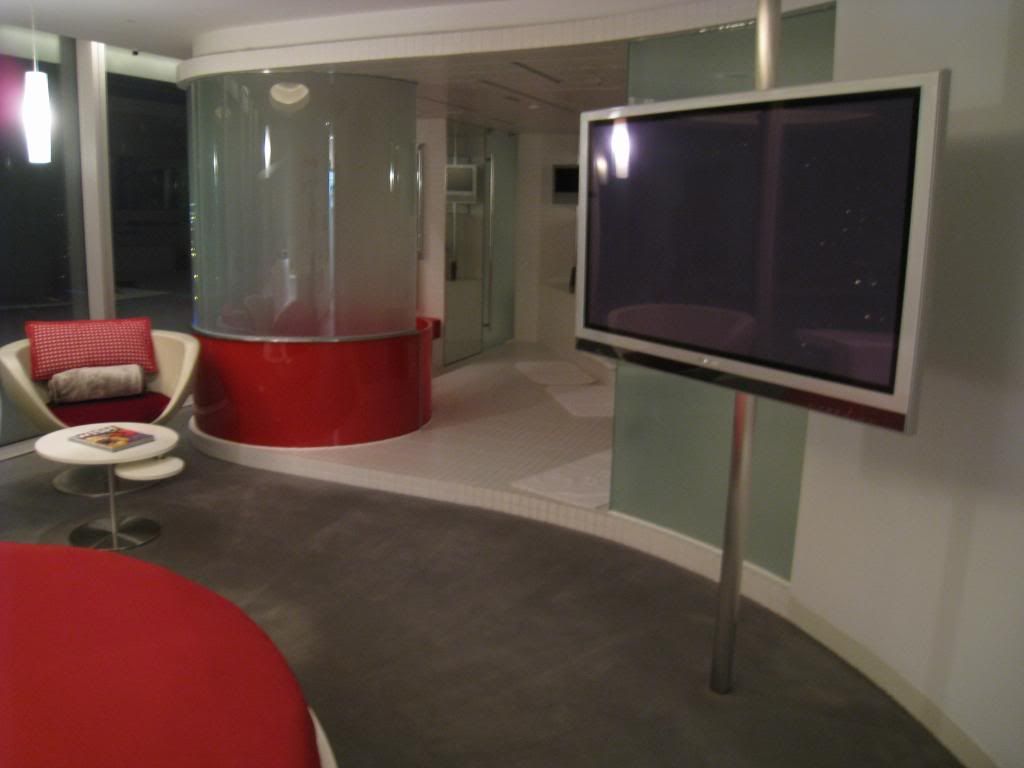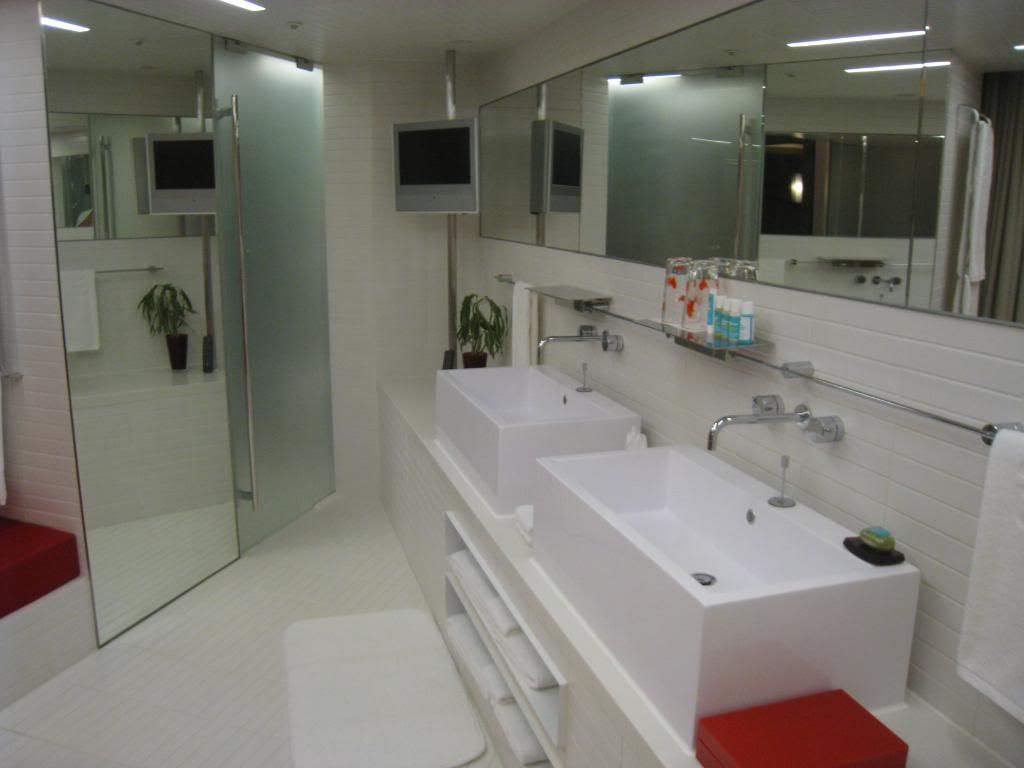 That night we ordered some bi bim bap room service, reasonably priced for in-room dining at the W and high quality (although very little meat, far less generous that Asiana provided on our previous flight).
We supplemented, though, with the bountiful chocolates left for us in the room which were exceptionally delicious.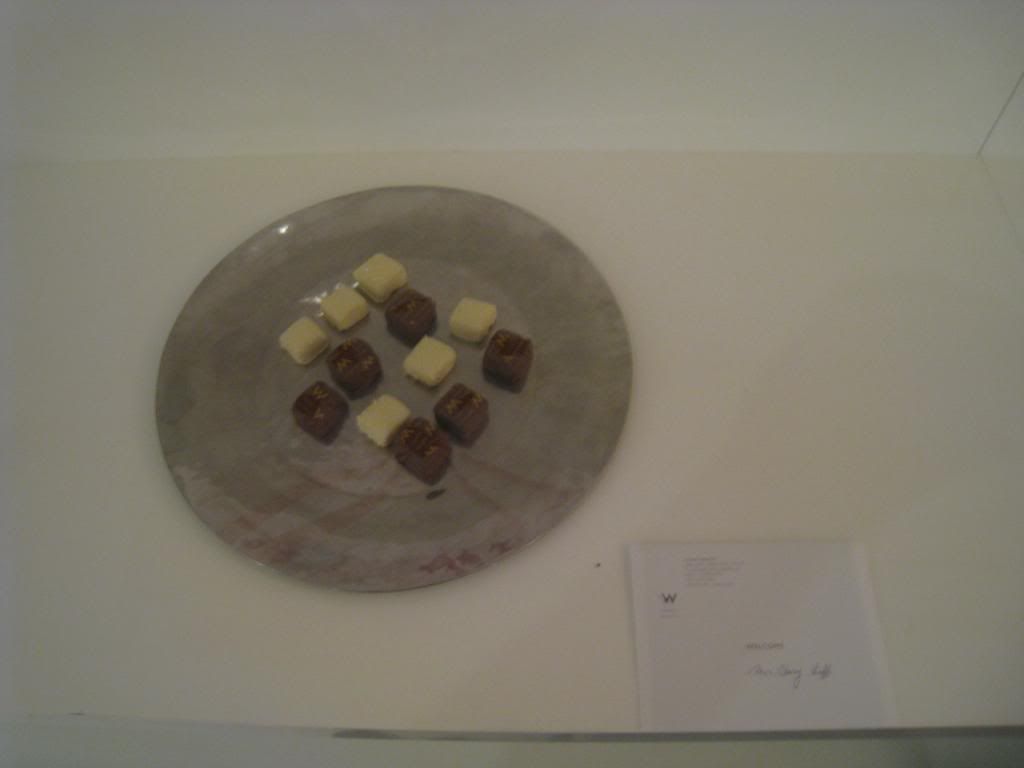 There was a large, impressive breakfast buffet but I was disappointed in the limited Asian options. Quite reasonably priced, around US$20pp, and looks out over the water. Service was attentive, and begins with cooked to order eggs ordered at and delivered to the table in addition to the self-serve buffet.