Etihad has a fare that allows business or first class travel — roundtrip — originating in Colombo, Sri Lanka and traveling to Dallas Fort Worth and back for ~ US$1450 all-in.
The most natural routing that comes up most often and most easily is Colombo – Abu Dhabi – Chicago – Dallas. But the Abu Dhabi – Chicago flight (EY 150/151) doesn't offer a first class cabin.
For first class you'd want to route via New York JFK, Washington Dulles, or Europe (e.g. Paris, Frankfurt). Europe routings would mean flying American's first class transatlantic. If you can swing a London routing you'd get American's new 777-300ER in first.
Here's an Orbitz multi-day grid of available fares, searching business class: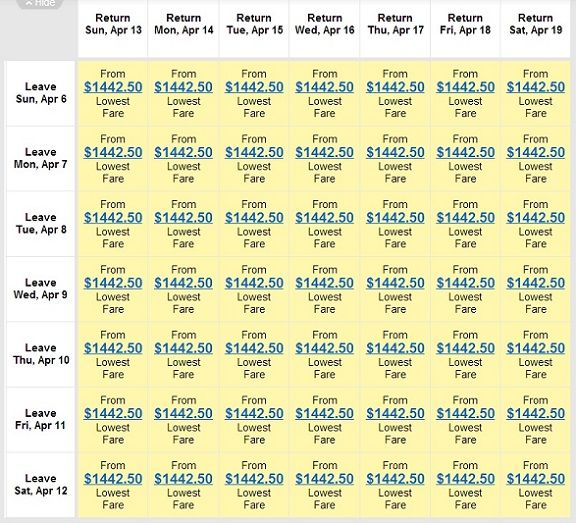 And here's a sample itinerary priced on the Etihad website:
One-way travel originating in Colombo is also available for ~ $1000. Here's a sample that includes first class from Abu Dhabi to Europe and business class Europe to Dallas. This came up with a business class search.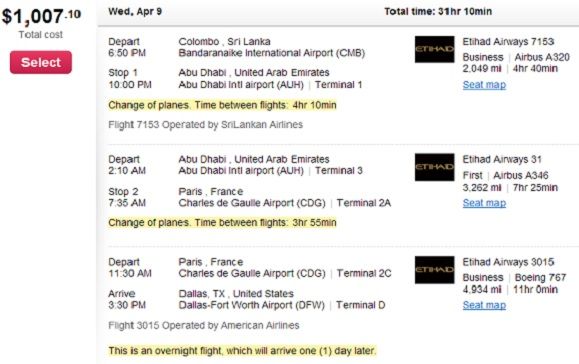 The fare appears to be valid throughout the full booking calendar. I haven't found destination cities other than Dallas where this is valid, though I haven't yet spent substantial time looking. I suspect it is a mistake, probably intended to offer a new competitive fare out of Colombo (and Dallas in particular has been announced for new Etihad service) and then it was keyed in incorrectly.
I cannot say of course whether this will last or for how long, or even if it will be honored though I'd expect it would be as it isn't that out of the ordinary price-wise considering the length of time that ~ $2000 first class fares existed between Colombo and most of the US, allowing travel even on the Emirates A380. I'd book it and then wait awhile before purchasing additional non-refundable items related to the trip to make sure it gets honored first (although with travel to the US, Department of Transportation rules on honoring airfare would apply and at a minimum it would seem that any non-refundable costs incurred would wind up having to be reimbursed if there's some way for the airline to extricate itself from honoring).
Etihad is a partner of American AAdvantage, earning miles but not elite qualifying miles (only American codeshares on Etihad do). They're also partners with a variety of other airlines in all 3 major alliances as well as the carriers that they have partial ownership stakes in.
(HT: Delta Points)
---