On Thursday I showed you how to earn 500 miles just for signing up for United's free dining program plus more miles if you actually use it.
Now word of a new bonus of 2000 American miles for joining their dining program and making just one qualifying dine within 30 days.
Here's the scoop: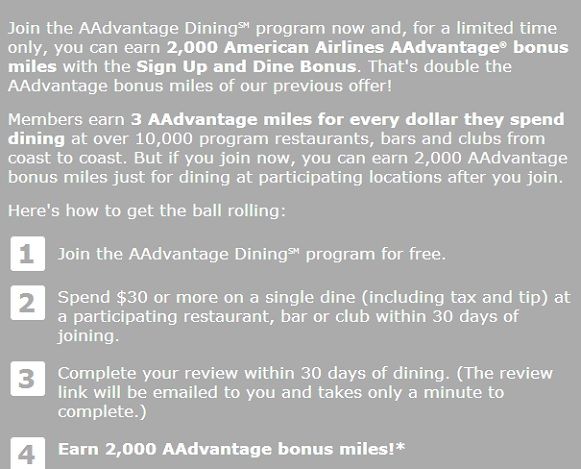 There's an identical offer from the US Airways Dividend Miles dining program.
It's well worth registering for these programs even just in case you go to a participating restaurant, I've often earned miles I wasn't even expecting. And if you happen to find one that's convenient and that you actually like it can be a goldmine. You'll wind up fighting for the check and collecting lots of cash from co-workers and friends, and making it your go-to for all reimbursable meals…
Note that in my experience you can earn the United bonus and also each of these bonuses — you just need to create a different account for each program and link a different credit card to each.
These 2000 mile bonuses require registration by June 13.
Read more about how this all works, and how to take best advantage, at How to Earn Miles for Dining at Restaurants.
---