Rocketmiles is offering new customers a 3000 US Airways mile first-time booking bonus.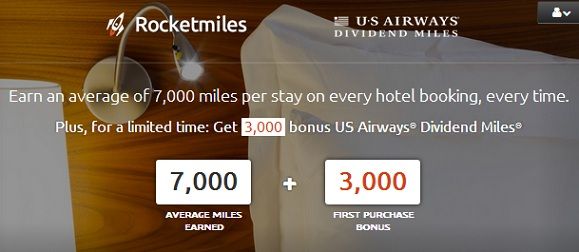 When Rocketmiles offered a Virgin America first-time booking bonus it was stackable with the 1000 mile bonus for being referred by an existing customer. Nothing in this promotion's terms and conditions appear to exclude that — making it effectively a 4000 mile bonus with your first Rocketmiles booking, in addition to the miles you would normally earn for booking a room.
To qualify for the 3000 mile US Airways offer, you need to open an account and make a booking by December 14 for a stay consumed by March 31 and choose to collect US Airways miles for the booking.
Rocketmiles used to allow my referral link to give you 2000 miles as a first-time booking bonus. Normally signing up through a referrer is good for 1000 miles for both the person using the link and the person referring them. I was allowed to give up my 1000 miles so you could have the full 2000 points, unfortunately that special accommodation ended.
Still, being referred is worth 1000 miles ad it's better to be referred as a result than not to be. So you can use mine if you wish and readers are free to post their links in the comments as well.
Rocketmiles bookings do not generally earn hotel points or elite stay credit. Marriott and Hyatt do at least tend to honor in-hotel benefits on third party bookings like these.
The mileage-earning is sufficiently lucrative that it often makes sense to give up hotel points-earning.
If I hadn't already hit my hotel status re-qualification for the year, I would not be looking at Rocketmiles for bookings. Now that I have they're a site I go to check out availability and pricing. (Rocketmiles competitor PointsHound offers some hotels where you will still accrue points and status credit.)
Rocketmiles works with a limited array of hotels, so you won't find every lodging option there or even nearly as many as provided by PointsHound — but for those hotels they do have they're pretty much the most lucrative way to make bookings. If you aren't wedded to a particular hotel, you can make out well. That's because as I understand it in many cases they're getting access to opaque inventory, selling it for retail, and kicking back a good chunk of the difference in miles.
(HT: Points, Miles, and Martinis)
---
You can join the 30,000+ people who see these deals and analysis every day — sign up to receive posts by email (just one e-mail per day) or subscribe to the RSS feed. It's free. Don't miss out!