Yesterday I wrote about an offer for the Alaska Airlines Visa with 25,000 miles after first purchase and 15,000 more for $10,000 spend within 6 months. So 40,000 miles for $10,000 in spend.
Steven commented in another post that there's also an offer of 30,000 miles without a minimum spend requirement.
That offer was first made last summer</a, though the link to it was no longer available. It's good to see it back.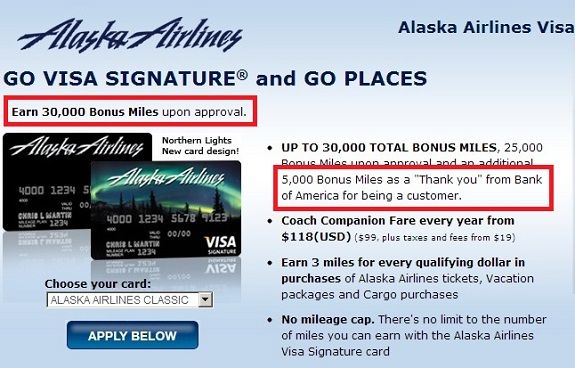 The offer is for 25,000 miles on approval (no minimum spending) and 5000 more miles "for being a customer."
There doesn't appear to be any verification that you need to be a pre-existing customer, that they will do anything like check to see whether you have bank accounts with them already for instance, and I'd bet that anyone — even folks who have never had a Bank of America account before — will get the full 30,000 miles. Though since they only promise it to folks as a thank you for being a customer (gee, getting upproved for the card makes you a customer, no?) I suppose it isn't guaranteed.
The card comes with a $75 annual fee and a $99+tax companion certificate valid for any coach seat in conjunction with a pad ticket (both tickets earn miles).
Some people will find 30,000 miles without spend more attractive, it really depends on your spending capacity and other things you may be putting spend towards at the moment.
Others will choose to wait, thinking that last month's 50,000 mile offer with minimal spend might come back. That's the best offer I have ever seen for the card, and haven't seen it more than once, so I can't predict its return. And with Bank of American getting the card now doesn't necessarily mean you'll be ineligible for a bigger offer that comes around down the line.
---