Korean Airlines has apparently filed a cheap fare of $120 plus tax each way from the West Coast to Tokyo, it appear possible to book cheap tickets on the Korean Los Angeles-Tokyo flight from any city that Alaska has non-stop service to LA from.
he exceptional value in this fare, and what will not last, is that the fare seems to have been filed without fuel surcharges so with all the taxes we're looking at around $350 in some cases all-in.
I did a search on ITA Software's website for October travel from several West Coast cities and found several dates where cheap fares were available:
Here's how the cheapie fares compare to what's available on other airlines — $350ish compared to $800 – $1400 for all other options.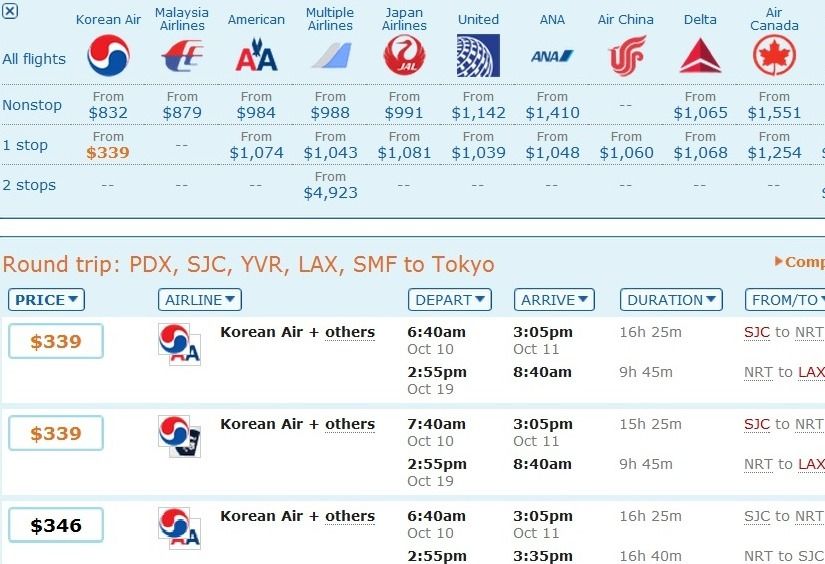 I clicked on a flight schedule for San Jose – Tokyo and back, using Alaska Airlines to and from Los Angeles and Korean Airlines flights between LA and Tokyo.
You'll see how the fare breaks down. It's $120 each way, and what's striking is no "YQ" or fuel surcharge which can be as high as $654 roundtrip on the route.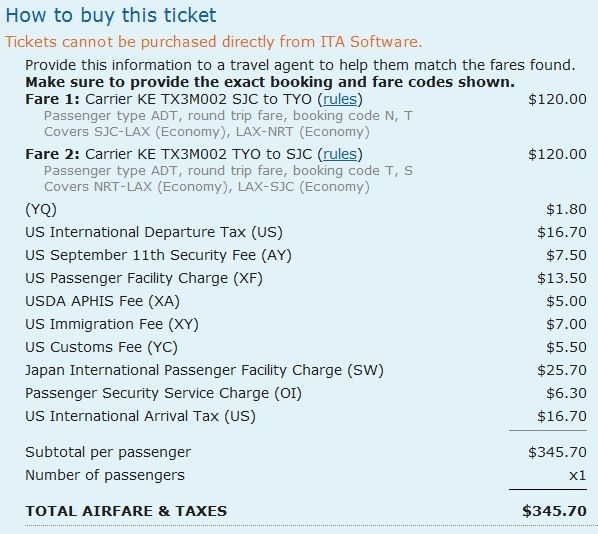 The particular version of the fare I pulled up is valid for travel August 1 through November 30 and must be ticketed by August 1 (though I suspect they'll realize before then that it was filed without a fuel surcharge, so don't wait). The fare has 'only' a $100 change fee associated with it, but changes will likely require re-pricing the ticket and fares at the time you make your changes are likely to be higher. Similar fares are available for travel past November, such as for the spring.
Korean Airlines hasn't in the past liked to honor its especially cheap tickets, but has for the most part been coaxed into doing so recently.
This should be bookable on most sites, such as Orbitz. It's a Korean AIrlines "T" fare which won't earn miles in many frequent flyer programs, but which does earn 70% of flown miles in Korean's own program.
Not a great mileage run because of the restrictive earning but a super-cheap way to get to Tokyo from the West Coast.