Via Free Frequent Flyer Miles, the American Express offer to sign up for 'pay over time' with your Amex charge card in exchange for 5000 Membership Rewards points has been extended through April 30.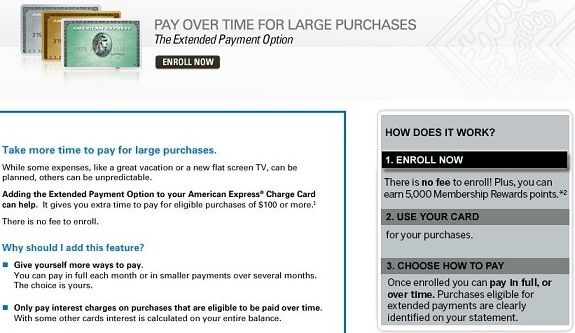 You can only earn the bonus once per Membership Rewards account. Most people with American Express Membership Rewards — and more than one Membership Rewards-earning Amex — have just one Membership Rewards account where the points are pooled. In that case you can't earn the bonus per card, but rather just once.
And this offer applies only to charge cards — the ones where you otherwise have to pay off in full each month, which you should do anyway. You should consider signing up for this offer, it doesn't cost you anything to sign up. But only if you are willing and able to keep yourself from actually using the option to pay over time.
The offer does say that it is targeted though several readers have told me in the past that they received the bonus even though they hadn't received it directly from American Express. So fair warning that your mileage may vary.
Offer only available to Cardmembers who have received a communication directly from American Express for this offer.