I receive compensation for content and many links on this blog. Citibank is an advertising partner of this site, as is American Express, Chase, Barclays and Capital One. Any opinions expressed in this post are my own, and have not been reviewed, approved, or endorsed by my advertising partners. I do not write about all credit cards that are available -- instead focusing on miles, points, and cash back (and currencies that can be converted into the same). Terms apply to the offers and benefits listed on this page.
---
Air travel can be stressful for most families. Air travel even for someone like me who flies nearly every weak can be stressful around the holidays. But there are things you can do to make it smoother and easier — beyond even the oft-repeated "give yourself extra time."
Of course you should give yourself extra time to go through security when lines are long (and especially if you don't have access to TSA's PreCheck), you should give yourself extra time to get through busy airports, and you should be at the gate so you can board as early as possible if you need to fight for overhead bin space.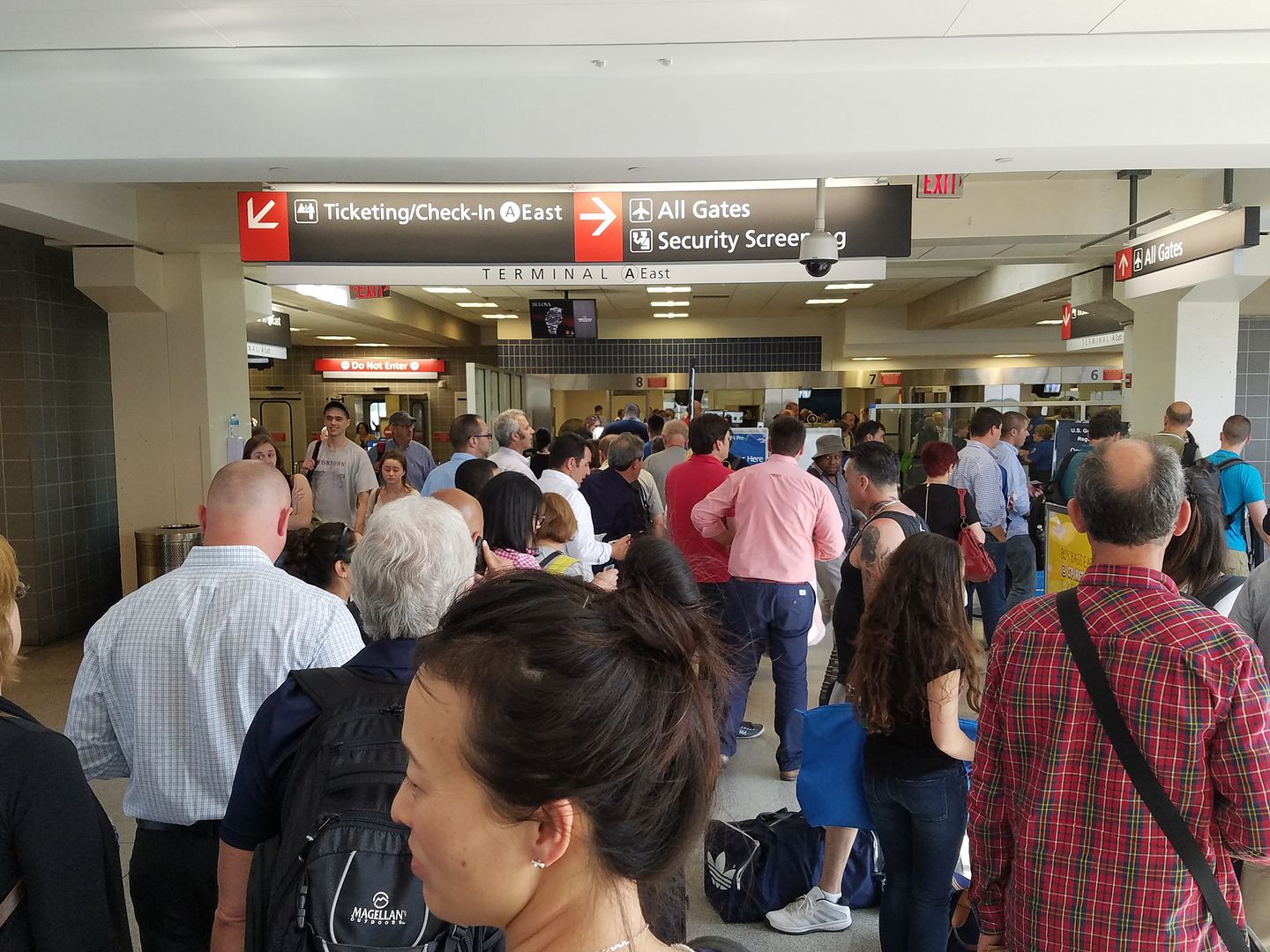 But I'm going to lay out what I think are the six most important things you can do to get the best deal on travel and then make your holiday travels easier that may not be as obvious.
Buy Your Holiday Airline Tickets Early
About a week ago I wrote that it's time to buy your holiday airline tickets now or at a minimum don't wait. That's especially true for Thanksgiving travel, but also for Christmas since the best fares over the holidays sell out early (unlike business travelers, leisure travelers buy their tickets pretty far in advance).
The most important thing is to know what tickets usually cost for your route. If prices are below that — buy. If prices are higher than usual you probably want to wait, especially if you're still more than a month away from travel.
Start considering purchasing when your plans are firm. Don't purchase earlier because $200 (or higher) change fees will eat you alive. Don't start later because of rising prices for close-in departures. Don't stress about the deal you could have gotten. Pounce when the deal is good enough.
I've made a habit of leaving the country rather than traveling domestically at these peak times. A couple of times in recent years I've gone to India in November (I explained once to US customs on the way back that I like having Thanksgiving dinner with Indians).
Travel is most expensive domestically, but there tends to be less international travel. There also tends to be less premium cabin travel, since there's no business travel to speak of. That makes coach tickets pricier, but premium cabin tickets cheaper, so the extra cost of booking in a premium cabin may even make sense.
Avoid Peak Travel Days If You Can — For Less Stress and Lower Fares
I call this avoiding amateur day.
Baseball Hall of Famer Wee Willie Keeler is possibly best known for his advice to batters, "hit 'em where they ain't." If he wasn't one of the best hitters of all time, and likely the creator of the hit and run — and of course if he had been active a hundred years later — that advice could have made him a travel writer.
This year try to avoid:

The Wednesday before Thanksgiving

The Sunday and the Monday after Thanksgiving

December 23 (the business day before Christmas)

December 26 (the day after Christmas)
These are the busiest days. That makes them the most expensive. It also means the fewest empty seats you can get rebooked into if delays or cancellations affect your flights. It means the longest security lines, the most crowded airports, and the biggest fights for overhead bin space. When the system is running at full capacity, there's no margin for error.
You may not be able to avoid traveling on these days, but things will be less stressful if you can.
Get Your Seat Assignments Right Away
Families want to sit together, and let's face it no one that isn't a family member wants to sit with your kids. So confirm your seat assignments when you book your tickets. Do not wait to call later, or until check-in.
Consider seat assignment fees, on airlines that require them, part of the cost of your ticket when making plans and comparing costs.
Check to make sure your seats haven't changed. Look at your reservation every few weeks. Your seat assignments might not have 'stuck' especially if you bought tickets through an online travel agency. Or your seat assignments might have changed somewhere along the way (perhaps there was a schedule change or change of aircraft). Finding this out sooner rather than later increases the likelihood of getting it fixed. I like that Award Wallet emails me when anything changes in a reservation, including seat assignments.
Meanwhile if you don't like the seats you have keep checking back. There may not have been seats you could reserve together for free when you booked your tickets, but that can change. Check especially as the day of flight approaches — when airlines upgrade frequent flyers, those passengers are moved out of coach, freeing up seats (although mostly freeing up 'premium' seats that those passengers get for free).
In fact you can automate the checking with Expertflyer.com. They will email you when desirable seats open up on your flight (you can set up one alert for free without a paid subscription).
And if you can't get the seats you want at least get as many aisle seats as you can. Avoid middle seats, those are tough to trade. People will almost always give up middle seats, and aisle seats are the best trade bait (better than coughing up cash to another passenger for sure!).
Predict When Things Go Wrong in Advance
If your travels are going to go sideways, you want to know as quickly as possible. That way you have the best chance of getting re-accommodated and you have less competition too (since you're not fighting everyone on your flight for the last available seats on another plane).
It's a good idea to know where your plane is coming from, that way you can see if that aircraft is delayed. Your flight may still show on time, but the inbound plane is late causing problems with your connection.
Some airline websites will show the status of an inbound aircraft. I like searching my flight at FlightAware.com which lets me see where my plane is coming from. Then I back up to that previous flight and see where it is coming from. Did it start off the day delayed? Is it flying through a city with bad weather? I can be better prepared.

FlightAware.com Lets You See Where Your Plane is Coming From
Then I get to work identifying alternative flights I can take.
How to Get Help When You Need It
I use Expert Flyer to search for seats on other planes that are available. I come armed with options so that if an agent tells me nothing's available I can make suggestions.
It's important to be nice to agents you're dealing with. Customers take their frustrations out on customer service agents all day long, so if you're nice and develop a rapport — commiserate with them, perhaps — they're more likely to go the extra mile.
However if you don't get the answer you want you can try someone else. You may be able to get help:
At the gate

Over the phone

Online or at the airline's kiosk

At the customer service desk

At the check-in counter

At the airline's club lounge, if the airport has one and you have access
That's potentially six different bites at the apple. And some agents will be more helpful than others, I had one American Airlines customer service supervisor declare a couple of years ago "Just tell me what you want, it's not my money and it's the holidays!" Keep trying different agents until you get what you need.
Incurring Extra Expenses Along the Way? Your Credit Card Company May Reimburse You
Premium travel credit cards like the one from your airline or the Chase Sapphire Preferred Card come bundled with travel protections that most consumers don't even know they have. (American Express cards don't have as good travel coverage, unfortunately.)
Benefits include trip delay and cancellation coverage and lost and delayed baggage coverage.
If your flight is delayed — different cards have different definitions, for instance requiring an overnight delay or maybe just four hours — then save your receipts, and document that your travel was delayed and the reason for the delay. And submit to your credit card for up to $500 reimbursement per ticket for expenses you need during your delay, such as clothes, ground transportation (such as to and from a hotel), hotel night, meals, rental car, toiletries, and even medication.
Coverage generally doesn't apply to delays you were notified of in advance, tips, alcohol (presumably not because they're puritans but due to local laws), if your delay is your own fault such as because you overslept and missed your flight. Coverage also usually doesn't apply to one-way flights.
Don't wait to file the claim. Citibank, for instance, requires you to call them within 30 days of the delay and submit all documentation within 90 days of the delay. Chase requires you to call within 60 days of the delay and submit all documentation within 100 days of the delay.
Call the number of the back of your card and ask to talk to a benefits administrator to process a claim. You're going to need to submit your ticket receipt and also at least a redacted version of your credit card statement showing you used the card for the purchase. You're going to also have to show things like receipts for your expenses and documentation of the covered delay.
There's similar coverage for the cost of things you may need to buy if you're without your bags when you get to your destination, usually $100 per day up to 5 days after a certain number of hours without your luggage.
The Chase Sapphire Preferred Card and Citi Prestige Card will even offer you coverage if you pay for a portion of the ticket with the card (frequent flyer award tickets, for instance, where you're just paying the tax — though coverage may be limited to the amount paid on the card).