Air Canada's Aeroplan came out with announcements of several changes to its program this morning.
They're improving points expiration rules, going revenue-based for awards that don't have the same capacity controls as 'classic' (and partner) awards do, increasing the price of premium cabin international awards to several destinations, and introducing a new status program for points earning members (in contrast to the airline elite status program based on flying).
Overall I like the changes to expiration, the status benefits for mileage earning seems an interesting concept though isn't especially rewarding, and I view the award chart changes as a significant negative.
Elimination of Seven Year Expiration Rule
You need activity in your Aeroplan account each year to keep miles active. But regardless of activity, any miles unused seven years from the time they were accumulated would expire.
That rule has been rescinded. So now as long as you keep your account active, miles won't expire.
Award Chart Changes
Aeroplan is significantly increasing the price of some awards, and reducing the price of one-way awards on Air Canada itineraries.
Air Canada one-ways currently cost 67% the mileage of a roundtrip. Effectively January 1 that will drop to half the cost, as is the norm for airlines offering one-way awards.

But after gutting their award chart two years ago, there are further increases in pricing for some of the best awards.

And instead of rule-buster style "ClassicPlus Flight Rewards" on Air Canada flights, Aeroplan will be offering "Market Fare Flight Rewards" with variable pricing based on cost of a paid ticket. This is my guess about where programs generally are headed with their revenue-based redemptions. They explain that the awards will 'start' at 20% fewer members, and active members can get them for 50% less. But they don't trumpet just how expensive these awards might get.
My focus is and remains on saver awards, and especially on Star Alliance partners for their forward cabin (and that's how I use Aeroplan, as an American Express Membership Rewards transfer partner).
Premium cabin awards between North America and Asia, North Africa, and Australia/New Zealand go up by about 20%.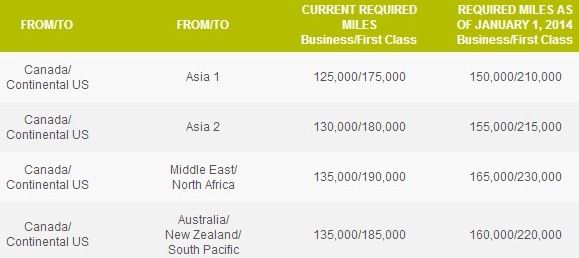 New Annual Threshold Benefits for Earning Aeroplan Miles from Any Source
Aeroplan is introducing a tiered recognition program for miles earned from all of their partners (as opposed to elite status with Air Canada which is earned by flying).
The program is called Distinction and has three levels:
dSilver – 25,000 miles accumulated during the calendar year

dBlack – 50,000 miles accumulated during the calendar year

dDiamond – 100,000 miles accumulated during the calendar year
Details of the benefits of each level can be found on the Aeroplan website for 'distinction'.
Higher levels receive increasingly bigger mileage reductions for rule-buster awards on Air Canada metal, as well as bigger bonuses such as for the Aeroplan online shopping portal. Overall, the benefits of these status levels don't strike a priori as being especially compelling.