It seems that in the past day or so Air France KLM Flying Blue has made some significant changes to their award pricing for intra-European flying.
They've substantially reduced the fuel surcharges added on, in some cases eliminating them. Basically they're matching what British Airways has done with intra-European award travel (although in the BA case you need points earning within the previous 12 months to qualify).
At the same time, though, they've massively ratched up the points price of intra-European business class. There's no official release on this, it was done without any notice at all, but it seems like business class awards inside Europe are pricing out about triple what they were just days ago. (No change to the price of intra-European coach.)
For example, business class roundtrip London – Paris is now 60,000 points instead of 20,000. (British Airways charges 18,000.)
Seriously — low-level business class is pricing out at 60,000 points for London-Paris roundtrip.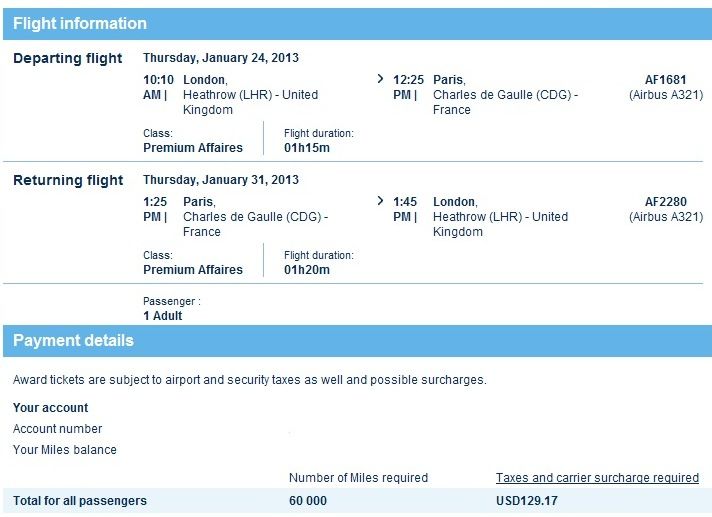 And at the extreme end of intra-European flying, Athens-Paris roundtrip is pricing at 90,000 in business. While Athens – Paris – Los Angeles is still just 100,000 miles roundtrip! (Of course, flying beyond Europe still incurs fuel surcharges.)
Bottom-line is that it appears intra-European economy redemptions are a much better deal. In the past, fuel surcharges would mean you'd often spend as much cash for a coach award ticket as you would for a paid ticket. Now it could make sense to redeem, so a real improvement. But these changes mean that redeeming for intra-European business makes no sense at all.
Separately, and it's unclear whether it's in any way related to these changes (perhaps an IT glitch as a result of revamping their award system?) or something more nefarious, but Flying Blue's famous "promo awards" (50% off mileage cost of redemptions for specific routes which change throughout the year) are no longer showing up. European promo awards that were listed just 48 hours ago seem not to be bookable. Transatlantic promo awards, though not showing up on the promo awards page, still seem to be pricing out correctly.
Developing…