Earlier this week American changed its checked baggage policy effective October 1.
Like US Airways, it will no longer interline bags on separate tickets although they're a little more generous than legacy US Airways — because they'll still do it if the flights involved are on oneworld airlines.
They've at least now informed travel agents of the change, via the following message: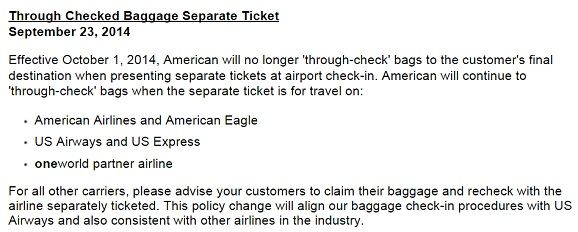 Of course, most customers don't know, and it's a mere days away.
Here's what is just icing on top of the change — the purported reason, to align themselves with other airlines in the industry, as though that's a value in and of itself.
And what other airlines, exactly? United will still allow this. Delta will not, and the new American policy is similar to British Airways'.
So it's true that American isn't alone but it's disingenous to suggest that they are aligning their policies with what is standard in the industry, and across the world.
And you know that when an airline says the reason for a change is to be "consistent with other airlines in the industry" that customers are taking it on the chin. Because other airlines — in this case the least generous other airlines — hardly represents a high bar.
"Consistent with other airlines in the industry" is like calling a policy an "enhancement." You know anyone using that term just isn't playing straight with you, or doing you any favors.
---