I once flew United Express out of Denver and there was no soap in the lavatory. I couldn't stop thinking about this every time I saw passengers use the lavatory, including spending 10 minutes at a time in there. Although I suppose that's better than the American flight to Chicago that took off without a working lavatory at all.
If a lavatory stinks, stick used coffee grounds in there.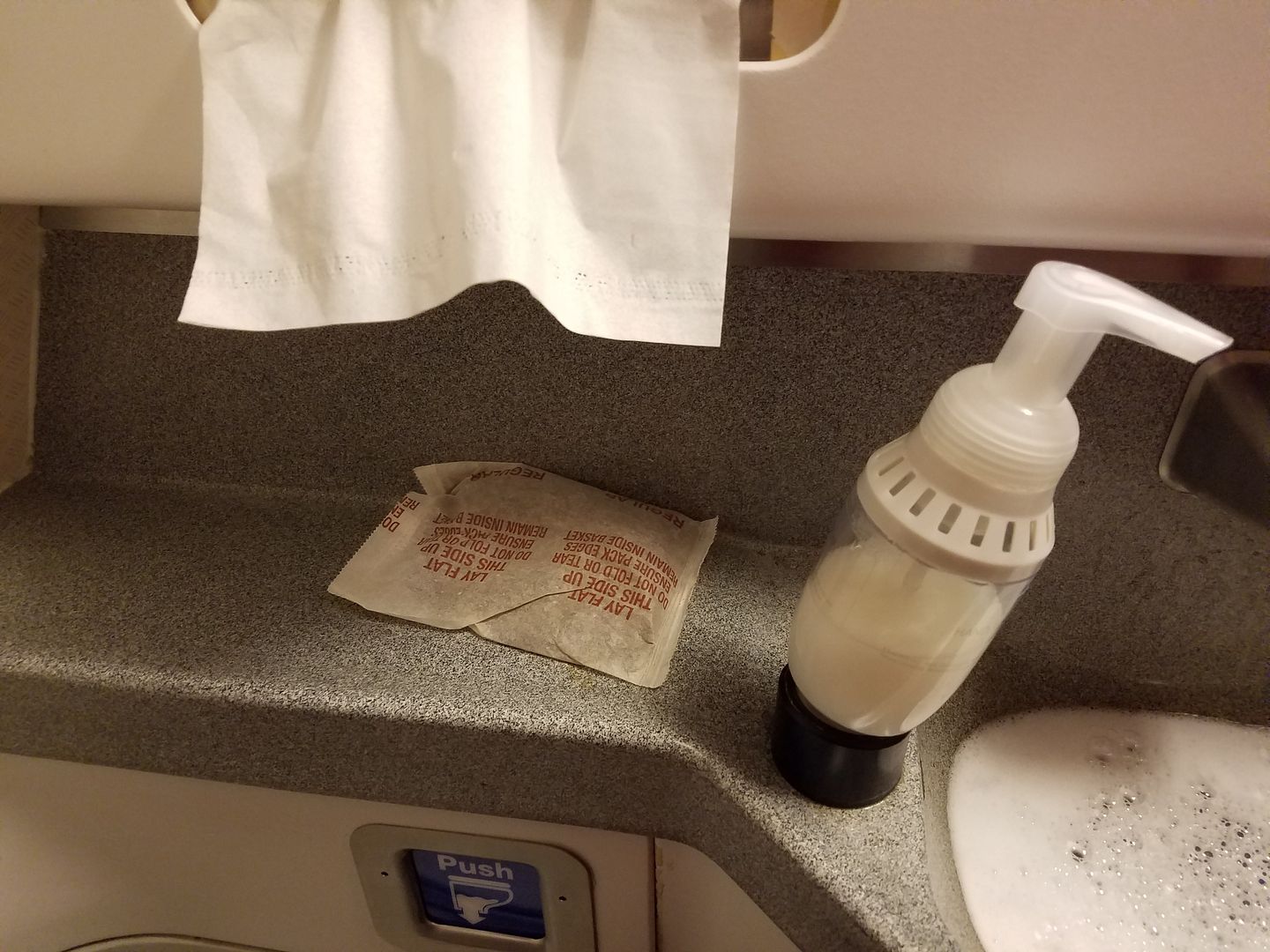 And whatever else, wash your hands. I try to use a paper towel to open the lavatory door after washing my hands, or else I'd defeat the purpose of having washed in the first place.
American Airlines by the way uses C.O. Bigelow soap in its lavs, while some passengers report that Ryanair may save money by not bothering to refill the soap in its lavs.
Sooo… the air hostess on @Ryanair tells me "we no longer stock the toilets with soap" and they're serving food. #ecoli #cdiff #Ryanair

— Kay Leedham-Green (@doctorkayleigh) July 23, 2017
#Ryanair great flight back from Bratislava, no soap in the toilets. Disgusting! Thank God I had hand sanitizer! pic.twitter.com/xTVPBGJ2Mv

— Ian Harman (@HarmanPip) September 3, 2017
New low for @Ryanair? No soap in toilet, reported to staff, reply: "we don't have soap on this flight"!!!

— Mike Hills (@MikeHills28) July 24, 2017
Ryanair denies the claims:
This is nonsense. My father made the claims, he was cabin crew for BA for 40+ yrs. 100% true and cabin crew told my dad they bring own soap

— Chris Woodward (@wudwerd) October 27, 2017
Not everyone is having the denial, however.
Ryanair would do well to apologise for soap-gate, fix the problem & move on, rather than accusing me & others of lying – why would we?!

— Louise Thomson (@Soprano_Lou) October 24, 2017
Whenever Ryanair has been out of the news for awhile Chairman Michael O'Leary will threaten to make passengers fly standing up and pay to use the toilets. They once suggested passenger gambling onboard would replace ticket prices. These aren't ever going to happen, but it gets news coverage and it reinforces the idea in consumer minds that Ryanair is cheap — that if you want cheap flights go to Ryanair.

Copyright: trevorbenbrook / 123RF Stock Photo
Here though it's not the airline claiming to be cutting perks, it's passenger reports and cabin crew statements that are driving the coverage.
And frankly I expect a more creative response from Ryanair than just 'it isn't true'.
Ryanair responds brilliantly after employees create snow dick on tarmac – http://t.co/de0vY6OLfu pic.twitter.com/noIfCQD4sF

— Lost At E Minor (@lostateminor) July 28, 2015
(HT: Heels First Travel)