Alaska Airlines Mileage Plan is an incredibly useful program. They partner across much of both Skyteam (eg Air France, KLM, Delta, Korean) and also oneworld (eg American, Qantas, British Airways, Cathay Pacific). And they have partners that aren't alliance members (like Emirates).
For the infrequent flyer I often recommend Alaska as a way of earning miles from flights, they may not fly either American or Delta enough to have enough miles for an award ticket but crediting miles flown on either airline to Alaska allows those miles to build up much more quickly.
The biggest drawbacks to Alaska have been the inability to use miles for one-way awards on partner airlines (those were limited to flights on Alaska Airlines only) and the inability to mix and match partners on a one-way award.
This last is a frustration because if you want to fly Air France one direction you have to fly it the other way as well.
And you can't combine an American domestic flight with a British Airways or Cathay Pacific international flight. You could use Alaska Airlines to the international gateway city only.
That's made redemption much harder, despite the variety of partners Alaska works with.
But they've finally begun allowing both one-way awards on partners for half the cost of roundtrip (sometimes) and also the ability to combine partners on a roundtrip award.
Here's an example of what's going on from their website — Alaska Airlines allows you to search Alaska, Delta, and American flights online.
Take a look at a one-way award search between Detroit and Chicago, Alaska Airlines Mileage Plan shows options to fly both American and Delta. The American flight shows at 12,500 miles — half the cost of roundtrip. The Delta flight shows at the 25,000 mile roundtrip price, however!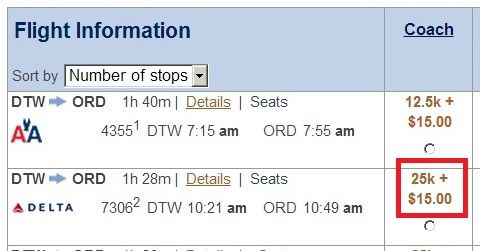 When you search roundtrip you can mix and match American and Delta, and Delta shows up at 12,500 one-way based on roundtrip (in other words, 12,500 for the one-way segment as long as you're making a 25,000 mile roundtrip booking).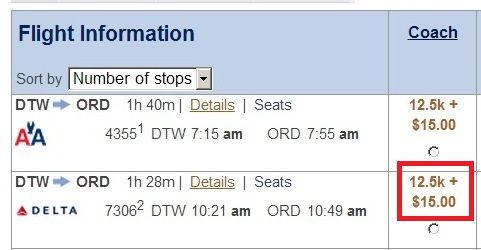 Partner award charts show roundtrip pricing only still.
Matthew points out that mixed cabin availability can show up in an unclear fashion until late in the booking process. He searched for a US-Europe first class award and American showed up for 50,000 miles one-way… instead of 62,500. It wasn't immediately obvious that he was being offered premium cabin domestic and coach international. So pay close attention when booking online.
My guess — and since Alaska doesn't have 24 hour call centers I can't verify this yet — is that one-way and mixed partner award booking is available for other partners as well. I look forward to verifying that in the coming hours once Alaska's call centers have opened (unfortunately I'll be on a long haul flight so it will be several hours before I can update things).
And I also look forward to figuring out what's going on with Delta one-way awards for full round trip price, if that's a glitch or by design (perhaps since Delta doesn't allow its own members to book one-way awards at half the price of round trip, though you can book one way Delta awards at half roundtrip via Delta's non-US partners like Air France's Flying Blue).