Alaska Airlines began to introduce long-anticipated one-way awards on partners on March 20th.
This was a huge development, because while Alaska Airlines is a hugely flexible program — partnering with many of the airlines in both Skyteam and oneworld — and thus a good place especially for the infrequent flyer to credit flights they take on American and on Delta (since those miles get pooled towards earning rewards faster), the program was also really limited because if you wanted to redeem on partners you couldn't mix and match them. You had to fly the same partner both ways, and that's not always available. You could not do American one way and British Airways the other to make an award work.
The initial roll out of one-way partner awards was pretty limited — just American Airlines and Delta. And while you could combine American and Delta on a roundtrip as a result, if you wanted just a one-way award on Delta you would have to pay the round trip price (Delta doesn't allow its own members to book one-ways for half the price of a roundtrip, but I was hopeful Alaska would since some Delta partners like Air France do).
Alaska, it turns out, is rolling out some of their partners for one-way awards, one at a time. I don't believe they've stated which partners will not be bookable as one-ways.
Golfingboy provides a heads up in the comments that Alaska Airlines has now brought partner British Airways online for one-way awards.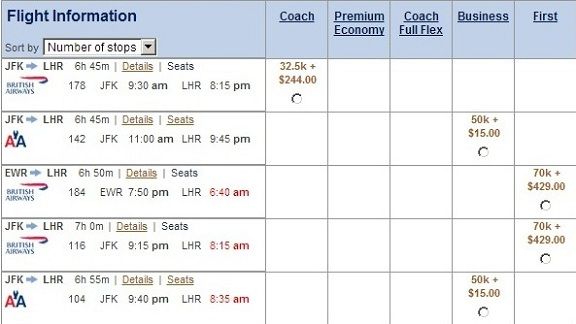 This is great, although with the caveat that British Airways awards entail fuel surcharges — and those fuel surcharges are higher for premium cabin than they are for coach.
In the example above, New York to London one-way, a first class one-way award runs $429 in taxes and fees. (A return from the U.K. as opposed to from other countries would be even more money since it would entail the UK's air passenger duty often known as premium cabin departure tax.)
What Alaska's one-way awards don't let you do is combine partners in a single direction. You can fly Alaska and a partner, but not two different partners (such as American and British Airways, flying Los Angeles to Dallas on American and then Dallas to London on BA).
British Airways aside, this is especially encouraging because it suggests that the timetable for additional partner rollouts may be fairly quick. Alaska is trying to get the functionality going quickly. Hopefully they continue to add additional partners in a matter of weeks. I'd especially love to see one-way awards on Cathay Pacific and on Emirates. (Currently the most favorable Emirates award chart much of the time is the Japan Airlines chart, but that doesn't provide one-way options.)
These developments make Alaska Airlines miles increasingly valuable.