Ok, I both abhor and love that way-overused and slightly-inappropriate corporate-speak ("open kimono"). But they very much laid bare some interesting data about their airline partnerships and frequent flyer redemptions at an investor conference (powerpoint, webcast) and offered some great insights.
The two charts I found most interesting: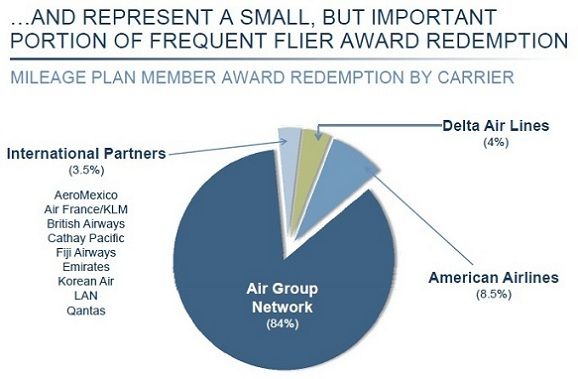 When Alaska made small tweaks to its award chart this week (aka modest devaluation) it seemed both minor and incosnequential to people who are interested in their great international partner awards that can now for the most part be booked on their website — since the changes touched only Alaska's own flights.
But the presentation makes clear that 84% of Alaska's redemptions are for travel on their own flights, 12.5% are on domestic partners American and Delta — with twice as many American redemptions as there were on Delta. That certainly says something about relative award availability, considering how coordinated Alaska and Delta have been.
3.5% of miles are redeemed on Alaska's international partners. 40% of those are for first or business class.
Less than 2% of Alaska miles are redeemed for premium cabin international partner awards. That number has actually decreased over the past decade. Will online redemptions change that? Not everyone realizes you can book awards that aren't offered when you enter the city you want to travel to into a website.
There are 3 million Alaska Airlines Mileage Plan members. About 1 million of those have their co-branded credit card. Changes to their card agreement with Bank of America are expected to generate an additional $54 million in revenue in 2014 — which is even more than Alaska anticipates from changes in fees.
Alaska sells an average of 5 first class seats per flight. That's not low, but they'll be introducing new discounted fist class fares to try to sell more of the seats (making upgrades harder).
Meanwhile, there are clear cracks in the Alaska-Delta relationship, with Delta entering many markets from Seattle that Alaska serves and even battling it out with their respective frequent flyer programs with bonuses. Alaska was coy yet obvious in their presentation that they constantly re-evaluate partnerships, and they could certainly get closer to American.
(HT: Lucky)
---