The standard bonus for the Alaska Airlines Visa is 25,000 miles, and it's been offered with as much as 40,000 miles in the past.
But 30,000 miles appears to be the best current offer.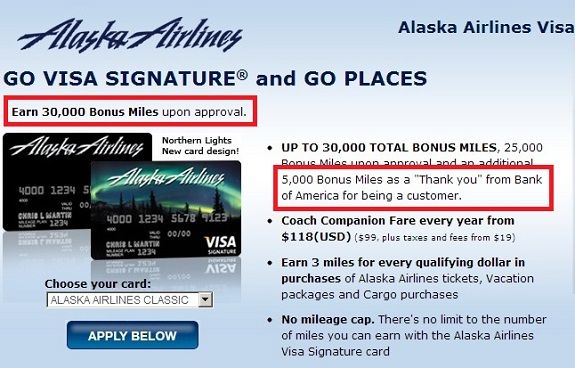 The offer is for 25,000 miles on approval (no minimum spending) and 5000 more miles "for being a customer."
There doesn't appear to be any verification that you need to be a pre-existing customer, that they will do anything like check to see whether you have bank accounts with them already for instance, and I'd bet that anyone — even folks who have never had a Bank of America account before — will get the full 30,000 miles. Though since they only promise it to folks as a thank you for being a customer (gee, getting upproved for the card makes you a customer, no?) I suppose it isn't guaranteed.
At this point if you are going to apply for a Bank of America Alaska Airlines Visa Signature, there's not a good reason not to use this link since I believe there isn't any other current offer better than 25,000 miles (if other larger offers are still functional please let me know in the comments). So worst case you'd get that but likely the full 30,000.
I appreciate folks returning with their experiences using this link!
The card comes with a $75 annual fee and a $99+tax companion certificate valid for any coach seat in conjunction with a pad ticket (both tickets earn miles).
Hat tip to reader Murtuza and for clarity's sake this is not my link, I don't get any credit of any kind if you use it. It just seems like a better than usual offer from an issuer without a lot of products that compete for your attention otherwise.
---
You can join the 30,000+ people who see these deals and analysis every day — sign up to receive posts by email (just one e-mail per day) or subscribe to the RSS feed. It's free. Don't miss out!