Last week I needed to be in San Diego for one night. There aren't any non-stops between Austin and San Diego, I rather expected Southwest might have one, but I wound up on American through Dallas. My flight into Dallas was a few minutes early but we had to wait about 20 minutes for a gate.
I wasn't concerned as my relatively short connection time dwindled. I didn't need to make it to my connecting gate before boarding started — for a simple overnight I just had my laptop bag and didn't need any bin space. I'd be happy to be the last to board.
I needn't have worried anyway, because my connecting flight to San Diego went mechanical. When maintenance was enroute to the plane 15 minutes before scheduled departure, and boarding hadn't commenced, the flight – naturally – was still showing on-time.
That wasn't really a big deal, I didn't have anything to do that night on arrival, it was just a question of how early or late I'd wind up settling into my hotel. Although the American Airlines kiosk beside the gate was taunting me:
The issue was minor and we were on our way soon enough. We made up some time in the air and our delay was ultimately only about half an hour. It was quick over to the hotel, I was staying at the Sheraton San Diego Marina beside the airport. I checked in around 9 pm Pacific time.
Now, I knew I had been upgraded to a suite because sometimes when that happens an email is generated with a change to the reservation. (I didn't check my room with Starwood's app.) I saw a suite in my future.
But it was better than that. They told me my room was a suite but when I got there I saw:
The room was enormous with an office on one side, a living room plus sitting area and dining room as part of one large room (with a kitchen off of that room) and a separate bedroom and bathroom.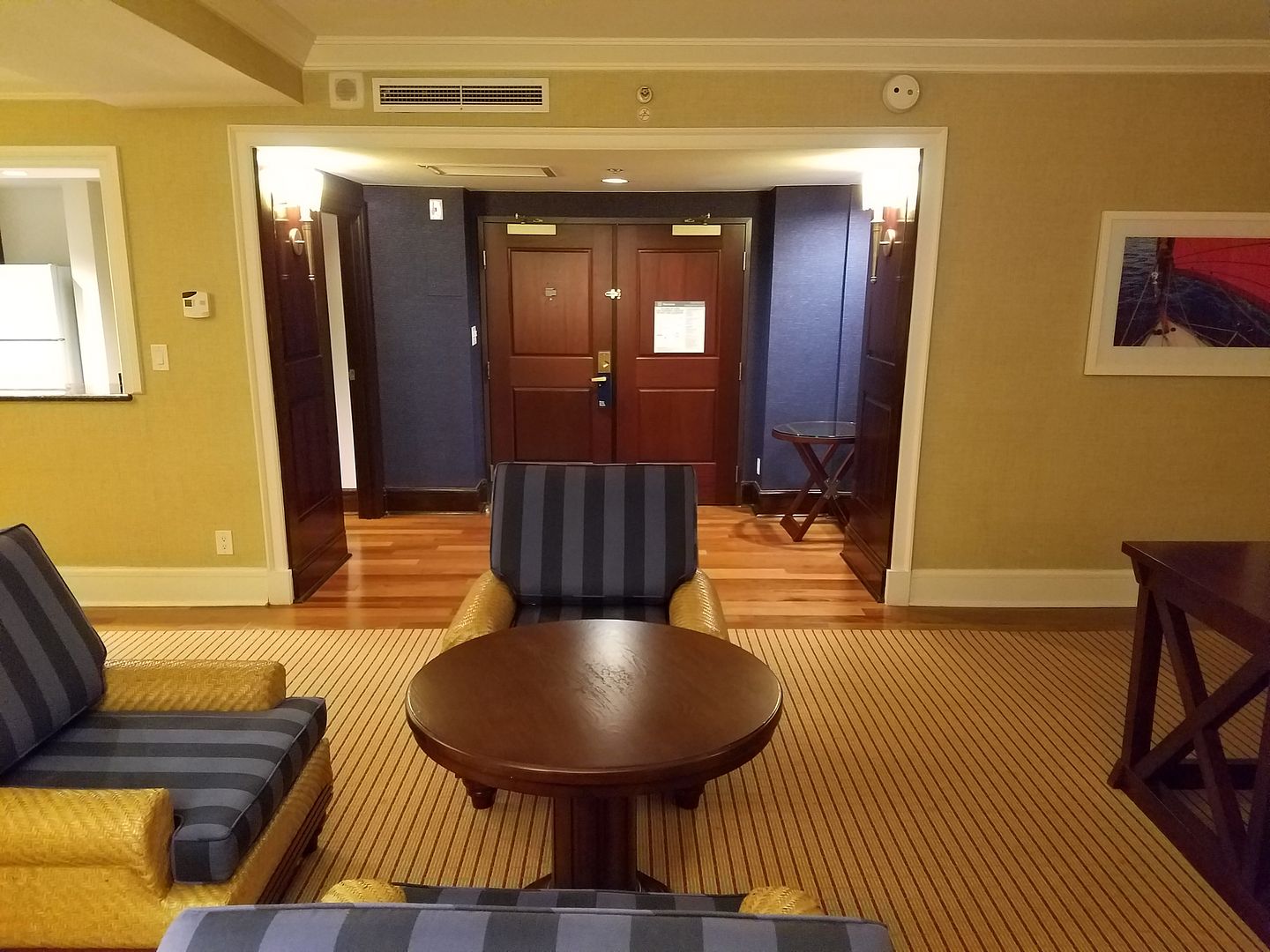 The room had four balconies overlooking the property's grounds, out towards the airport, and over the marina.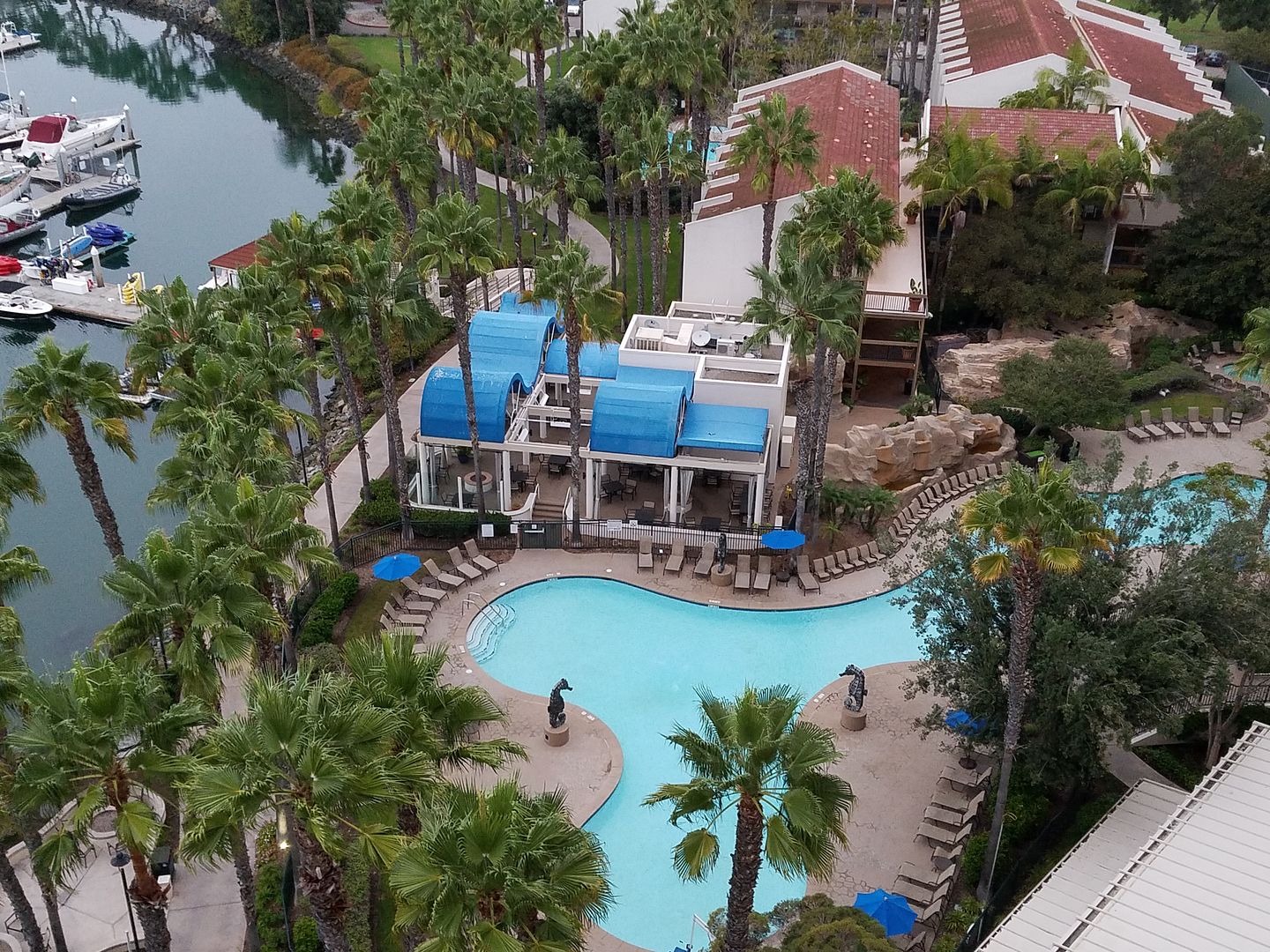 However it was dark when I got there and 11 pm Central time so I was headed right to bed. It was dark when I got up, and I had to be at an event at 9 am. My flight out of San Diego was before 1 pm. So I had zero opportunity to actually enjoy the upgrade.
Of course it's precisely because I was checking in late on a one night stay that I had a decent shot at this suite. In order to be upgraded on arrival the room you're going to be upgraded into has to be available — for your full stay — and a hotel may be reluctant to assign it to you if they think they can sell it. This room wasn't a part of the upgrade pool, so the hotel didn't have to assign it to me regardless of whether or not it was available.
It's also because the most likely time to get an upgrade by happenstance is when you'll want it least that it's so important to be able to confirm the room you want at booking. And that's why I value the concept behind Starwood's Suite Night Awards and the execution behind Hyatt's Diamond Suite Upgrades.
Starwood Platinums who stay 50 nights can choose an award, one option is 10 'Suite Night Awards' — nights where they get to express a preference to be upgraded, and if the room is available they'll be confirmed up to 5 days in advance.
Suite Night Awards are really 'upgrade priority' (rather than confirmed upgrades) managed centrally by Starwood out of a hotel's room inventory.
This means a Platinum is raising their hand up to 10 nights a year saying that's when the upgrade is important to them, it's a way to channel upgrades to members when they want the upgrade most.
And it takes the process away from the vagaries of the front desk, booking rooms directly that show as available.
However hotels are frequently full these days and everyone wants suite upgrades at the same hotels at the same times. No one wants them on solo one night business stays. They want them at resorts at peak times.
If suite requests were spread out evenly across the year and at all properties there'd be no problem accommodating everyone's requests. But that's not how requests work. Everyone wants an upgrade at the Westin Maui between Christmas and New Year's. And many requests go unfilled (and as a result, suite night awards go unused, and expire or get burned on short stays for modest rooms at city hotels).
Which is why I value Hyatt's approach so much — four times a year a member gets to take their booking for a base room and have that reservation changed to a suite, for up to seven nights. All that's required is that it's not a third party reservation, and that a standard suite has to be available at the property. (Some hotels do play games with this but for the vast majority it works great.)