When American Airlines took delivery of its first Airbus A319s in 2013, they used a tighter configuration than with past fleets. So after US Airways management took over about six months later, they didn't seek to redo the interiors. And they found it easy to configure older (1998-2006 delivery) US Airways A319s to match, albeit without seat back entertainment and with a less comfortable and less padded seat.
As American has squeezed even more seats into planes – for instance going from carrying 150 to 160 and now 172 seats on Boeing 737-800s, while removing seat back video – they haven't done more to the Airbus A319s. Legacy American A319s still have seat back screens. This fleet lacks the larger overhead bins of the 737s, and that the Airbus A321s are getting as they have seat back screens removed and more seats added.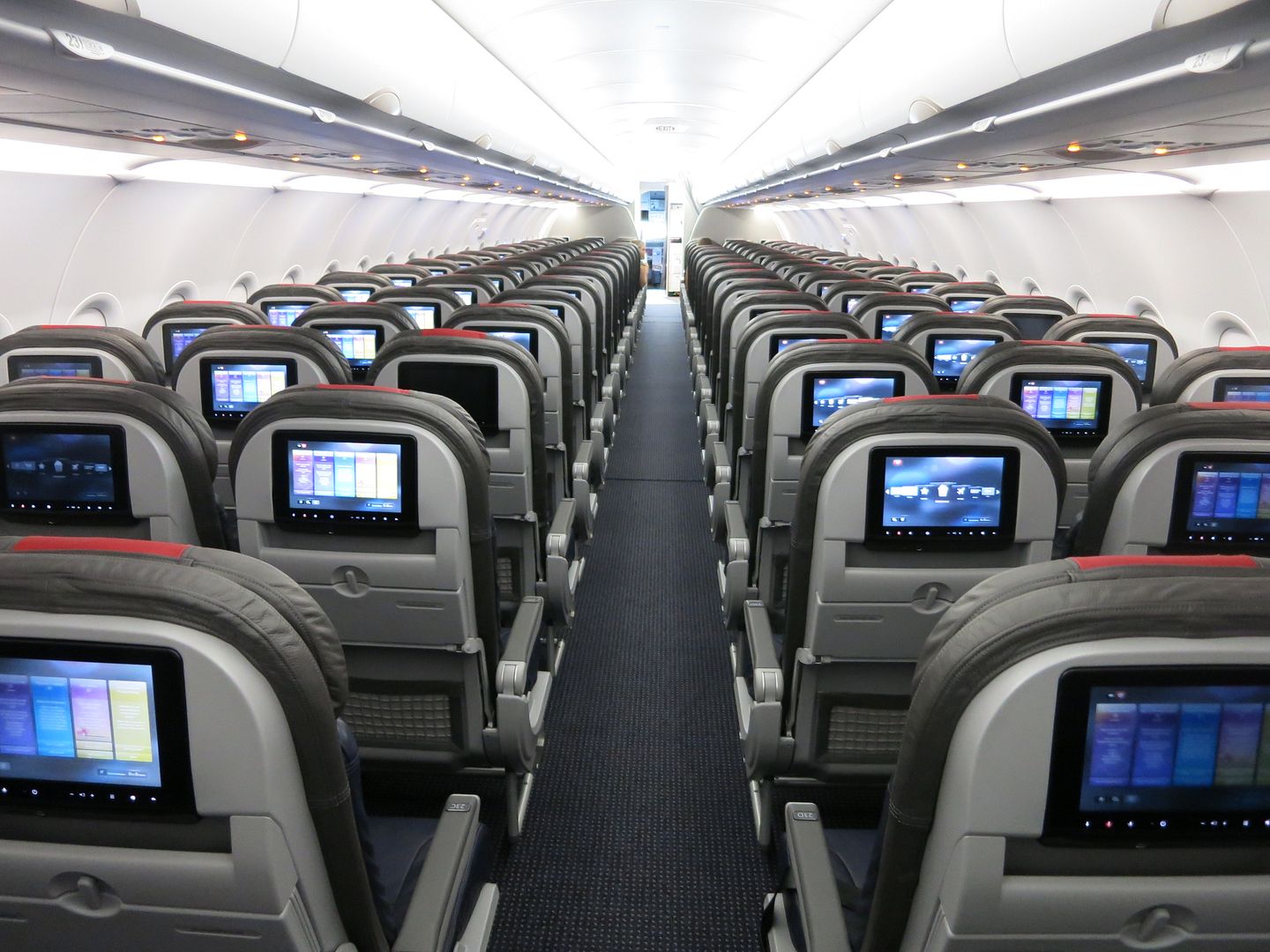 Legacy American Airlines Airbus A319
American Airlines would like to modify these A319s as well, and in particular add more first class seats. Just 8 seats up front isn't enough to sell on many of the routes where the aircraft gets deployed. As airline President Robert Isom explained it to flight attendants in an internal meeting this week, a recording of which was reviewed by View From The Wing,
Where do we go from here? There's some things on the A319 that I'd like to look at. I think that if you talked to Brian [Znotins] today he'd rather have an A319 with a larger first class section. I think that we'd like to have oversized bins in that aircraft. We'd like to have a much more common fleet from the 319 perspective. Probably a ways to go on that, but that's something that we'll probably tee up next.
Znotins, who is the airline's Vice President of Network and Schedule Planning, added,
We would obviously love to do a modification on the 319s as Robert says to add more first class seats, to get the bigger bins, have a better product on board. But we do have a number of reconfiguration opportunities in front of us. And we need to prioritize which ones are best. Right now our priority is getting the Oasis installed into the 321 aircraft and then once we get into next year we will decide how we best use our financial and most importantly TechOps resources to be able to improve the experience and the configuration of other airplanes. We don't have any plans to share now but we are looking at the various options in front of us to see which one the best one is to tackle next.

American Airlines Airbus A319
So refreshing the A319s with more first class seats, and bigger overhead bins, is potentially in the cards and a decision that would be made next year. The question is where they'd get the room to add first class seats. As it stands, with the same number of seats up front, Delta crams four more passengers into their Airbus A319s. They won't want to give up seats. Expect, then, smaller lavatories and less personal space for passengers in back if this happens.