Yesterday I attended an American Airlines event near LAX highlighting the new soft product offerings for their Los Angeles – Sydney flight.
They're flying as part of a joint business venture with Qantas (the particulars of which are still pending Department of Transportation approval). Qantas is reducing their flying Los Angeles – Sydney and redeploying aircraft to re-start San Francisco flying. And Qantas customers are used to a certain level of catering. Plus it's a pretty premium route that's also very competitive since it's served by United, Virgin Australia, and Delta as well.
Taken together, American saw the need to up its game — pajamas in business class and a redesigned menu.
American was holding crew trainings near the airport and invited select media to preview the full catering so I popped over. (For avoidance of doubt I covered all of my own expenses, and didn't take the bottle of wine they were giving participants even though it was quite a nice bottle, being served on the route, because I was headed back to the airport without checked luggage.)
First Class Service
American still has first class cabins on their unreconfigured Boeing 777-200s, but is moving to offer first class only on their limited number of Boeing 777-300ER aircraft — which will be serving the Los Angeles – Sydney route.
There's only 8 first class seats. With an outstanding business class seat, the first class seat isn't all that much better than business, and with more investment into the business class offerings on this route, American is upping their first class game for the route.
Nick Richards, director premium services, said that all first class passengers would be eligible for complimentary Five Star service at LAX.
Normally something American offers for sale to anyone with a premium flight segment in their itinerary for $250, first class passengers would normally receive some of the benefits anyway — Flagship Check-in at LAX provides a separate VIP area with an elevator that drops off right at the front of the priority security queue.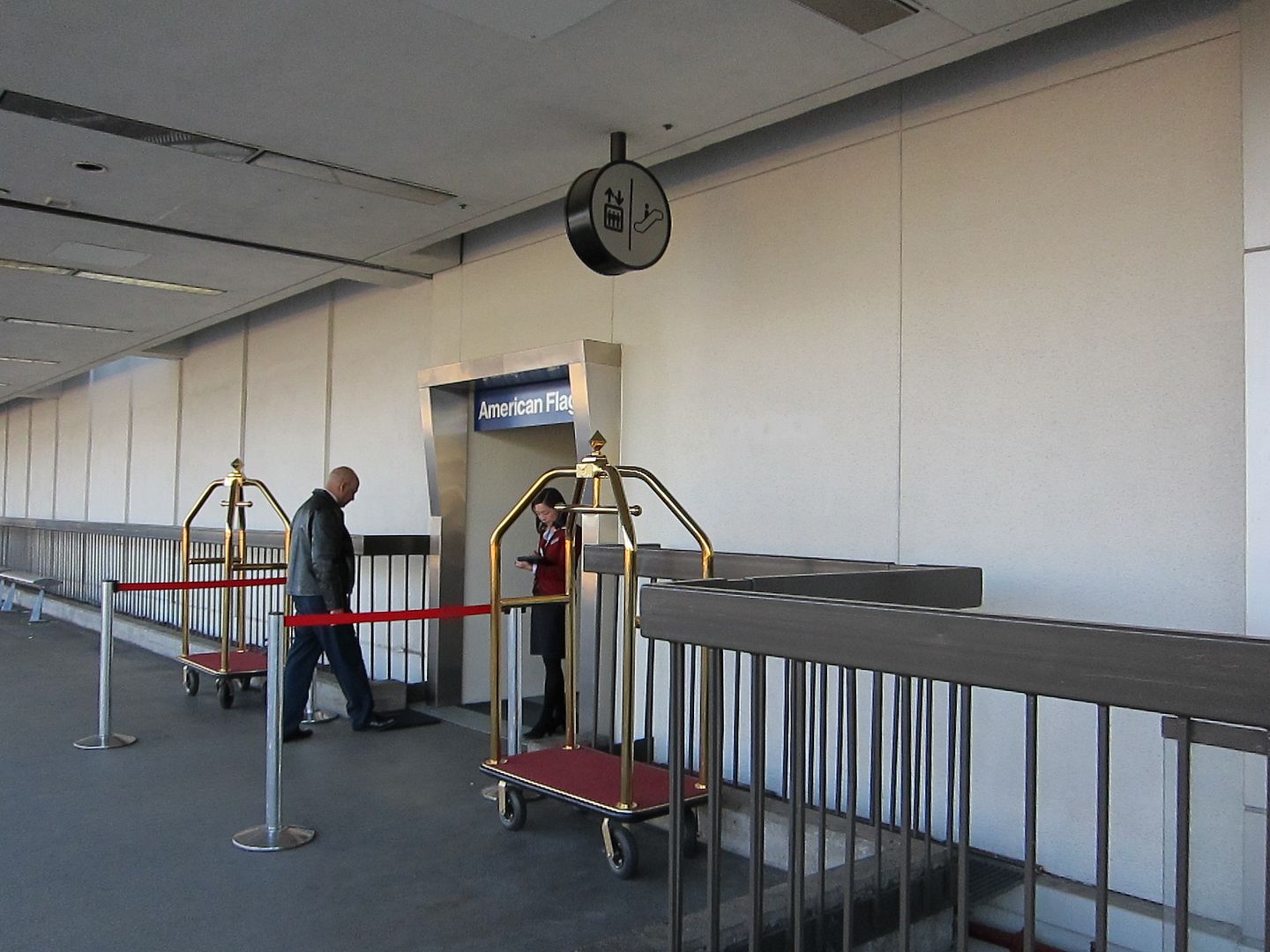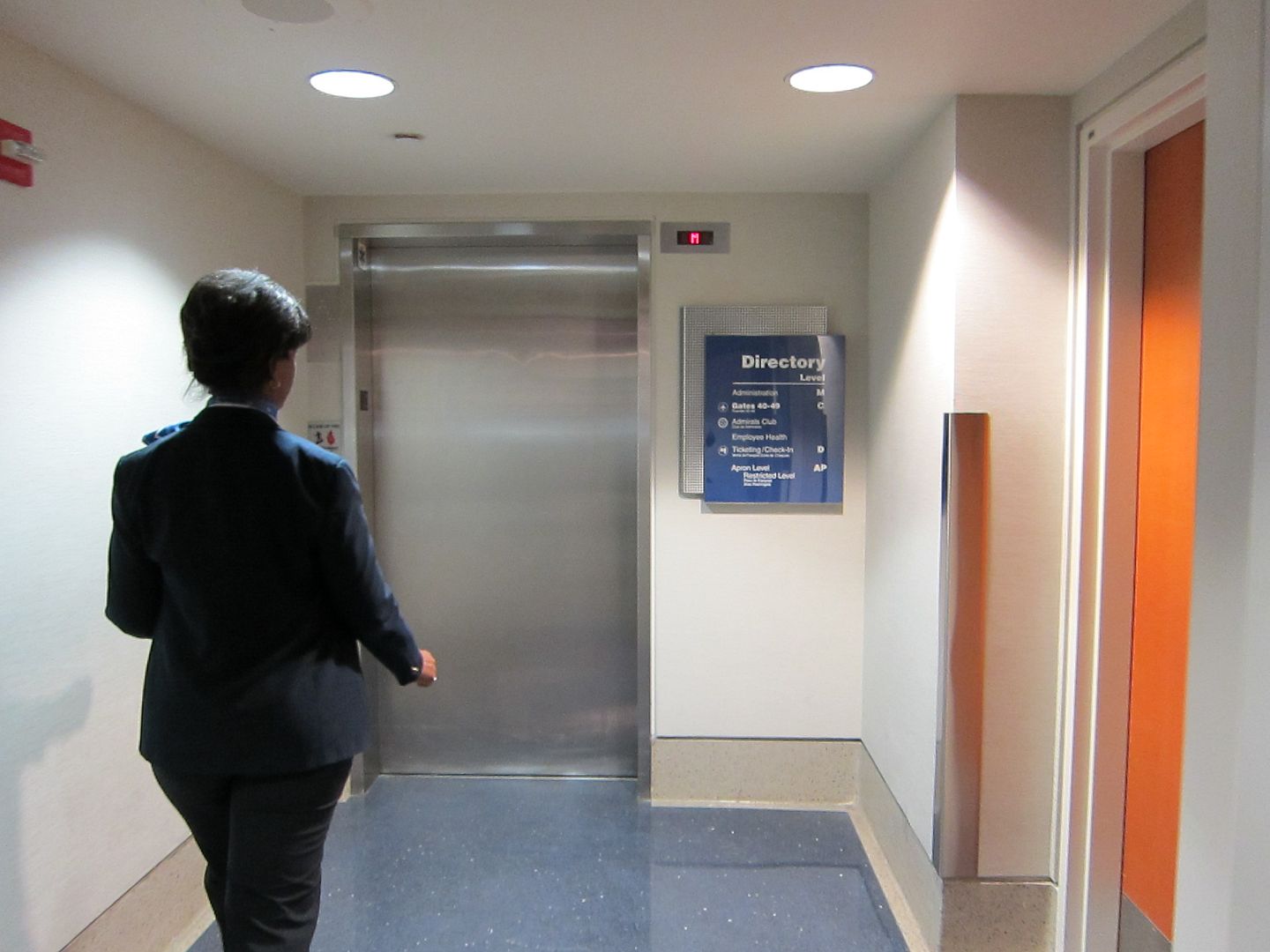 Flagship Check-in Photos from 2012
Five star though includes coordination of arrival with your car service, curbside meet and greet, and escort from lounge to the gate.
The inflight service has been redesigned as well. They'll offer smoked almonds at your seat upon boarding. Olives and potato chips after takeoff.
They've redesigned the menu to offer a variety of small plates in addition to main dishes. The idea is that some passengers may want a salad and a variety of small dishes, first class passengers can mix and match from the menu as they wish. The flight will be over-provisioned around 150% to meet customer choice in how they organize their meals.
American is introducing a canapé service like the old amuse bouche which was discontinued with the merger.
First and business class meals will be on a 3 month rotation, and offerings are different in each direction based on what's seasonal at the originating station.
Small plate offerings include poached Maine lobster, lamb carpaccio, and a meatless option roasted tomato tart.
Salad is served in a bowl, a larger portion than currently offered. This one focuses on the greens with few added ingredients. (There's a choice of a salad dressing or balsamic and olive oil.)
They highlighted a soup course of butternut squash with marshmallows.
First class has 4 main meal options.
You can pair extra vegetables/sides with any entree.
The cheese course consists of 3 cheeses served on a cheese board (business class has 2 cheeses).
Traditional desserts include a chocolate mousse and a warm sticky pudding.
Separate from dessert there's a chocolate service for pre-bedtime.
Mid-flight snacks include wagyu sliders and a mezze, and there are also packaged snacks at the bar. These are the same in business class.
Breakfast includes 3 choices, two of which are similar to business class. There's a traditional American breakfast, a continental option, and unique to first class a sweet option.
Here's a current first class menu: (Click to enlarge)
Business Class Service
The headline for business class doesn't even start with the food. It's that, like first class passengers, business class passengers on the Sydney route will receive pajamas (Qantas and Virgin Australia have long offered pajamas to business class passengers). There will also be mattress pads. In business class I usually try to scrounge an extra blanket and use that as a mattress pad, but this is certainly better for a comfortable rest on such a long flight.
American is introducing new pajamas in March from a different supplier, and they'll be 100% cotton. This is being talked about as an improvement, although I'm a fan of American's current pajamas — they're comfortable and they wash well so it's usually American Airlines pajamas that I bring with me for long haul business class flights where I won't receive a pair from the airline I'm flying.
Service begins with warmed nuts and a cocktail offering.
There are 4 entree choices. The trays come pre-plated, the only difference is the entree that's added, and those are pre-plated as well (versus individually plated in first class).
Ice cream sundaes in business class are pre-made rather than built individually as in first class, and there's a cheese plate as well.
Business class gets the same mid-flight snacks as first class, and two of the same breakfast choices (although not as upscale a yogurt), lacking only the third sweet breakfast choice.
Here's a current business class menu: (Click to enlarge)
Business and First Class Wines
On the inaugural flight American will be pouring Penfolds Grange in first class both directions. That's a very special wine.
On an ongoing basis though they have a separate wine service from the rest of international, with an Australian focus.
First class gets the business class wines plus an add-on, and I'm a big fan of the McLaren Value 2011 d'Arenberg The Dead Arm Shiraz. It's a legitimate $50 Shiraz that I'd be thrilled to drink at home.
The whites I was far less impressed by. I thought the Viognier in particular was flat, and wonder how it will translate in the air where taste buds are dulled.
Economy Service
American is putting fewer food items — removing cheese and crackers and the salad — on the economy meal trays, opting to put their investment into larger entrees which will be 50% larger.
There are three entree choices in economy for the main meal, and printed menu cards. There's beef, fish, and a new option of a cold entree salad.
There's no vegetarian option, but economy passengers can still pre-order vegetarian meals. I often forget that economy passengers internationally can still order special meals.
Meal choices are on a 6 month rotation, using local, regional, and (semi-, given the 6 month rotation) seasonal products.
They've upgraded the bread, with a garlic infused butter. Some are just going to love this, the way it oozes out, though it won't be universally popular since it comes instead of a butter pat and so it's not possible to take the bread without the butter.
Mid-flight snacks are a flatbread pizza and salted caramel gelato.
Even for breakfast they've gone with an Australian-style yogurt (albeit made in Colorado). I do like the attention to detail.
You get your American breakfast and your Continental as choices.
Coach service today offers free beer and wine (with premium wine for purchase). The Sydney route will include free spirits in economy as well.
Here's the current economy menu: (Click to enlarge)
Overall Takeaway
Throughout the event people were talking about "what was your favorite dish?" And I didn't have one. While they articulated a goal of offering restaurant quality meals, I probably wouldn't be choosing the American Airlines restaurant on the ground. But I did think the food was pretty good, and an improvement over the current international offerings on other routes.
It'll be interesting to see how the particular foods translate in the air, so I'm less interested in taste on the ground and plating on the ground.
The key here for me is that I'm pleased to see greater differentiation in first class. And I'm thrilled to see regional variation for the route, and a greater investment overall. Frankly it's not what I'm used to.
Russ Brown, who is in charge of dining and retail, mentioned that the Admirals Club and Flagship Lounge at LAX would be getting renovations this year. He explained this route at the first opportunity, with the bulk of the US Airways merger activities completed, to re-design a long haul meal service. They view the route as a test, and aren't ready to commit to replicating the service elements elsewhere, but it seems logical to do something similar for their upcoming new Auckland flight which will be part of the Qantas joint venture (and which competes against Air New Zealand which has a strong soft product). It is likely to be a route-specific decision based on competitive factors and the premium nature of the market.