American AAdvantage elite members who register are eligible to earn additional rewards for flying more than the minimum necessary to re-qualify for their current elite level.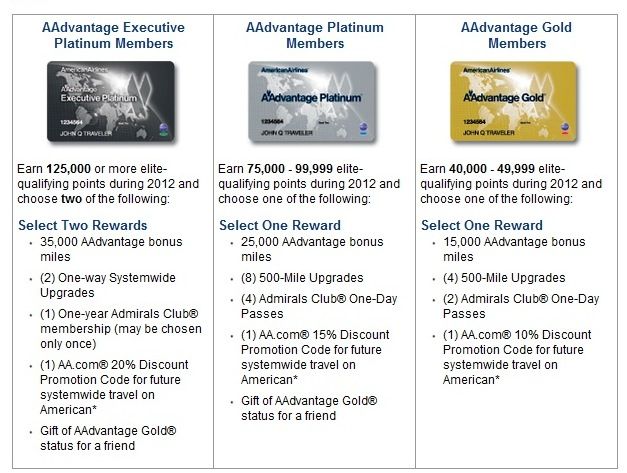 Golds who hit 40,000 get to pick one of 15,000 miles, 4 500 mile upgrades, 2 club passes, or a 10% off discount code.
Platinums who hit 75,000 get to pick one of 25,000 miles, 8 500 mile upgrades, 4 club passes, a 15% off discount code, or gift Gold status to someone else.
Executive Platinums who hit 125,000 get to pick two of 35,000 miles, 2 systemwide upgrades (eVIPs), a club membership, a 20% off discount code, or gift Gold status to someone else.
The Executive Platinum perks are really huge — 70,000 miles or 4 systemwide upgrades or gifting gold membership and receiving a free lounge membership, just to name a few.
The key, though, is that while status can be earned based on miles flown or points — and discounted fares in many cases only earn a half point per mile while premium fares earn up to 1.5 points per mile — the threshold rewards are based solely on points.
As an Executive Platinum flying mostly domestic but on decent mid-range fares and some discounted fares I may well fly enough miles but am unlikely to earn close to enough points.