Brian Sumers offers thoughts on why American continues to offer first class on premium transcon routes New York JFK – Los Angeles and New York JFK – San Francisco. They're the only airline that continues to do so, even though these are the most premium-heavy routes in the country.
What I actually found interesting was the hedging by American on this question as opposed to the commitment that Sumers purports to explain. Here's how he quotes a top American executive:
"The use of the first class product is waning industrywide, globally," [Chief Marketing Officer] Andrew Nocella told me last month. "This is something that we wanted to study to make sure it makes financial sense. Given that we were about to fly the airplanes at the time, this is something we wanted to test and make sure it worked."

…"This is something that will evolve over time, but I think so far, so good," he said. "The economic experience for us on my plane has been excellent, and it's something our customers want and are willing to pay for."
(Emphasis mine.)
It's no secret that the former US Airways management was skeptical of premium product investments generally, and three-cabin domestic first class in particular. This was certainly true when the service first launched two years ago.

American Airlines Airbus A321T at New York JFK
American Airlines offers economy, main cabin extra, business class, and first class on their narrowbody Airbus A321 "T" planes flying between the coasts.
Business class is very similar to United's offering, and is two-by-two.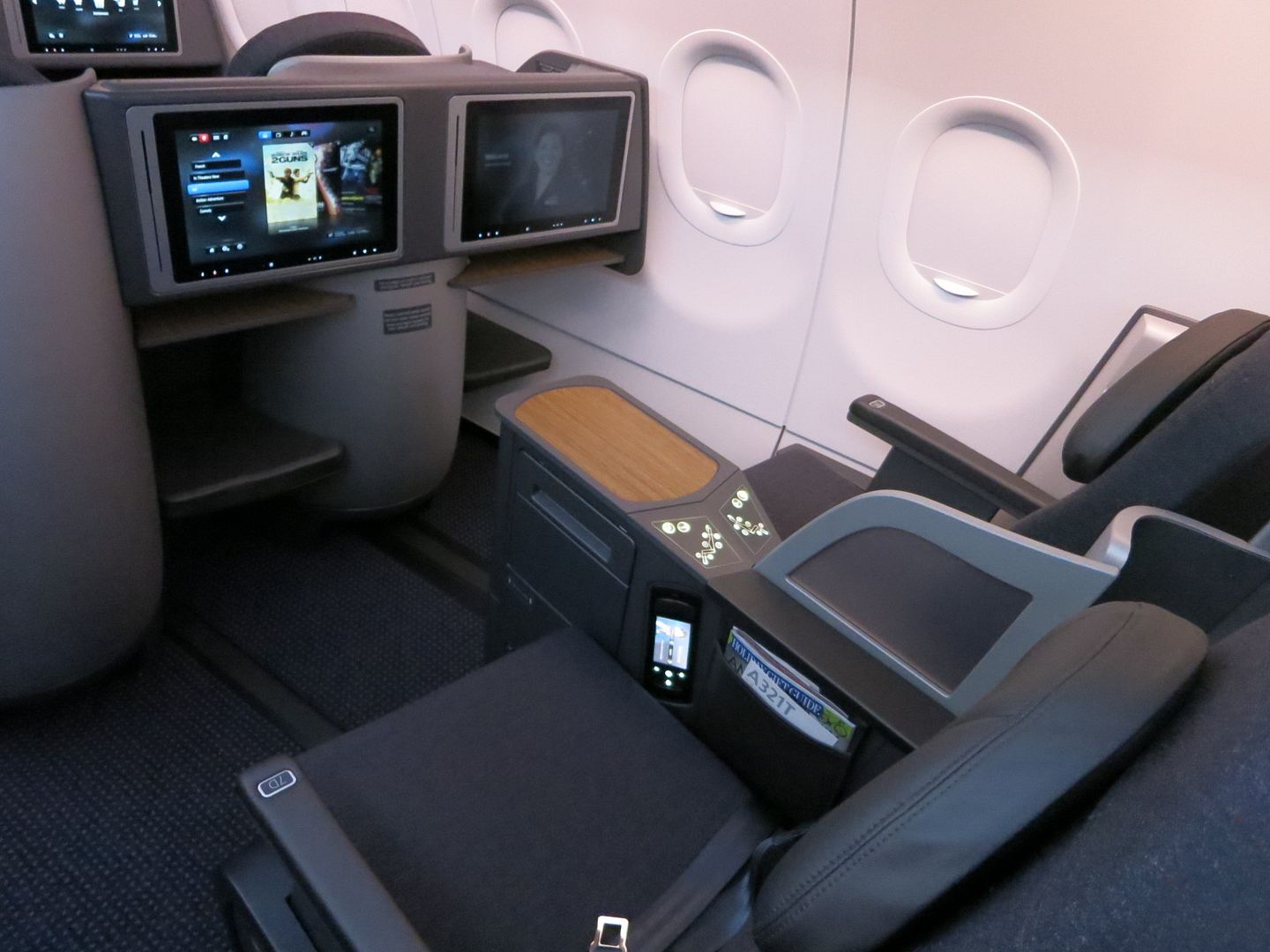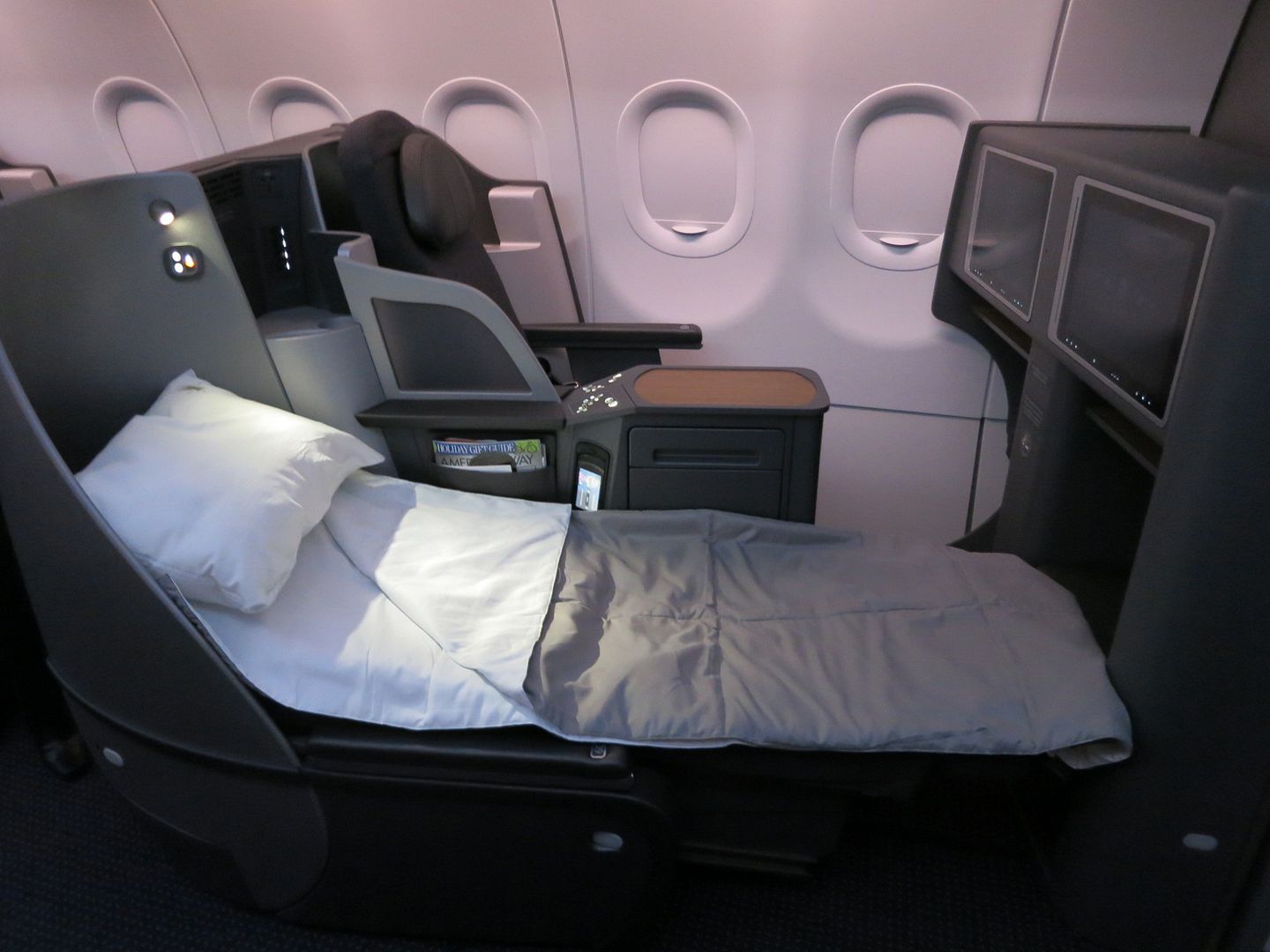 First class is five rows with one seat on either side of the cabin, so each seat is both a window and aisle and is essentially the international business class seat on American's Boeing 777-300ER aircraft.
Coach, both with extra legroom and without, is of course coach.
The premium business class product makes sense. Competitors offer it — these are very product-competitive markets where Virgin America, which otherwise offers the best domestic first class product offers the worst one here — given that United, Delta and even JetBlue offer fully flat seats. Furthermore, these are perhaps the only routes which draws the sort of price premiums to justify the investment.
First class, because no one else is doing it, is either brilliant (no competition in that market) or foolhardy (everyone else knows something American seemed not to).
My own guess was that it made sense, but that:
the 10-seat first class cabins are too large
the product is better suited for New York JFK – Los Angeles than San Francisco (though offering different subfleets for each market is itself cumbersome and costly).
As the service launched the airline wouldn't say unequivocally that it would stick around. One VP-level executive who came from the US Airways side told me they'd how it works but weren't sure.
Of course they had a whole bunch of other priorities ahead of reconfiguring these planes. They're a status good, and American has since really doubled down on their investment in Los Angeles — including focusing on LAX for international growth. This has surprised me because Los Angeles is such a contested market and historically US Airways management avoided head-on competition. Indeed, their New York strategy overall doesn't appear to be to compete in business-heavy markets but rather to focus on bringing customers from other cities to New York (they lack service from their JFK hub to some key business destinations that are competitor hubs).
Indeed, American just added a Sydney flight (with an improved inflight service). They're adding Auckland, New Zealand. And they're adding Tokyo Haneda service. And those are all international routes that face competition.
The theory American articulated at the time of launch for three-cabin domestic first class on premium cross country routes was that in addition to Hollywood studios and celebrities, joint business venture partner Japan Airlines (especially, but also Cathay Pacific brings) them first class passengers who come into the country on the West Coast, depart from the East Coast, or vice versa — and want to fly first class in between. I was skeptical how big that market was.
Now that much of the heavy lifting of airline integration between US Airways and American is behind us (though they still need a single pilot seniority list among other challenges to fully integrate operationally), it will be interesting to see how the route "will evolve over time" as Nocella put it.