To be the airline that American wants to be, they need to offer a high quality product and they need to do it consistently. In other words they need to offer the same high quality product every time.
They're making huge investments — in planes, lounges, meals, and routes — to live up to their potential as the world's largest airline that's also preferred by their customers.
One area where they once led, but have lagged behind in recent years, is inflight internet.
Improved inflight internet was one of the five priorities I outlined for the airline now that they completed customer-facing integration of US Airways and American.
Domestically, American (including legacy US Airways) offers gogo air to ground internet access. Many of the installs are old and haven't been updated the way that Virgin America, for instance, updated theirs. In other words, it's not just air-to-ground technology, it's not even the latest. So it's slow. And on routes where plenty of people are trying to use it, connectivity is rough.
With Delta going to gogo's 2Ku, which I've found to be almost like using internet at home, American needs to do something.
They are — it's just not even close to the 'something' I wish they had done.
American is going to go with ViaSat for domestic high speed inflight internet.
"Our satellite bandwidth enables an 'at home' internet experience that can serve everyone on the plane – and empowers innovative business models for airlines and their passengers," said Mark Dankberg, ViaSat chairman and CEO. "We are delighted and honored to have the opportunity to work with American Airlines and help fulfill their goal of delivering the best in-flight Wi-Fi experience throughout their fleet. We believe we are now approaching the end of an era where passengers have paid very high prices for very slow connections. Our agreement highlights a significant initial step for American to deliver an onboard Wi-Fi experience every passenger will want to use."
This is only for 737MAX aircraft which begin going into service in September 2017.
It's over a year away.
It will only be on (an initially small) portion of the domestic fleet
It leaves American with a hodgepodge of solutions
There's no indication at this point that they'll be retrofitting existing aircraft with the faster technology.
Already American has two different internet providers — one for domestic aircraft and another for international. Faster speeds are good, and customers should be mostly indifferent as to whom the provider of that fast internet is. If American wanted to retrofit their whole fleet with Viasat's faster offering that would be great. But sticking Viasat into some planes while the rest of the domestic fleet is Gogo internet (and the international fleet is neither) is a bad idea.
As the world's largest airline, combining both American Airlines and US Airways, American has been bringing together two different cultures and different fleets.
Two and a half years into the merger very few legacy US Airways aircraft have 'Main Cabin Extra' extra legroom coach seating. As a result I try to avoid legacy US Airways planes whenever I can. If my upgrade isn't going to clear, I want to at least have those extra few inches of legroom in back.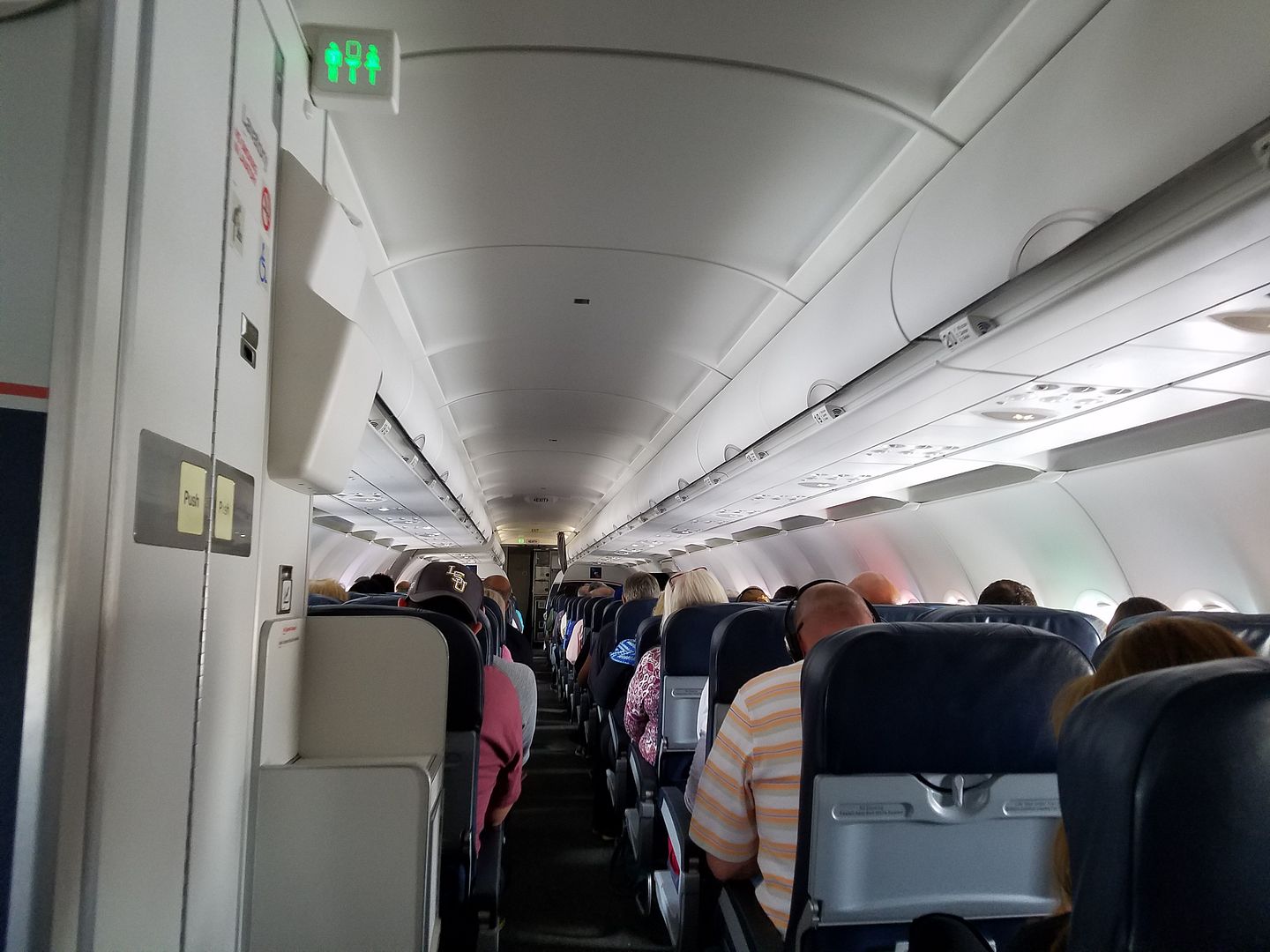 As it stands they have 5 different international business class seats and are about to add a sixth.
Both US Airways and American Airlines had new business class products that were fully flat with all aisle access. And both US Airways and American Airlines had Gogo as their internet provider. That was a head start.

American 787 Business Class
The struggle now that there's a single airline is to offer a single product, not to offer a different product depending on the aircraft you happen to get. Internet is a part of that — for consistent experience and for consistent access plan.
I pay for a monthly Gogo subscription. My flat $50 a month pays for all of the Gogo I use on American Airlines flights. It doesn't get me international coverage, but as long as I'm not flying an interntional-configured plane on a domestic route or a regional jet without internet (most of the legacy US Airways planes do have it), I can be confident my plane will have internet and that I can use it for no extra charge.
Add a new internet provider and that's another account I need to sign up for. I won't know in advance what aircraft I'll get, so what provider I'll have for the flight – whether it's one I'm already paying a monthly unlimited fee for, or whether it's one I'll have to buy internet anew for.
On a connecting itinerary I may get internet bundled for one segment, and may have to buy it separately for the next segment.
Does my monthly subscription still make sense? Do I need a monthly subscription for each provider? Will I get Viasat 737s consistently enough or Gogo 737s that I can still subscribe to just one? Or do I need to spend time buying one-off internet each time (which makes the internet much, much more expensive)?
How many internet subscriptions will my finance department at work reimburse?
American needs to provide its customers with a seamless experience not just on a single trip, but across trips as well, for customers that choose to fly them every week. That means offering the same quality product each time, accessed in the same way.
Since I pay a monthly fee for unlimited internet, there's a built-in cost advantage to flying American. If American and Southwest are the same price, the Southwest trip is going to be more expensive for me since I'll spend about $30 more in internet. With American I won't, since I've already paid a single fee for internet for the month.
Just as my American AAdvantage elite benefits create a lock-in, making American both more comfortable and a better deal for me than flying Delta, a single monthly internet plan creates lock-in because it means each time I choose to fly American it's cheaper than flying a competing carrier.
Adding a new internet provider for a subfleet of 200 planes, rather than going with all Viasat or all Gogo, means that I may have to buy internet when I fly American and there's no more cost advantage over Southwest based on my pre-commitment to monthly service.
Meanwhile Delta can lock customers in with a single internet provider across their fleet.
American needs faster internet, now, and they need to drive towards a consistent product now.
While a commitment to faster internet — on some planes, later — is a start the way they've gone about it will be frustrating for customers and bad business as well.
Update: according to an SEC filing, Gogo will also provide about 140 planes with their high speed internet, and will continue to offer air to ground internet primarily to American's regional jets. So American will have some Gogo high speed offerings, but the fundamental point is three internet service providers and an inconsistent inflight product. Disappointing.
Gogo will continue to provide in-flight wireless Internet connectivity and entertainment services on approximately 560 aircraft in American's domestic fleet that are currently under contract with Gogo pursuant to the Existing Agreements.

Under the Letter Agreement, American will purchase equipment and service to transition nearly 140 mainline aircraft from Gogo's ATG/ATG-4 technology to Gogo's next-generation 2Ku technology.

The approximately 430 aircraft that comprise the balance of the approximately 560 aircraft on which services will continue are predominately regional jets and will continue to utilize Gogo's ATG/ATG-4 service.

Pursuant to the Letter Agreement, approximately 550 Gogo-installed mainline aircraft that are currently under contract with Gogo pursuant to the Existing Agreements are subject to deinstallation at any time at American's option.