American Airlines used to say they know why you fly. I always found that kind of creepy (in a "long before it was cool for the NSA to read your e-mail" kind of way).
Now they just know how much you've flown.
American has been sending out emails to their AAdvantage elite members, either reminding them that they're close to re-qualifying for their status: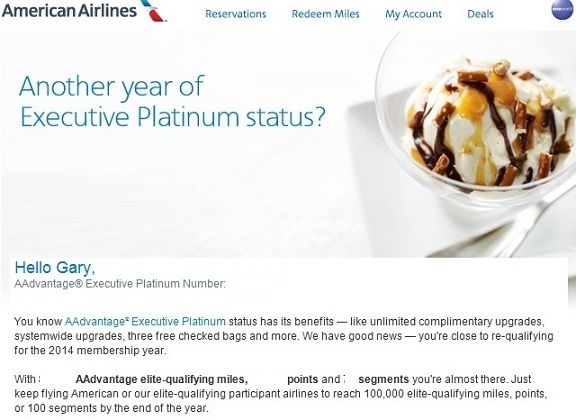 In my case I need about another 10,000 miles (already booked) to re-qualify as an Executive Platinum. Including award travel and on other airlines I'll do about 200,000 miles this year.
For members that aren't at all close, and aren't even hitting a status level lower than what they've been this year, they are sending out status challenges.
American used to offer 'soft landings'. Members would only lose one status level regardless of how much they flew. Starting this year that practice came to an end. An Executive Platinum that didn't fly at all would become a General Member, and not a Platinum member.
But with these targeted offers it's possible to retain some status. (HT: JonNYC)
You currently hold AAdvantage® Platinum status, but it looks like you haven't had a chance to fly quite enough to earn elite status for the 2014 membership year. You have x,000 AAdvantage elite-qualifying miles, x,000 points and x segments, but, not to worry! We know your elite status is important to you, so we're going to help you reach Gold with a special shortcut:
Fly a little more and you're Golden
Only 5,000 more points

Gold status offers exceptional perks like:
• Priority Access at check-in, security and boarding
• 25% mileage bonus on eligible flights
• Complimentary access to Preferred Seats
• Two free checked bags
• Special upgrade privileges
Here's how to qualify: Register by November 15, 2013 with code STR13. Keep flying American or our elite-qualifying participant airlines through December 31, 2013 to reach your goal of 5,000 more elite-qualifying points. Once you do, you're set to enjoy Gold status beginning on March 1, 2014. Of course, you'll continue to enjoy your current Platinum benefits until then.
It's interesting that this promotion is based on points (which give bonuses for higher fares and award less than one per mile for lower fares) rather than miles, many recent status promotions have been mileage-focused — a switch from American's practice prior to the end of 2011.
There are other versions of American's email campaign as well, such as congratulating members on achieving status and encouraging them to strive for more.
American AAdvantage: We Know How Much You Fly.
---
You can join the 30,000+ people who see these deals and analysis every day — sign up to receive posts by email (just one e-mail per day) or subscribe to the RSS feed. It's free. Don't miss out!