For the past two years American has been asking the federal government to crack down on flights to the U.S. by Emirates, Etihad, and Qatar. Along with Delta and United they want less competition and higher prices.
Inconveniently for American, however, they have maintained a codesharing relationship with Etihad as well as a frequent flyer partnership. And Qatar Airways is a member of the oneworld alliance with American, so they offer reciprocal mileage-earning and redemption and frequent flyer recognition.
Qatar is also the largest owner of shares in IAG, the parent of British Airways and Iberia. American shares revenue on flights across the Atlantic with British Airways and Iberia (and Finnair).
Delta, of course, shares revenue across the Atlantic with Alitalia, which has been propped up and significantly owned by Etihad. In other words, they look like hypocrites.
American appears to have decided they're 'all in' on the strategy of getting the government to redistribute income from consumers to the big airlines. So they're no longer going to codeshare with Etihad or Qatar.
American tells me,
In light of our ongoing dispute over the Open Skies agreements, American Airlines notified Etihad Airways and Qatar Airways on June 29 of our decision to terminate our codeshare relationships.

Given the extremely strong public stance that American has taken on the ME3 issue, we have reached the conclusion that the codesharing relationships between American and these carriers no longer make sense for us.

This decision has no material financial impact on American and is an extension of our stance against the illegal subsidies that these carriers receive from their governments. We are committed to doing everything we can to continue to support our team members and ensure that there is fair competition between American and the Gulf carriers.
They're not going to do this right away. American served notice they will cease codesharing effective March 25, 2018.
American will remain frequent flyer partners with Qatar through the oneworld alliance, so customers don't appear to be affected by the change (unless American also alters it's mileage-earning or elite qualifying dollars chart as well).
In fact American says "There are no changes to the frequent flier relationships or interline agreements at this time" with either Etihad or Qatar. (The Etihad relationship could presumably be revisited more easily in the future since it exists outside an alliance.)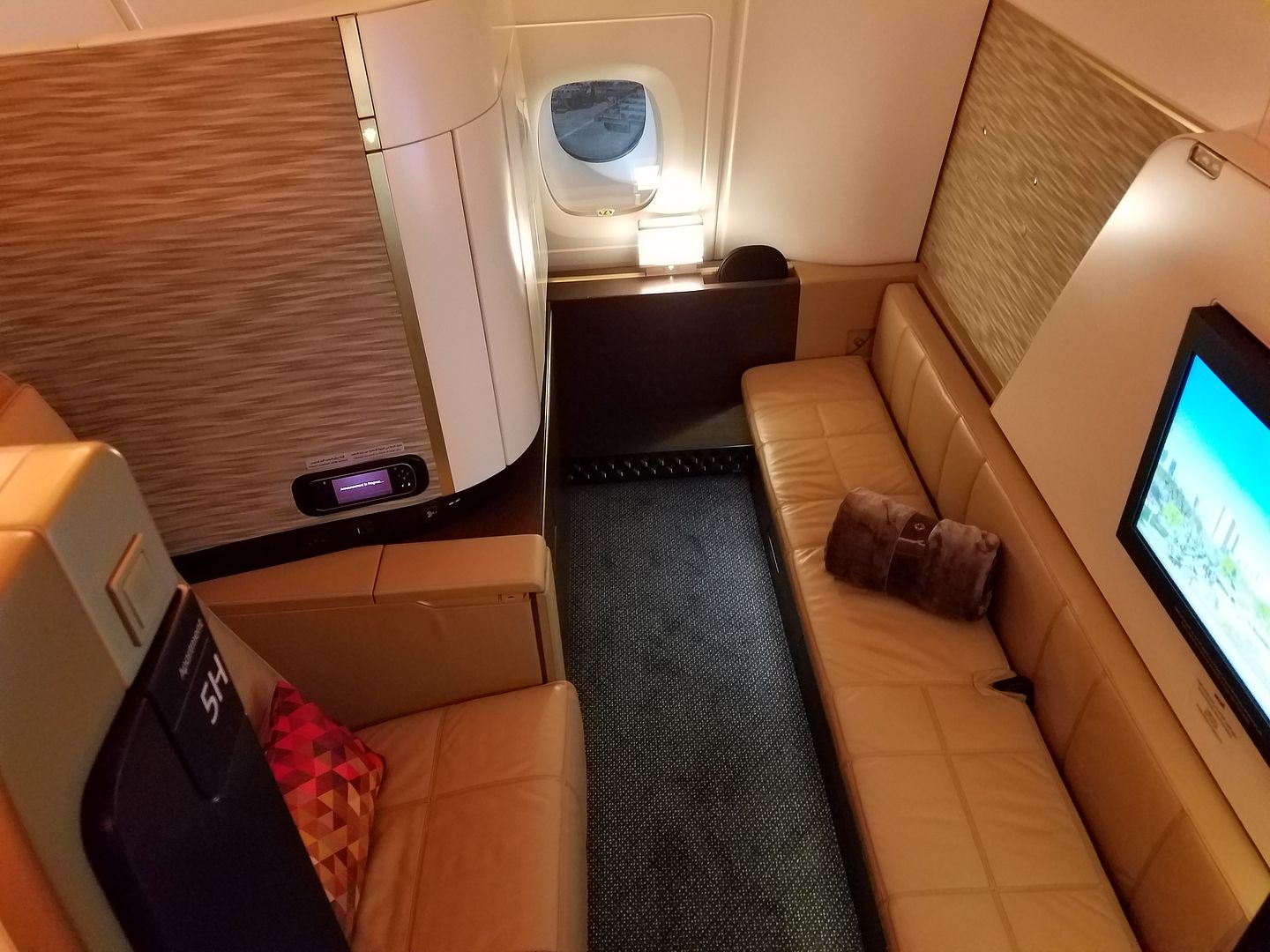 Etihad First Apartment
American is losing its partnership with Jet Airways at the end of the year. It's losing most of the value in its Alaska Airlines partnership at the end of the year. So AAdvantage is bleeding.
Making any change to the frequent flyer partnerships here would be a critical blow, and a self-inflicted one.
Meanwhile American Airlines filed an SEC 8-K this afternoon making public that they had been notified by the Federal Trade Commission that Qatar Airways had withdrawn its earlier filed notification of intent to acquire shares in the airline and replaced it with a new notification on Monday.
American did not disclose details of the new notification in its filing, however they took a gratuitous shot at the airline (in that calling out Donald Trump to 'stand up to foreign governments' is sort of beside the point in an SEC filing).
The proposed investment by Qatar Airways was not solicited by American Airlines and would in no way change the Company's Board composition, governance, management or strategic direction.

It also does not alter American Airlines' conviction on the need to enforce the Open Skies agreements with the United Arab Emirates and the nation of Qatar and ensure fair competition with Gulf carriers, including Qatar Airways. American Airlines continues to believe that the President and his administration will stand up to foreign governments to end massive carrier subsidies that threaten the U.S. aviation industry and that threaten American jobs.