Back in March American Express started limiting access to Centurion lounges.
Since March 30th they've only allowed Platinum cardmembers to bring in 2 guests. Centurion cardmembers can bring in 2 guests or immediate family. Additional guests cost $50.
The idea was to limit the overcrowding rampant in the lounges. The problem is they're too good, cardmembers want to use them. Airline clubs may give you cheese cubes or soup, maybe guacamole, but the Centurion lounges are generally more stylish and offer a hot buffet as well as a bar with more than just rail drinks complimentary.
The Dallas Fort-Worth and Miami lounges have complimentary spas. There are kids rooms, showers in most. And customer service is great.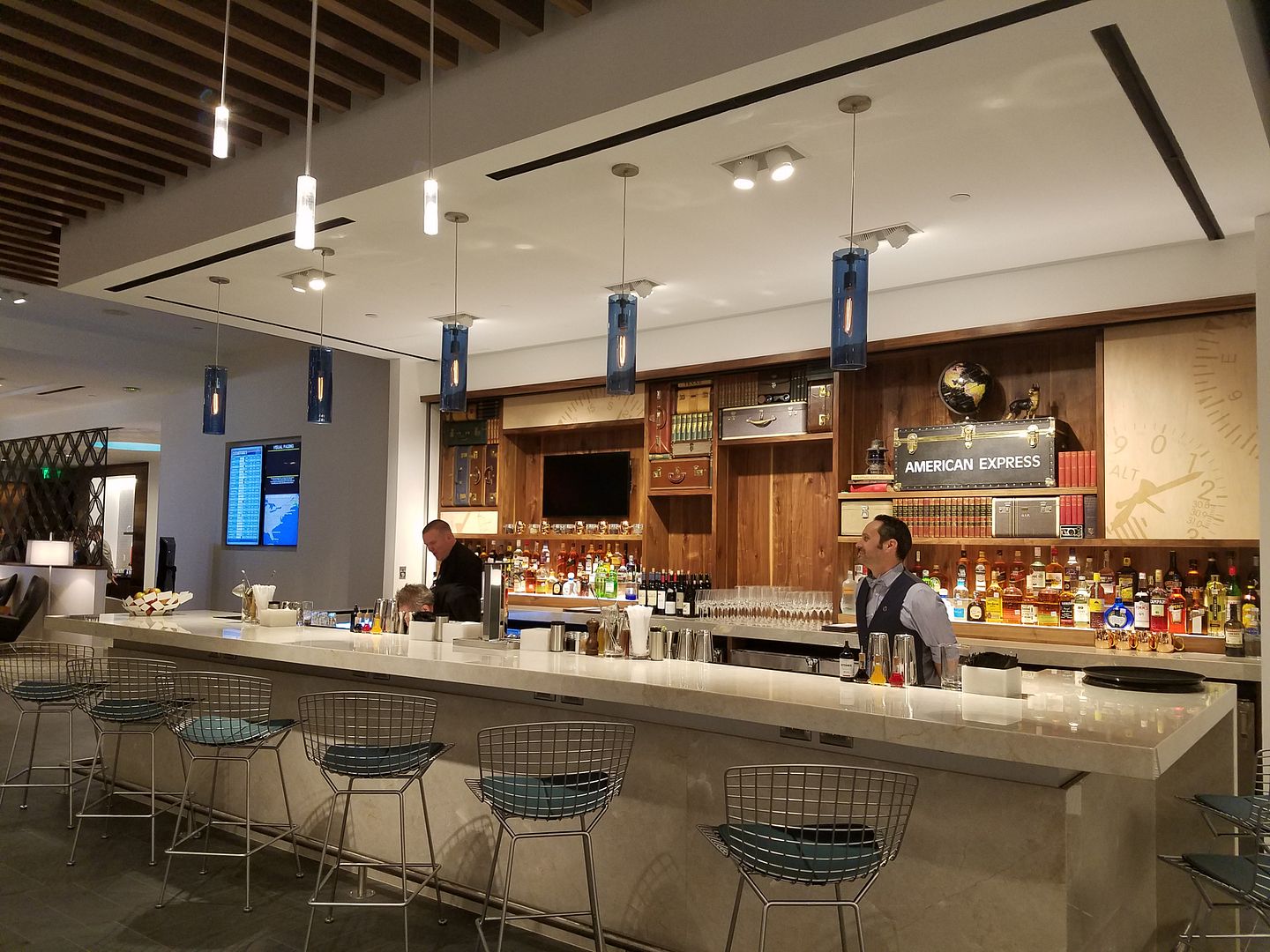 Houston Centurion Lounge Bar
It's worth noting that the new Houston Centurion lounge has remained peaceful and quiet when I've been in, likely owing to its location. And also that there's a secret to always finding space in the Dallas lounge.
This didn't really do the trick. While families of four would have to pay (or add an authorized user to a Platinum account), crowding continued.
So American Express is taking another step to limit crowds. Via Zach Honig effective October 2 only Centurion and Platinum cardholders will be able to access the lounges. Previously anyone with an American Express card could pay-in to the lounge for $50. (This wasn't offered at the Centurion Studio in Seattle.)
I don't have the data to know how many people were doing this. Perhaps it's more than I'd have imagined and this will make a material difference. I still think we'll have crowded lounges.
Getting enough space in an airport is tough, American Express takes what they can get. Although now that they're building a new lounge in Dallas Fort-Worth to eek out an incremental 3000 square feet I wish they'd just have two lounges beside each other since 3000 feet isn't going to be enough…
I suspect the only way to really limit crowding would be to limit the number of visits each Platinum cardholder can have for free, e.g. charge cardmembers for visits after their first 20 in a year.