I popped into the exhibit hall at the Global Business Travel Association convention and stopped by the American Airlines booth. They were featuring 3D video of the new Airbus A321s that they'll be bringing into the fleet to replace the 767-200s flying their New York to Los Angeles and San Francisco transcon flights.
I admit I was surprised by the announcement of a dedicated fleet of Airbus A321s for this route. They've been the only remaining carrier with plans to operate widebodies on their premium transcon routes, and they're ending that.
When American goes to a narrowbody fleet for the route, though, they're keeping first class. United is getting rid of their first class, and Delta only operates two-cabin planes. It's interesting that American is keeping first class only on their Boeing 777-300 aircraft, it's going away on the 777-200s, but they're keeping it on this domestic route.
Rob Friedman (American's Vice President of Marketing who used to run the AAdvantage program), who showed me the 3D video, says that their movie studio clients are ecstatic about this. I'm not an expert at all in the area of movie studio corporate contracts. I assume they must have had these conversations, and that these corporate contracts were a big driver of their decision to keep three classes of service on the flights. But my rudimentary understanding was that studios no longer had to buy as many first class seats on cross country flights, that Screen Actors Guild contracts allowed for business class if that was the top cabin offered.
Bottom-line, though, if you secure first class seats on the JFK-Los Angeles routes, you can expect to see some recognizable faces — especially since the only opportunity for three-cabin first class will remain on American. But then again you often do just transiting Los Angeles, earlier in the year I was followed through security and then into the lounge by Billy Crystal, and sat across the aisle from Randy Jackson.
The first class cabin will be five rows of two seats across going fully flat. That's the same number of first class seats currently offered on American's 767-200s.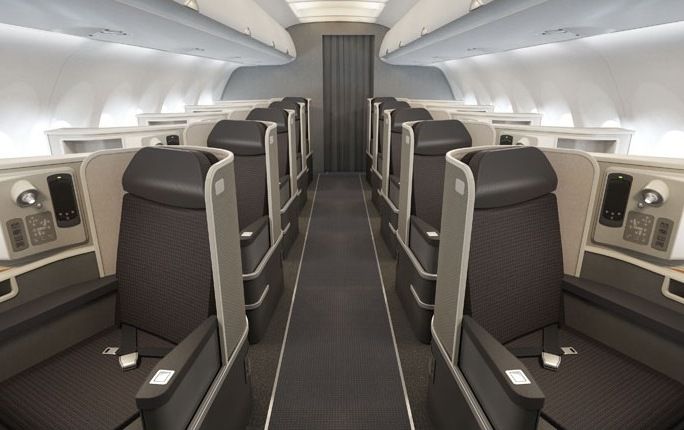 They're shrinking the business class cabin, though, from 30 seats down to 20. There will be five rows that are two-by-two with lie flat seats similar to what they're bringing into the international fleet.
The coach cabin will be split evenly between "Main Cabin Extra" (six rows of extra legroom seats) and regular economy (six rows).
Overall, the Airbus A321s will have 102 seats versus more than 160 on the 767s they're currently flying. So while there are fewer business class seats, premium seats as a percentage of total seats is much higher. That's the metric I usually look to when I try to figure out my upgrade chances.
What's going to be really important here is the total number of flights they're offering. Friedman said that hadn't been determined yet, so they weren't saying that the total number of seats in the market would shrink. The smaller plane gives them the chance to either increase frequency or fares, and they're still a bit coy on which one to expect.
We can expect to see the first delivery at the end of 2013, so we'll have to wait awhile before flying one of these. I know I'd really love to get my bum into one of their first class seats…
I also took the opportunity to ask Rob about the business class seats on the Boeing 777-200s. We know the exact seats that are being installed on the 777-300s coming later this year, but we don't actually know what's going into the 200 series planes when those are retrofitted. Apparently they've made the decisions, they're still in the design phase. They are similar to the seats that have been revealed and are coming online in December but with some minor differences and there should be news "in a couple of months." He insisted that the new business class seats on the 777-200s would be wider than those going into the -300s though I'm not sure how that could be the case.