American Airlines says they're planning to add seats to domestic planes.
I assumed at a minimum this referred to legacy US Airways Airbus A321s. There's a rumor though that already-squeezed Boeing 737-800s will go from 160 to 174 seats.
I asked American about this and was told only "nothing to announce at this time." They did not choose to offer a denial.
Here's another version of the rumor,
Just got out of a meeting and we were told that starting with the 737 max the AA 737s will go from 160 seats to 174. Not sure of the breakdown of F/Y. As other 737s cycle through service their seating will be increased as well.
American already squeezed an extra row of seats into their 737-800s (going from 154 to 160) eliminating 3 rows of 'Main Cabin Extra' extra legroom seats and some additional nips and tucks. With only 3 extra legroom rows left besides the exit rows they'd likely need to:
Drop a row of first class (down from 4 rows to 3) and reduce first class legroom. Currently American offers 40 inches of pitch in first class on the plane which is more generous than competitors (United and Delta offer 37 to 38 inches on the same plane, and Delta's Airbus narrowbodies have just 36 inches from seat back to seat back). The goal would be to add two rows of seats in front of the emergency exits.
Add a row of seats behind the exits, mostly from squeezing legroom from 'regulary' economy seating.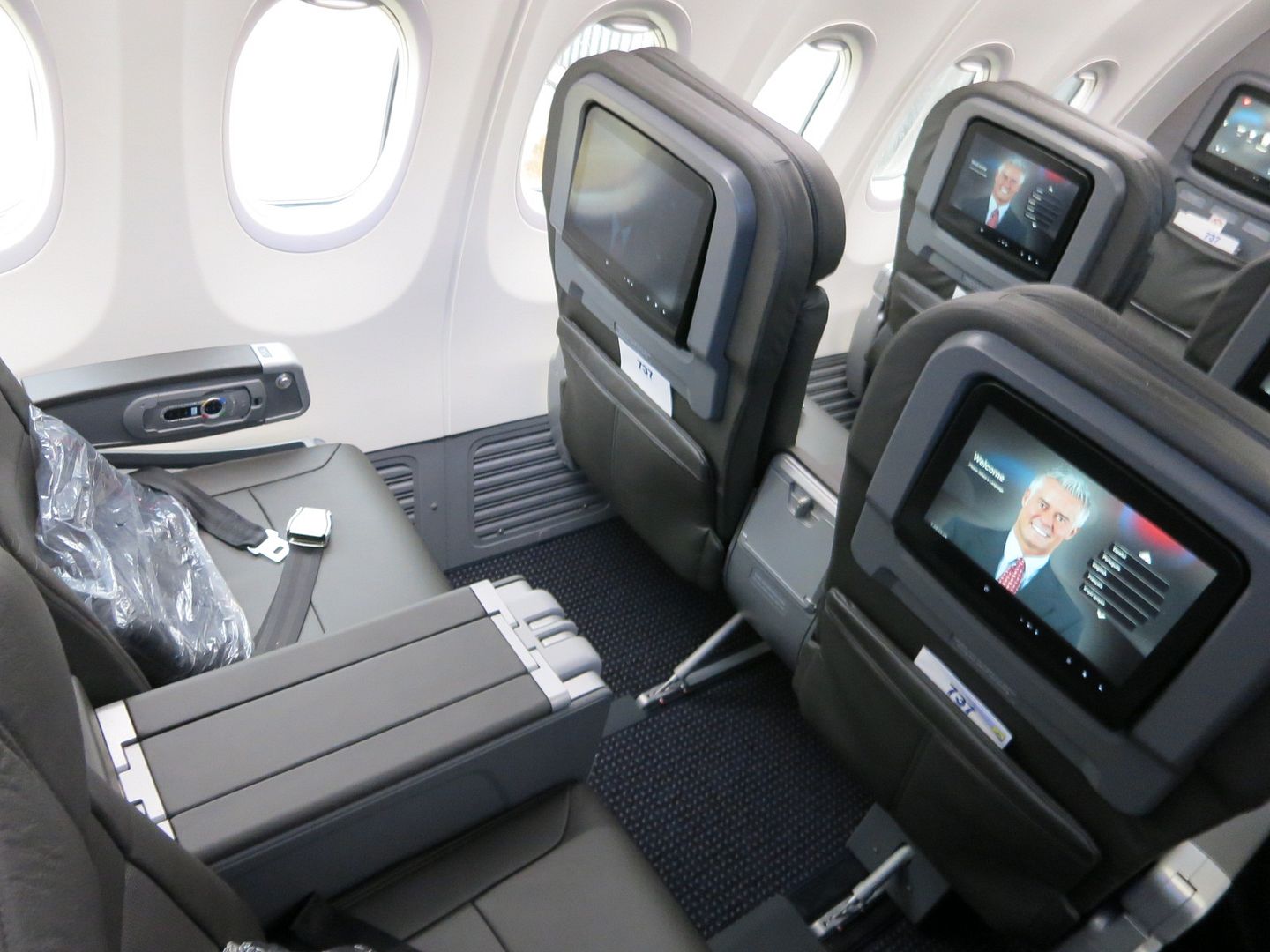 American Airlines Boeing 737 'New' First Class
This would be a bridge too far for any hope of domestic upgrades on reasonably business travel heavy routes — even, perhaps, for ConciergeKey members.
American has nearly 290 Boeing 737-800s. It's their domestic workhorse and 30% of the mainline fleet. American has 100 Boeing 737 MAX 8s on order.
To be sure I had not heard this specifically from within American, I have absolutely no independent verification.
But it's consistent with airline President Robert Isom telling investors "we have narrow-body density opportunities" to pursue (and my first guess that this referred to legacy US Airways A321s may have been too narrow) and I've found that usually the answer 'nothing to announce' means 'we don't want to tell you' rather than 'it's not true' although it could also mean 'final approval hasn't been made for this decision.'