A month ago I reported that American planned to eliminate confirmed-at-booking access to extra legroom economy seats for first-tier elites effective March 17.
Only March 17 came and went and several American AAdvantage Gold members and similar tier elites shared with me that they were still able to book Main Cabin Extra seats.
American it seems actually took away the benefit as of April 16th.
As an Executive Platinum I continue to have access to these extra legroom seats at booking, so I don't have an easy way to confirm that the change has been implemented, but it's what they're telling travel agents.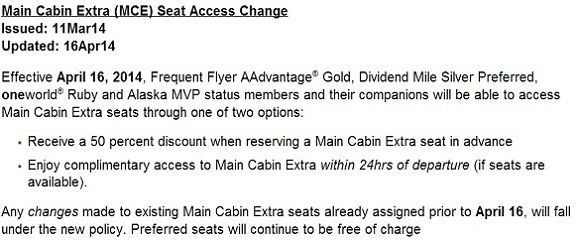 American launched extra legroom seats in coach  two years ago. (Of course 10 years ago they offered 'More Room Throughout Coach' – extra legroom throughout the whole cabin.)
United removed the ability for their 'Premier Silver' 25,000 mile flyers to reserve extra legroom coach seats at booking. (It may have been these flyers that United had in mind when calling their members over-entitled). Now Silver members get to reserve these seats only at check-in, while higher level elites get to reserve them at booking.
American took a similar approach, announcing that their Gold 25,000 mile flyers could have the benefit at time of booking through the end of 2013 only. Then they extended this benefit through March 1, 2014.
Presumably the delays have been IT-related, so Golds have been getting more than is offered by United and have been getting it for longer than promised. And American has been offering it to partner elites, too, which is also more generous.
So nothing unreasonable here, just noting for readers who are (or know) first tier elite frequent flyers that this change has apparently been implemented.
---