Etihad's big announcement about the most luxurious travel product in commercial aviation has been all the rage. I'd love to fly it, but the truth is I'm not going to. It's way too pricey for me and at this point there's no reasonable way to access it with miles.
I'm not going to tell you 'get this and that credit card and you'll be 3% of the way there.'
No, it's just out of reach of most of us. Sure you could manufacture $1 million of spend on a 2% cash back card.. but even then there are things most of us would do with that $20,000 other than fly a single 7 hour flight from London to Abu Dhabi.
But Lucky who writes the One Mile at a Time blog wants to make a play for it.
He posted a Kickstarter project to fund him to travel on the new Etihad 3-room First Class Residence onboard their A380.
Lucky flies all over the world, sampling airline products, and writing about them. His blog is successful enough that it – combined with booking awards (he's my competition) – has become his career. Nonetheless, he doesn't have a corporate parent to fund his trips and he's not going to shell out the $20,000 one-way to try out the Residence.
So he asked his readers, if they'd like him to fly and review a product that they wouldn't otherwise get to see up front, could they chip in to cover the cost?
Frankly it's worth $5 or even $25 to me to read his take on the product, so I should probably be willing to support the effort. He won't do it unless the people who value it will help cover the cost, and I respect that. The way kickstarter works, supporters are only charged for their pledge if the goal for funding is reached. If it's not, there's no payment due.
Not everyone thinks so, however. An American spokesperson, Leslie Scott, kind of lost it over Ben's effort.
Edited to add these additional tweets criticizing everyone who contributed: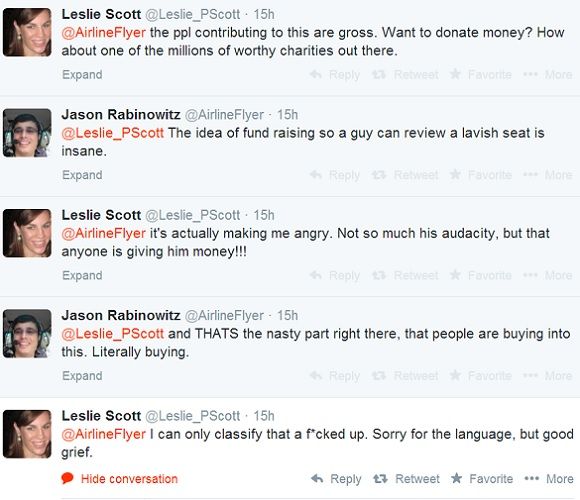 Bear in mind that buying tickets on Etihad is something that American is supposed to be promoting since American and Etihad are partners, after all.
So…
Is it now American Airlines' policy to publicly condemn their Executive Platinum flyers on social media?

Is it now American Airlines' policy to denigrate the importance of purchasing tickets on their partner airlines?
Of course up until about a month ago this American spokesperson had been with Delta for 6 years. So that's probably just how they do it over there.
Perhaps more importantly: what do you think of this effort? Is it spectacularly awesome, or spectacularly wasteful? (Or both?)
(HT: @jeanne23)
Update: it appears that Ms. Scott has apologized, and her boss tweeted "Tweets from our personal accounts are our own. #heartintherightplace"
---