Well, almost a glimpse.
Via Destination David on Milepoint, American has a new promotional video about getting 'back on top' that long on dramatic shots and platitudes, not a ton of news, but that's still quite enjoyable 2m26s YouTube candy.
And the best part is the frame at the very end, showing an aircraft in a factory covered with a tarp. They're just taunting us. Underneath that tarp is their new paint job. Gone will be the silver, unpainted plane and in its place is… we don't know what. But there's a new American brand getting ready to launch.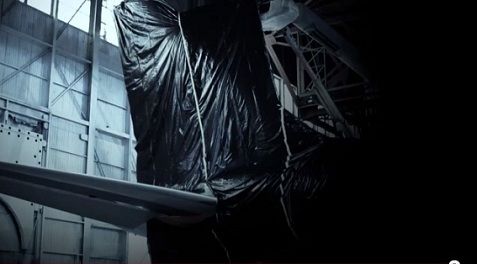 C'mon, American, show us what's underneath that tarp!
Update: American CEO Tom Horton gave an interview today where he noted that their new composite aircraft coming online "don't lend themselves to being bare metal."
American also put out this infographic on their recent (and announced) product improvements.

It's just like the video they show prior to takeoff, only a graphic and not a video.