All of American's transatlantic business class flying is supposed to be done with fully lie flat seats. That's part of their joint venture with British Airways, Iberia, and Finnair. And it's the message they've been sending to their customers.
That was supposed to happen a long time ago. But it's been significantly delayed and still isn't being projected for Boeing 777s until the end of next year.
American currently has a variety of different business class seats.
Old angled business seats that they're working to retire from international service.

Thompson Vantage seats on Boeing 767 aircraft which are lie flat with all aisle access but extremely narrow. I find them uncomfortable.


Boeing 767 New Business Class

Legacy American Boeing 777-300ER reverse herringbone seats with all aisle access that are my favorite, and similar to an earlier generation installed in legacy US Airways A330s.


Boeing 777-300ER Business Class

Forward and backward facing Zodiac seats with all aisle access that are in Boeing 787-8 and some Boeing 777-200 aircraft. These get complaints about rocking (movement when another passenger gets up or down) and dividers in center seats that remain stuck either up or down. American moved away from the supplier due to delays.


Boeing 777-200 New Business Class (Zodiac)

B/E Aerospace Super Diamond seats that will be installed in Boeing 787-9, Airbus A350, and some Boeing 777-200 aircraft.


Rendering of American Airlines Super Diamond Seat
American also flies some Boeing 757s across the Atlantic and it was reported nearly two years ago that these would get lie flat seats, too.
American Airlines tells me that they are in the process of retrofitting a prototype 757 with lie flat seats. The plane hasn't yet been assigned to a route, but we should be seeing more details and photos in the coming weeks.
I suggested two years ago that the B/E Aerospace Diamond seat — which is what American uses on its A321T aircraft in business class for New York JFK – Los Angeles and San Francisco — would make the most sense. This is the current United seat as well that's being replaced by Polaris. It gives them lie flat capability and preserves 2-2 across configuration (meaning that not all seats would have aisle access).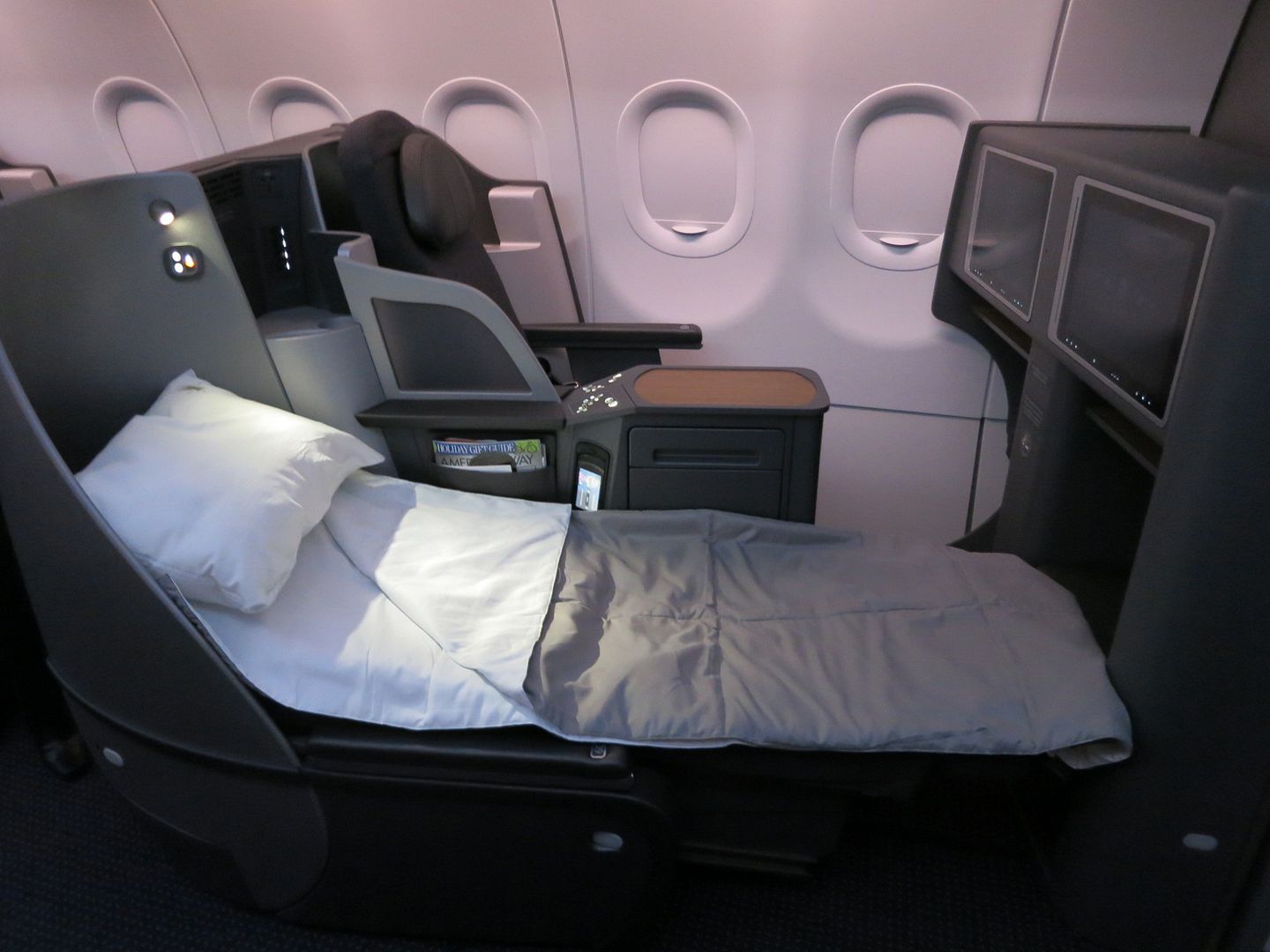 Whatever the actual seat, configuration matters.
American has invested a lot in the claim of lie flat seats that all have direct access to the aisle.
An overnight flight that requires climbing over another passenger to get up and go to the lavatory, or that allows another passenger to climb over you to do the same is a non-starter for many customers.
However 757s fly on the least premium, thinnest routes for business class demand and airlines may be reluctant to give up the seats or take up extra cabin space to accomplish this.
It will be interesting to see what American does with the 757s, but hopefully we'll know soon and I've asked American to clarify their plans.