American Airlines President Robert Isom held an employee town hall on Friday in Los Angeles.
A premium services employee asked about whether they'll get lie flat seats on cross country flights, something her ConciergeKey customers are asking for, "they really are requesting the transcon like the New York flights.. this is just something we see all time."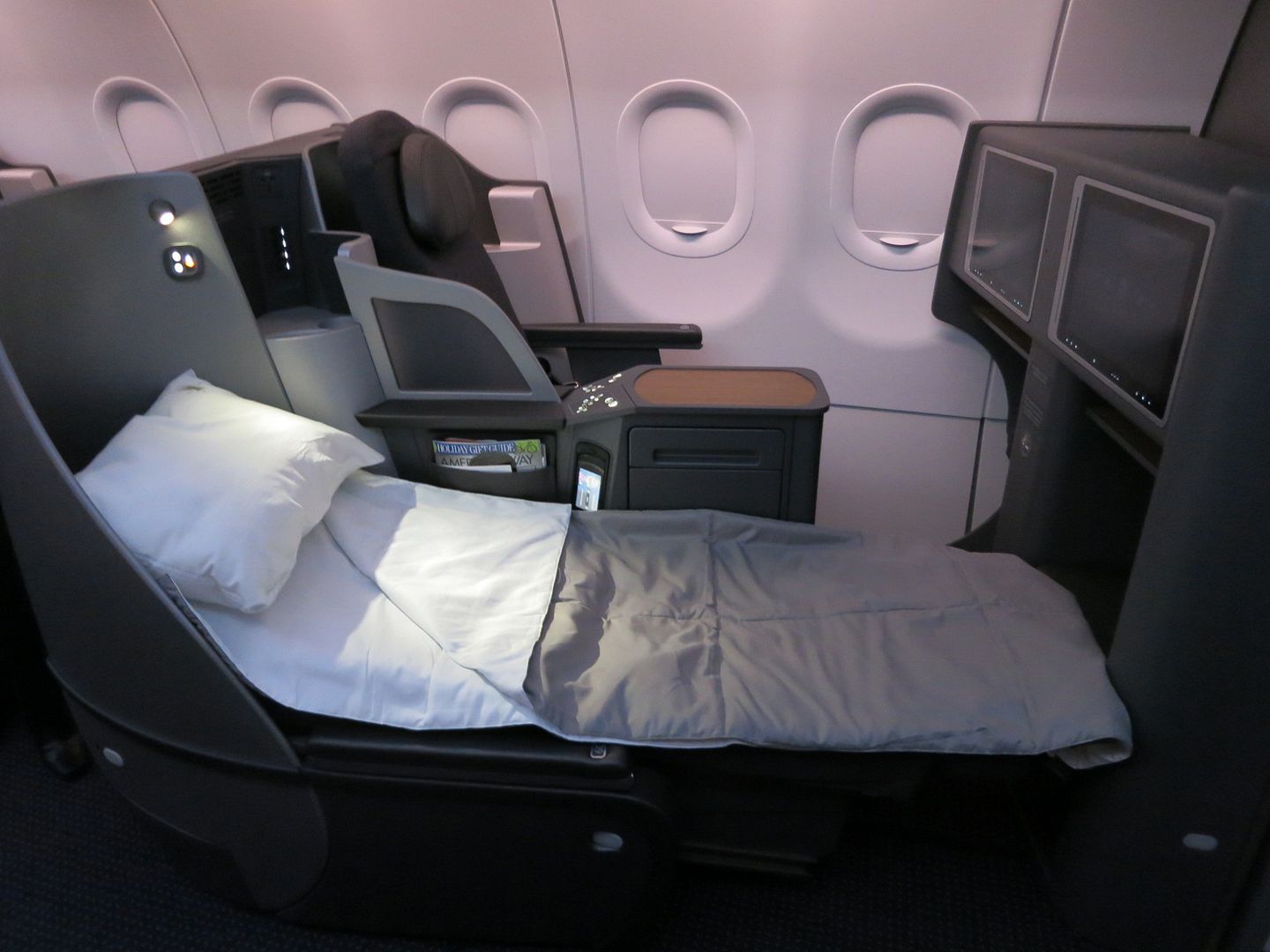 American Airlines B/E Aerospace Diamond Business Class Seats
American has been saying they plan to put lie flat 757s on cross country flights but they continue to not do it.
And in fact they've scheduled the Boeing 737 MAX to fly Los Angeles – Washington National and Los Angeles – Miami in the fall.

American Airlines Boeing 737 MAX First Class Cabin
Far from a premium experience, the plane best known for less legroom than ever before, less recline, no seat back video and lavatories barely meant for small children also has less legroom in Main Cabin Extra and less legroom in first class too.
Here's how Robert Isom explains it,
If Vasu was here today, Vasu heads up our network planning group, he would tell you that the 321Ts which have a fantastic lie flat first class product and also a really nice business class product and really just a very small coach section. He would tell you that that's performing very well. And it does well to San Francisco and to Los Angeles.

One of the things he'd also tell you is that the marketplace is demanding more lie flat seats. And so one of the things you have seen recently, or you will see… we've brought the 330 out here from Philadelphia and that provides a lie flat product.

We haven't quite yet figured it out for DCA. And it's not because we don't want to. It's because in terms of having that lie flat product you've got it on the aircraft that can actually service DCA you've got 757s which is, those 757 lie flat seats are really dedicated to the European marketplace. And that is something we haven't made the move on. You can't fit widebodies in. In terms of 321Ts those are fully occupied San Francisco and Los Angeles now.

I guess how I'd sum this up, out of JFK out of Philadelphia out of Charlotte to the West Coast, Seattle, and San Francisco and LA I think that you're going to see more lie flat seats rather than fewer. It doesn't mean we're going to be flying a ton of widebodies, but it does mean the marketplace is paying a premium for it and they're really appreciating the product.
Back in March American said they were still evaluating plans for the Boeing 757s that had been pulled from New York JFK – Manchester and Paris. They still don't seem to be ready to pull the trigger, even though Delta flies Washington National – Los Angeles with lie flat seats up front and American is squeezing legroom in their standard seat product starting in September.
American knows they can fly a 757 with lie flat premium seats to Washington National. They know they have 757s which are an uncompetitive transatlantic offering. Why they haven't figured out how to do it remains a mystery.
However it doesn't explain why they'd fly a 737 MAX, whose slimline coach seats become back breaking on flights over 3 hours, Los Angeles – Miami.