The New York Post carries a piece about Karen Shiboleth who says she was downgraded on a United flight in a particularly unpleasant fashion last year. And she's suing.
She upgraded on a Newark – London flight on September 10. After boarding and shortly before push back a United employee demanded she give up her seat and take a middle in economy.
When Shiboleth protested and showed her ticket for the first-row seat, Daly "took [her] arm without consent and forced [her] to a middle seat in the back of the plane," the suit alleges.

"Daly further insulted and humiliated [Shiboleth] by raising her voice and calling [her] a 'c–t' in front of other passengers," according to court papers.

She "was paraded to the back of the plane in tears," the suit says.

United Planes at Newark
It sounds clear that United found themselves oversold in business class and a passenger on an upgraded ticket, without status, and perhaps even checking in later than similar-situated passengers.
However I'm very much unclear about how she upgraded from economy, the Post's explanation makes no sense.
She bought a $1500 economy ticket
"American Express MileagePlus points plus $500 in fees to upgrade to an economy plus seat." Clearly she wasn't using American Express points in this manner, perhaps they were United MileagePlus miles and even earned with a Chase co-brand credit card.

On the other hand a Bloomberg piece says she used "60,000 American Express miles and an additional $498.56 in fees and expenses to upgrade [her paid ticket] to premium economy."

United doesn't have premium economy, does have economy plus, but it simply isn't that expensive.

In order to spend that much you'd expect it to be miles and cash co-pay for upgrade to business class, not economy plus.
However she purchased an upgrade at the airport for $1,150 to business class.
While she's no doubt suing in light of the David Dao situation and public hatred for United, hoping for a settlement as the airline looks to move forward, and the New York Post's vetting of how upgrades work notwithstanding this is an incredibly frustrating story.
If you pay extra for a seat you expect to get that seat. Paying even more for business class over your economy plus seat, you don't expect to wind up in a middle seat in the back of the plane without even extra legroom. (The passenger claims that "there were other open seats in the business class cabin" which doesn't seem likely.)
Here this is a function of United bungling its own flights, everyone makes mistakes but United does make more than they should and antiquated reservation systems and revenue forecasting systems contribute to this.
The passenger says she was offered a $750 voucher which she didn't use. She should certainly have received a refund for what she paid to upgrade, whether it was $500 and miles or $1150. She should have been offered a business class seat on the next available flight. Indeed, United should in this sort of situation become willing to put the passenger on another airline — for Newark – London there's Air India, British Airways, Virgin Atlantic plus there are flights out of New York JFK or connecting flights (as well as on United).
A young woman in sunglasses flying business class, who still got to travel, doesn't offer the same sympathetic story of a doctor dragged off a flight by law enforcement and bloodied. However I'm willing to suggest there's one thing in common.
When customers pay for a specific seat they don't understand caveats or contingencies that the airline's policies believe are in place. If United wants to include popups when selling economy plus or offering business class buy ups at check-in, that would be a different matter ("Would you like to pay $85 for an economy plus seat if we have one available for you at takeoff? Would you like to pay $1150 which is refundable if it turns out we decide we need your business class seat back?"). That would of course depress sales.
There's a reason airlines aren't trusted, and that lack of trust precludes an airline earning the kind of revenue premium that it might with a stronger brand. People choose Apple products even when they're more expensive, phones and music devices are in some ways commodity products like traveling from A to B but Apple promises a consistent, high quality, easy to use experience.
It's hard for airlines to do that since there's little they can do to fly different planes than their competitors. They operate out of the same government-owned airports. The security experience at the entrance to the airport has a monopoly provider except in a handful of airports. Everyone flies the same skies managed by government air traffic control. And the government makes competition illegal, if the best airlines in the world like Singapore Airlines or Cathay Pacific wanted to set up shop and fly New York to Miami doing so would be against the law.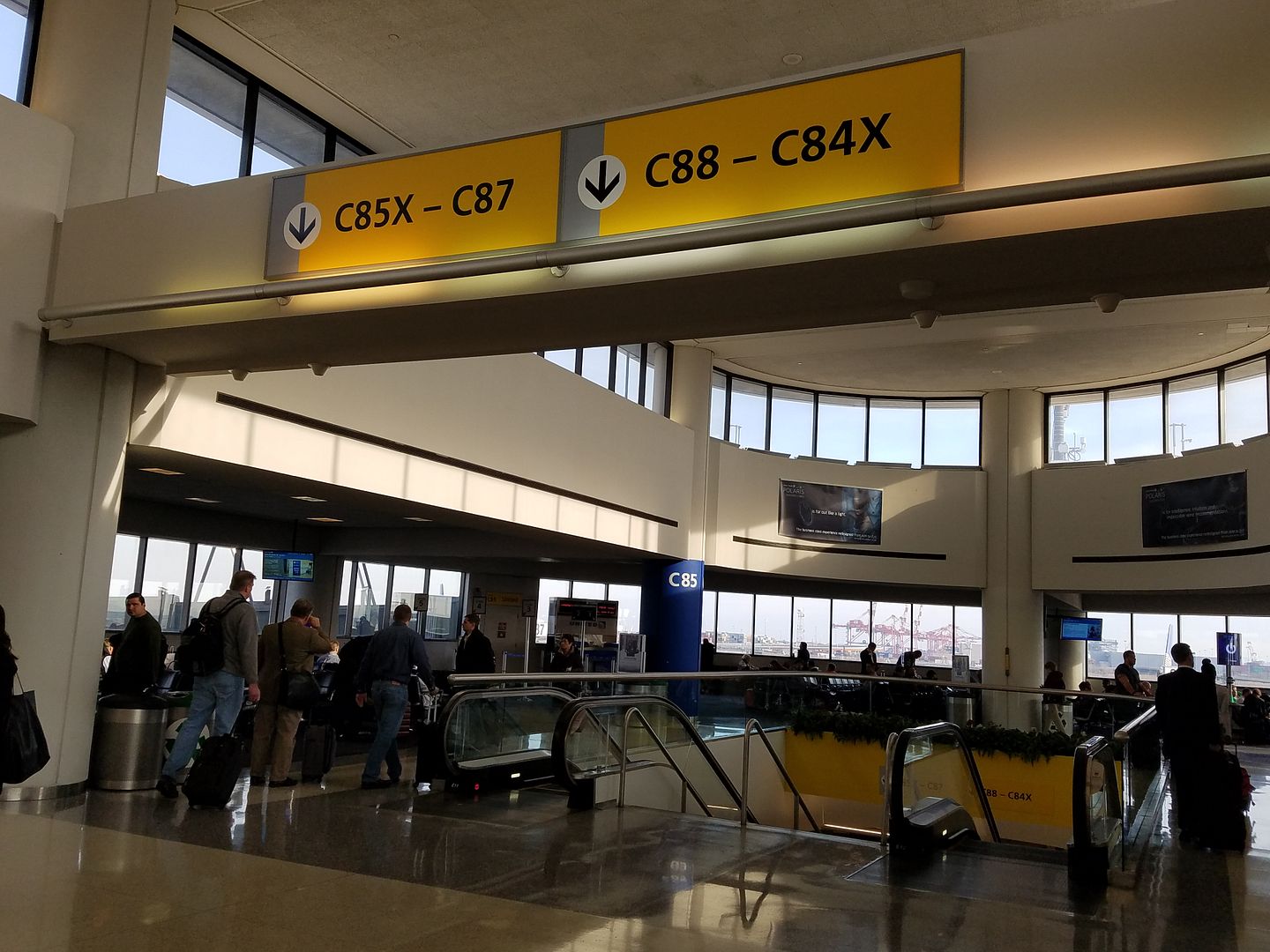 United Airlines Newark
That's not the only thing at play here though. This is United, in a difficult situation, at Newark. Even when Continental as an airline offered better service, Newark was an outlier. So I have no doubt that the attitude of the staff member involved, even if exaggerated for the purpose of a lawsuit, wasn't the kind of customer service you'd wish for in such a disappointing situation.