After my post about really good award availability flying American's JFK-Los Angeles flight, MJ On Travel went about making a booking and he shares a really useful tip.
American AAdvantage charges 65,000 miles roundtrip for JFK – Los Angeles (or San Francisco) in three-cabin first class, a premium over the 50,000 miles they'd charge for roundtrip business class.

British Airways would charge 75,000 Avios for that same itinerary, since they charge 2x the economy price for business class and 3x the economy price for first class.

On the other hand, US Airways Dividend Miles charges just 50,000 miles roundtrip for three-cabin first class on these routes — the same price that they charge for roundtrip business class.
I've been using this to great effect for years. I have several Hollywood-types among the clients of my award booking practice. They've been known to buy US Airways miles when there's a 100% bonus offer (buying 100,000 miles for $1881 gets them 2 roundtrip tickets that would cost in excess of $5000 apiece at retail). They get to fly first class like the big celebrities in town!
We used to do this with United's p.s. first class product between New York and Los Angeles. United has replaced three-cabin service with a business class that's actually better than their old three-cabin first… but they no longer offer first class.
But American does. And American and US Airways are already partners, even though US Airways won't join oneworld until March 31.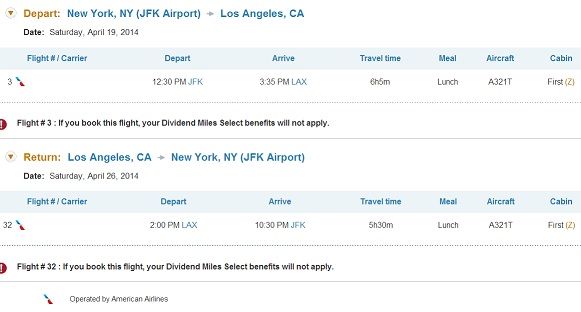 MJ and I actually e-mailed back and forth — should we post this?

It's hardly a secret, it's been a feature of the US Airways award chart for at least four years (since the current chart rolled out) and I believe before that as well.

It's certainly been written about elsewhere.

And it's something that is going to go away on its own when the two airlines merge into one and the mileage programs combine. There's no chance this will remain a part of the award chart.
There's a short-lived opportunity, not likely to be made even shorter-lived by making some more readers aware of it.
If you want to fly roundtrip on American's new first class transcon service, US Airways miles may be the best way to do it! Bear in mind, though, that availability is much much better for one person than two, and much better in the next few months than farther out in the calendar.
I've actually flown the product in business class, so this would be a good opportunity to do it in first, and I can include American's Washington National – New York JFK flights as part of the award for no additional miles, to get myself to and from the start of the best parts of the trip.
---