Since June Avis has been rolling out new features branded as "Select&GO" which I experienced for the first time at their Miami airport location.
Normally they generate a rental contract for Preferred members their flights land, that's what they do with the flight information you add to your reservation. Arrivals generate contracts auto-printing.
Now they send an email with car information and space number, there's no contract in the car, you show your drivers license at the checkout booth and they print a contract to hand to you.
Now, I assume because I have status with Avis they actually assigned my car early and that generated an email to me. I was about to leave for the airport, I hadn't even taken off yet. I don't actually like the Chrysler 300 so I rang up and asked if I could have something else. They offered me a choice between a Ford Taurus and a Lincoln MKZ. I chose the Lincoln.
When I arrived at the rental facility I saw the signage referenced in the email showing a row to the left for exchanging your car, pick something out of the exchange aisle (a la National's Emerald Aisle). And to the right is an 'upgrade aisle' with higher end cars each with a published upgrade price per day.
Two cars were in the Exchange row:
There were six or eight cars available for upgrade.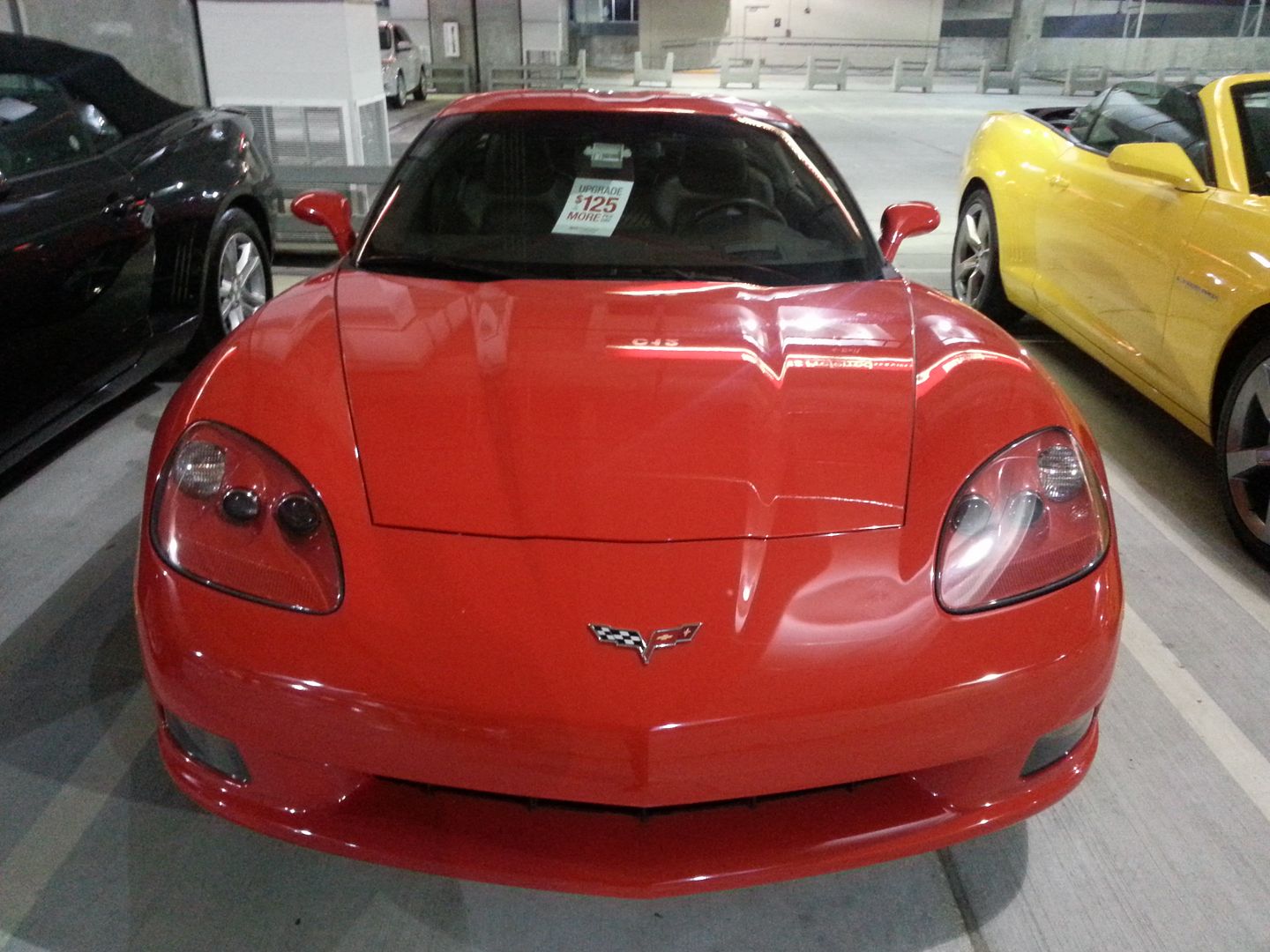 Prices ranged from $50 to $125 per day.
There was actually a contract in my vehicle when I arrived. So when I drove to the checkout booth I handed them my license and they wanted to see my contract, they explained that once a contract has been printed they need to see that rather than their printing it for you.
Ultimately I suspect that this is going to disadvantage Avis elites, since they'll be monetizing upgrades better than before ad I imagine less inclined to give away the best cars as a complimentary bump up. Although this doesn't strike me as an unreasonable strategy.
Off of a cheap rate and for a non-elite in some cases there will be some values for luxury vehicles, you might get a $25 per day rate and get a luxury or higher vehicle for a total then of $75 per day, when it would have cost double that to pre-reserve the car.
Although I suspect that some folks will just make impulse purchases at the last minute seeing a bright shiny BMW or Corvette, whereas in the past without a price there was more of a barrier to making the switch, plus the required wait at the counter to do so.
The participating locations so far are:
Albuquerque

Atlanta

Austin

Baltimore

Chicago ORD

Dallas DFW

Denver

Fort Lauderdale

Fort Myers

Houston Hobby

Houston IAH

Indianapolis

Kansas City

Las Vegas

Los Angeles

Miami

Minneapolis

Oakland

Orlando

Phoenix

Seattle

San Antonio

San Francisco

San Jose

St. Louis
Have you used Select&Go yet? Have you exchanged or upgraded your vehicle? What's been your experience?