I receive compensation for content and many links on this blog. Citibank is an advertising partner of this site, as is American Express, Chase, Barclays and Capital One. Any opinions expressed in this post are my own, and have not been reviewed, approved, or endorsed by my advertising partners. I do not write about all credit cards that are available -- instead focusing on miles, points, and cash back (and currencies that can be converted into the same). Terms apply to the offers and benefits listed on this page.
---
Etihad is dropping one of its two New York JFK – Abu Dhabi Airbus A380 flights, and putting the A380 on Paris – Abu Dhabi. That means there will be two daily Paris – Abu Dhabi flights with the A380.
The Etihad A380 features the 'First Apartment' — one of the three best first class products in the sky. There's a separate bed and seat, and living space which was unprecedented when the product was introduced. In addition it's only one of two first class products with a shower onboard.
And award space is wide open for Paris – Abu Dhabi. In fact there are at least 5 first class award seats on at least one of the flights most days in the fall.
American AAdvantage charges 62,500 miles per person each way for first class between Europe and Mideast. Price is the same if you continue on to the 'Indian Subcontinent' including the Maldives.
Chase Sapphire Prefered and other transferable Ultimate Rewards points transfer to Korean Air and Korean offers Paris – Abu Dhabi for 120,000 miles roundtrip in first class.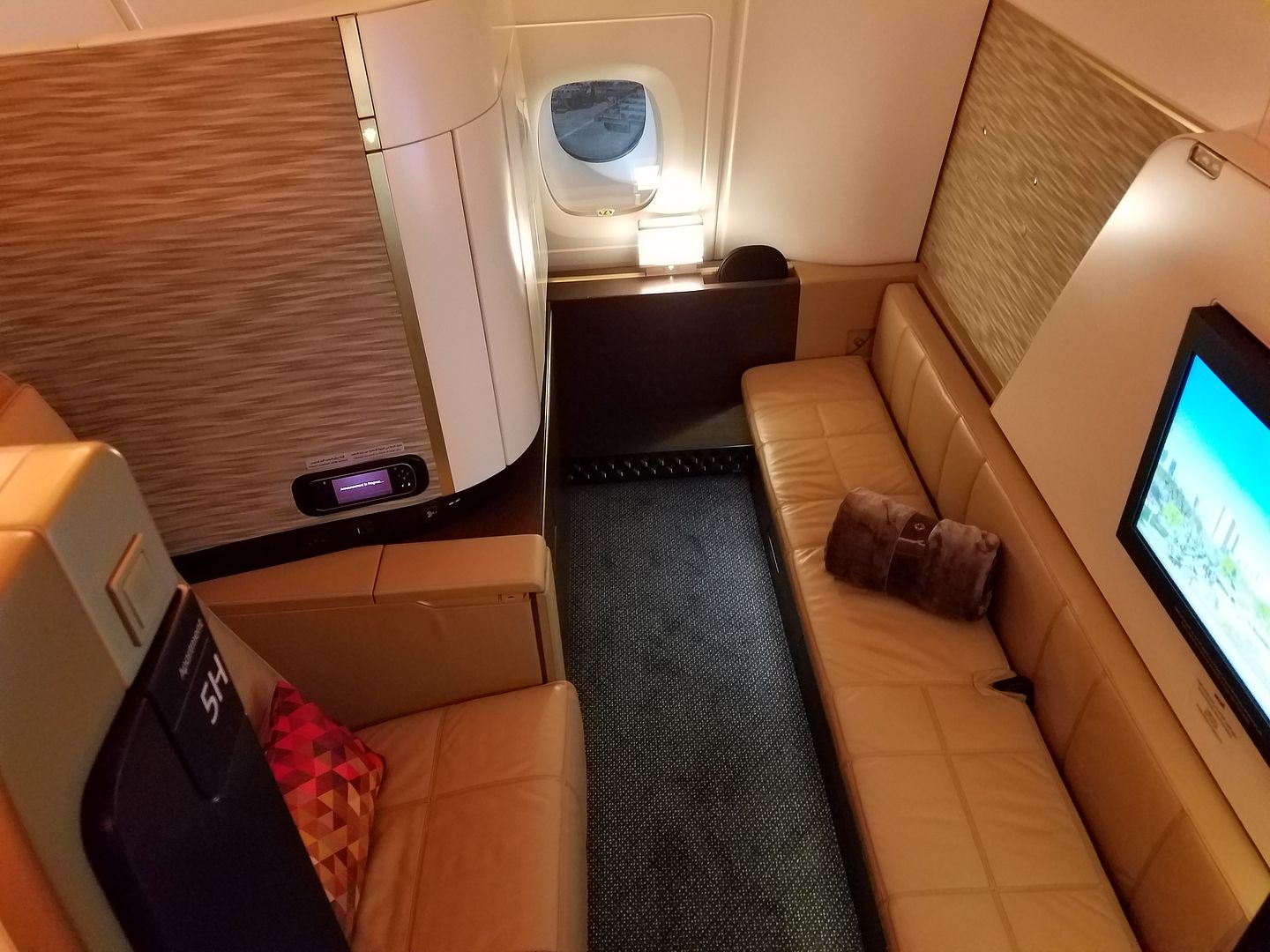 By the way availability for two passengers Abu Dhabi – Sydney is amazing as well so this is a phenomenal way to get from Europe to Australia. Mideast-Australia is 100,000 miles in First.
Etihad's first apartment isn't perfect. Some people find the bed too hard. I don't. They don't have the highest-end liquor or wine selections. Their shower experience doesn't come close to Emirates.
However you have more room to get comfortable than almost anyone else offers, to spread out, to really create your own personal sense of space. They're suites with doors, but the doors don't make you claustrophobic. You aren't sitting right beside the doors. It's what I value — over choice of liquor — and it's why I consider them to offer one of the very best first class products in the sky. And it's been my favorite way to use miles.
When American AAdvantage can't book Etihad's available award seats here are the tricks to get the awards. Of course American Express, Citibank, and Barclays transferable points move to Etihad Guest itself.
---
CitiBusiness® / AAdvantage® Platinum Select® Mastercard®
Earn 65,000 AAdvantage miles.