I receive compensation for content and many links on this blog. Citibank is an advertising partner of this site, as is American Express, Chase, Barclays and Capital One. Any opinions expressed in this post are my own, and have not been reviewed, approved, or endorsed by my advertising partners. I do not write about all credit cards that are available -- instead focusing on miles, points, and cash back (and currencies that can be converted into the same). Terms apply to the offers and benefits listed on this page.
---
Etihad offers two flights a day between New York JFK and Abu Dhabi. Starting June 1 both flights will be operated by their Airbus A380 aircraft, which features what I've argued that the very best first class in the world, the Etihad First Apartment.
It's not perfect, liquor isn't super premium and some people find the best hard (I find it very comfortable). But it gives you more space than any other first class (separate seat from bed, and when your bed is made the space is still large enough to walk around inside your suite). It has a shower onboard. And the menu is perhaps more customizable than on any other airline in the world.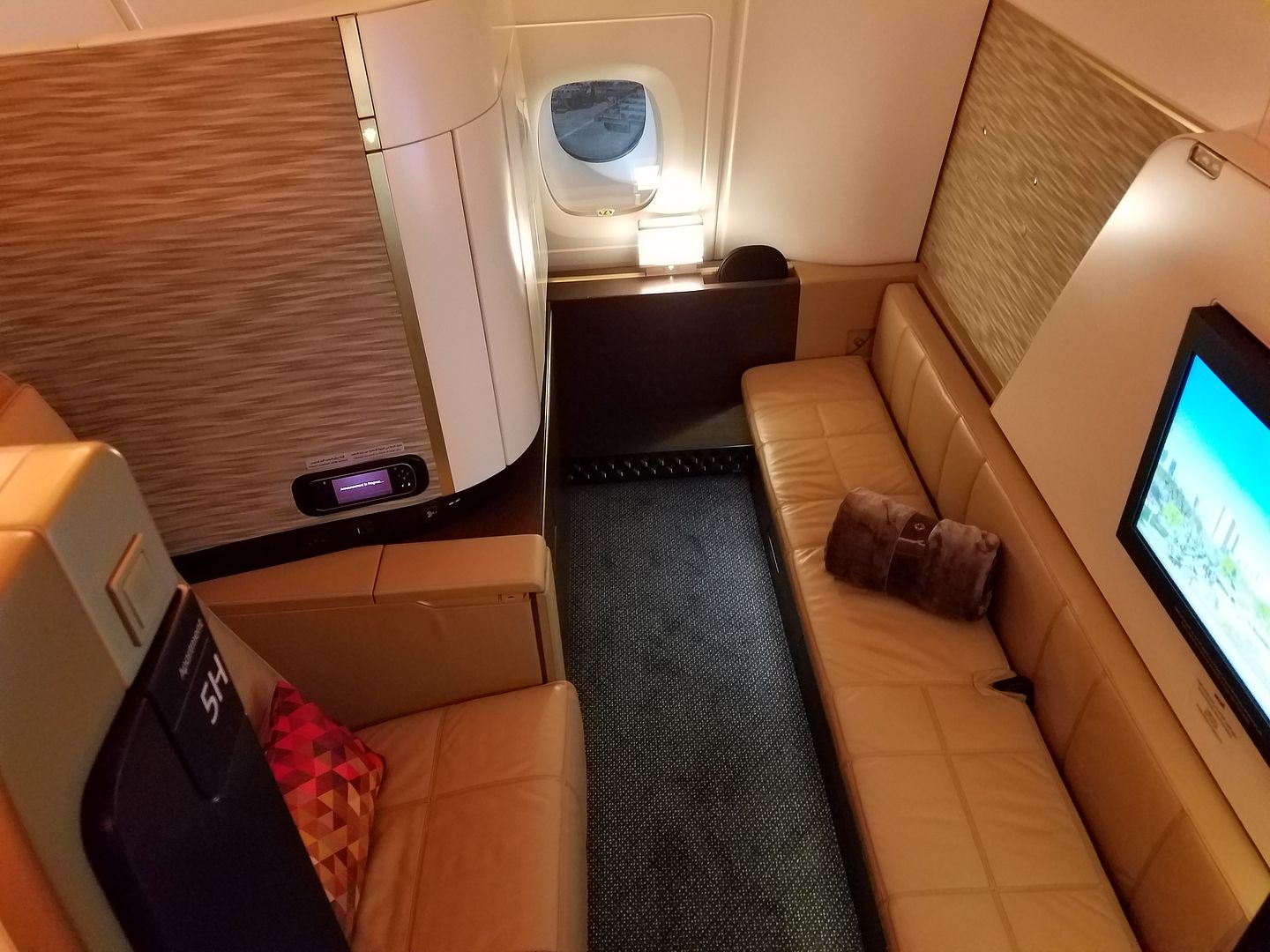 And right now there is really really good award availability for at least 2 passengers flying Abu Dhabi to New York JFK. This is very useful if you want to fly from India, the Maldives, or anywhere in the Mideast back to the U.S.
There are occasional dates with availability in May and August

From late September through the end of the year (excluding dates around thanksgiving) most dates are available for at least one of Etihad's 2 flights

From mid-January through mid-March most dates are available for at least one of Etihad's 2 flights
There's not a single day this flight is available in the other direction, New York JFK to Abu Dhabi. (And bear in mind that flights from Abu Dhabi to the US are subject to the inane electronics ban.)
Etihad award space from the US to Abu Dhabi has been far tougher to get than from Abu Dhabi to the U.S. for some time although I've successfully booked Dallas, Washington Dulles, and San Francisco flights departing the U.S. (excellent first class but not the first apartment).
For instance, here's Dallas – Abu Dhabi available in first class for 2 passengers every day during the week searched in October:
So book another award for the outbound, and grab Abu Dhabi – JFK for the return. I often pick up several of these flights at a time, you never know when you'll need an amazing first class secured for a 14 hour journey.
Finding and Booking Etihad First Apartment Award Space
Etihad award space can be found on Etihad's website. You don't even need to log in to search.
It's now also available for searching using Expert Flyer which means it's even possible to set up email alerts for when the award space opens up on a given flight.
Etihad flies the First Apartment between Abu Dhabi and New York JFK, Sydney, Paris, and London.
Until recently I would be able to search Etihad's website for roundtrip awards originating in Abu Dhabi, that would show space for New York to Abu Dhabi that wasn't appearing when searching New York – Abu Dhabi one-way, I would call American and successfully ticket that 'hidden' space. However in recent attempts American has not seen this space.
Miles You Can Use for Booking Etihad Awards
Citi and American Express points transfer directly to Etihad.
If booking using American AAdvantage miles ring American in Australia for their agents to see the space.
Etihad awards are ANA miles (American Express transfer partner), and Korean Air miles (Korean is a Chase transfer partner, use your points from the Chase Sapphire Preferred Card and its 50,000 point bonus after $4000 spend within 3 months of account opening plus 5000 bonus points for adding an authorized cardmember to the account and making a purchase within that time period.
---
CitiBusiness® / AAdvantage® Platinum Select® Mastercard®
Earn 65,000 AAdvantage miles.