I spent part of my honeymoon on Bora Bora and loved it. I stayed at Bora Bora Nui, which was then a Starwood property, in an overwater bungalow facing Mt. Otemanu for 5 nights at a cost of 186,000 Starpoints. That was before SPG had 'category 7'. The hotel became a fantastic value for a standard villa when it transitioned to Hilton, just 50,000 points per night (and eligible for elite multi-night discounts). Now the property can be about 90% more points. Not a bad value, by any means. But also still just for a basic room .. .not an overwater bungalow.
The Intercontinental Thalasso Bora Bora used to put guests staying on points in a 'Garden Villa'. You could pay cash to upgrade, starting at ~ $200 per night for the lowest overwater bungalow.
For many, the whole point of going to Bora Bora is to stay over the water. Staying on the beach, or with no view at all but in a beautiful setting, works for some but defeats the purpose for others. It's all about what you value most in a trip that – even using points for air and hotel – won't be cheap.
Going to Bora Bora means expensive food and activities, almost no matter how you cut it. And you can't redeem airline miles for the flights between Papeete, Tahiti (where international flights land) and Bora Bora where domestic airline Air Tahiti – not to be confused with international airline Air Tahiti Nui – operates. You can use bank points that merely pay for airfare, of course. That airfare runs $375 or more roundtrip.
Now it seems that the Intercontinental will let you book an overwater bungalow, even on a points, stay – and for the base level number of points!
They don't seem to be showing the Garden Villa on the website when you make bookings. And they now categorize their emerald overwater villa (resort view) as a standard room.
That means you can redeem 50,000 IHG Rewards points for an overwater villa there, no buy up required any longer… making it the cheapest overwater villa redemption anywhere that I know of. (HT: Rom's Deals)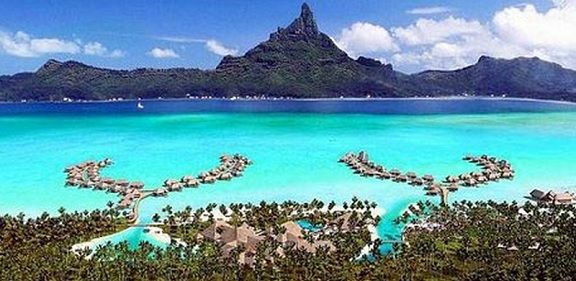 The water villas at this hotel are all essentially the same, the difference is view. The 'Emerald' villa you can book on points doesn't offer unobstructed ocean views, or views across the water to Mt. Otemanu. If that's important, the hotel still lets you spend cash to buy up.
Million Mile Secrets took video of this room when he stayed there a year ago.
The room runs $950 and up per night.
Just a few years ago the most expensive redemption was 30,000 points per night (40,000 for all-inclusives). Two years ago they made the top redemption 50,000 points. But at that price you're still getting about 2 cents per point (and since you save tax on the room, it's even more, and during high season closer to 3 cents). That's great considering I usually value these points at two-thirds of a cent apiece, and you can buy these points all day long for 7/10ths of a penny apiece.
How to Get There
There are three airlines that fly from the US to Tahiti. That's as far as you'll get on airline miles. I consider French Polynesia to be one of the toughest awards in the world to get, there's not a lot of creative magic that you can work. (With Australia awards, which can be as tough during high season, it can at least make sense to fly via Asia.)
Air Tahiti Nui offers daily service from Los Angeles to Papeete, Tahiti. You can search for award space using flightstats.com. You're looking for "I" class for business awards and "W" inventory for coach. Both American Airlines and Delta partner with Air Tahiti Nui so you can use miles from either for your award if you find the space – but Delta adds fuel surcharges to bookings on Air Tahiti Nui, meaning that spending 100,000 miles for coach probably makes little sense with the Skymiles program.
Air France offers flights three times a week from Los Angeles to Tahiti. That's French Polynesia, after all. (Both Air Tahiti Nui and Air France connect Tahiti and Paris one-stop via Los Angeles.) Outside of French vacation time in the summer months coach seats are pretty darned available.
Two business class seats are harder to come by. Delta's availability for this flight generally matches what Air France offers its own members, in my experience, so it's fairly straightforward to do a month-long calendar search on the AirFrance.us website. When you pick specific travel dates, those should come up at Delta.com.
It's precisely because Delta partners with both Air France and Air Tahiti Nui, the two airlines offering non-stop service from the US mainland to Tahiti, that I say Delta is generally the best program for Tahiti redemptions.
Finally, Hawaiian flies once a week on Saturdays between Honolulu and Tahiti. The easiest way to find award space is searching with the American Airlines AA.com award calendar. Availability is scattered but much better in the fall than the summer.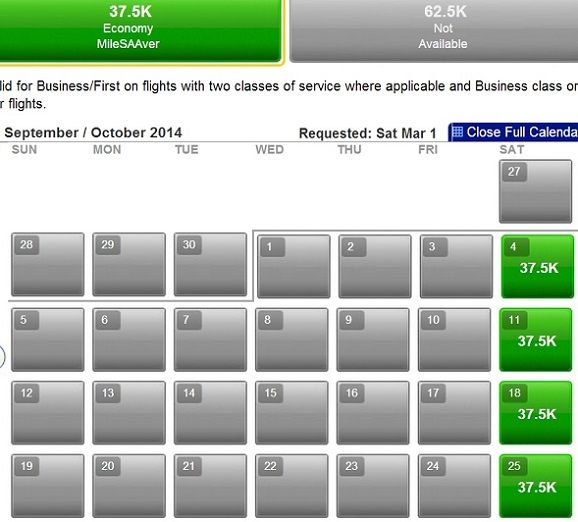 I'm often asked about using miles in a Star Alliance frequent flyer program like United MileagePlus to get to Tahiti. The only way to do it is to fly to Auckland, New Zealand first and then take Air New Zealand's Auckland – Papeete flight which runs twice-weekly with a 767. I usually say that for most folks this option does not make sense and won't line up well, and that it's wise to consider a paid ticket.
How to Get Free Rooms at the Intercontinental Thalasso
There are more Emerald Overwater Bungalows than Garden rooms at the property, and award availability seems to have improved. Nonetheless before transferring points or buying points I would make sure the room I wanted had space available for my desired dates.
You can buy points all day long for 7/10ths of a penny apiece making a $1000 room $350 per night. Still not cheap, but a fantastic discount.

The IHG Rewards Visa comes with an annual free night. That night can be used at this property – a great redemption for the card's $49 annual fee. I'm not generally a fan of the card, and would not recommend any everyday spending going on it since it earns just 1 point per dollar in an inflated currency for most spend. But there's little question that you can do well with the free night for the cost of keeping the card. Rom's Deals pointed out that there is an offer for 80,000 points at signup as well – again, not an offer that usually gets me excited but fantastic as a start towards a redemption for an overwater bungalow.

Chase Ultimate Rewards points transfer to IHG Rewards, but since it's just 1:1 and you can buy points at 7/10ths of a cent that's all transferring points saves you — so not how I would use my Ultimate Rewards points.
I loved Bora Bora but those seeking action will find it sleepy at best, it can be pejoratively termed "boring boring" which is also something I love, a real opportunity to unplug. Service tends not to be top notch most places. But it's one of the most beautiful places in the world, and I love that you can leverage points to stay there at a somewhat modest cost.
Update: Lucky highlights this redemption as well.
---