Back in January I blegged for help to select a new laptop bag. My ancient one was finally coming apart at the seams, and I was sad to see it go. It had been the ideal bag for me, and I have very particular preferences.
I got good feedback on the post. I also got a note from the Tom Bihn luggage folks, asking me whether I'd like to give some of their stuff a spin. They first suggested their carryons, but since I had a specific need for a laptop bag they sent me a couple at no charge: the Checkpoint Flyer and the Empire Builder. (I kept the Checkpoint Flyer, and made a charitable donation equal to its purchase price.)
I haven't given the Empire Builder a spin yet, on first inspection it's probably too big for me. I carry a small laptop for a reason. But the Checkpoint Flyer has been just perfect. And I do mean perfect.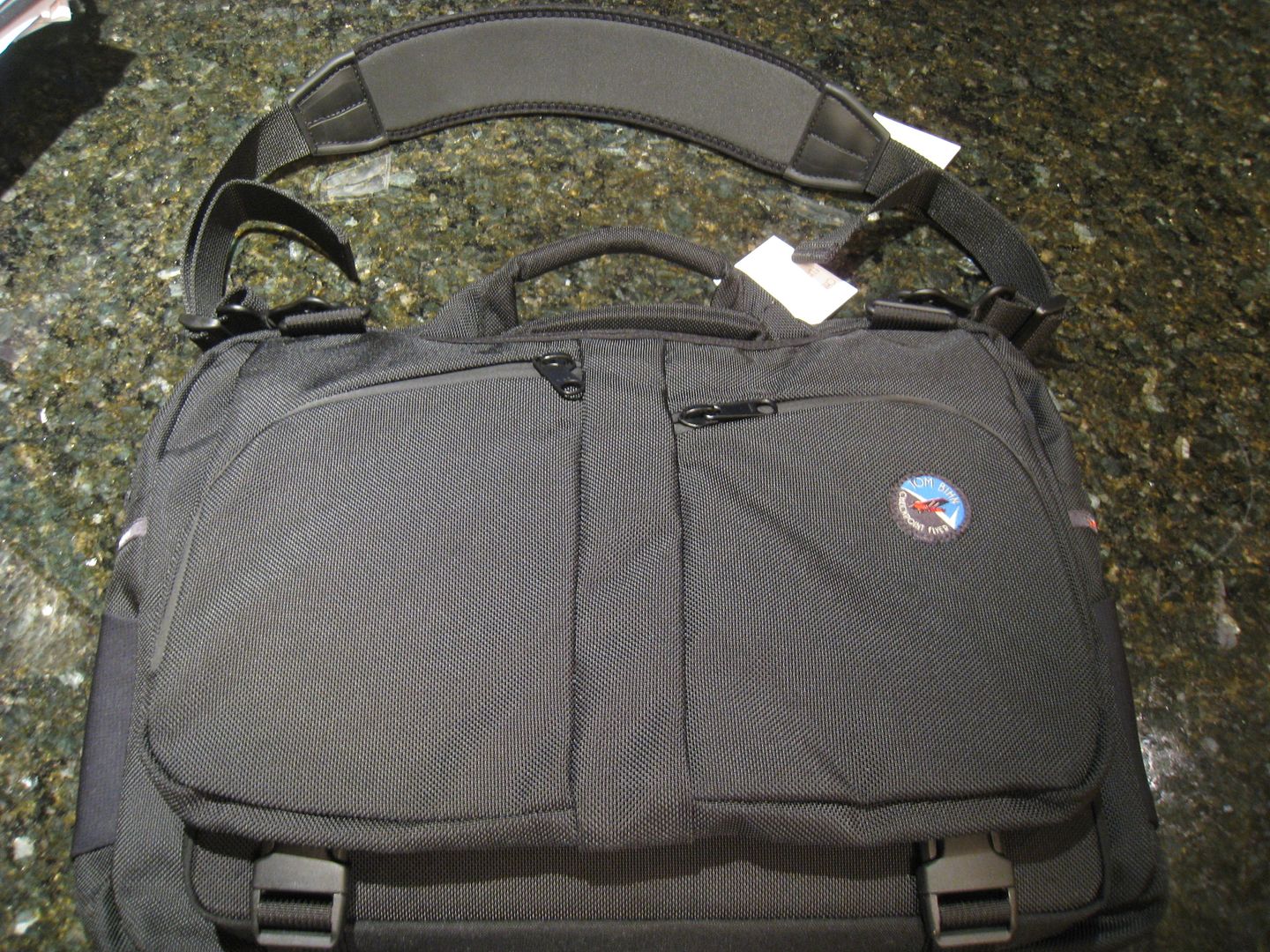 It's much better than I'd have expected. I didn't think the TSA-approved designs would work for me, most of the ones I've seen look and feel cheap and my sense was that they don't provide sufficient protection for a laptop. Or they don't let me haul all the crap I take along with me in my bag. But this one satisfies on both counts.
With this bag, instead of removing the laptop at the Kingdom of the Smurfs and putting it into a bin, the bag unclips and lays flat and goes through the x-ray machine without being taken out. This is considered ok because the laptop portion of the bag is free of obstructions.
I much like this, both because it cuts down on a few seconds going through the checkpoint (I needed those seconds last weekend on the way back from Miami, massively delayed on the way to the airport by a big accident on I-95) and because it protects my laptop.
Last April I was traveling non-stop for a couple of weeks, laptop in and out of bins, and I must have banged it around a little too much because the battery fell off. A clip broke. The computer was more or less toast as a laptop, it was more than 3 years old so as far as work was concerned time for a replacement. This bag, on the other hand, does a great job protecting the laptop. Obviously not having to take it out going through the checkpoint is a huge plus. In addition, it's in a different container from the rest of my stuff, so it doesn't get crushed by everything I shove into the bag.
I've read the enthusiastic comments at Flyertalk about Tom Bihn bags. They generate fierce loyalty. To me I always saw the bright colored bags and thought they were a bit campy, too touristy, I prefer a low profile when traveling and I also want to be able to bring my laptop bag at least into meetings without seeming like a teenager trekking through Europe. I didn't realize that the bags came in black and in grey. Those colors aren't as good at the baggage carousel, but they're a must for me in a laptop bag (and I don't like bright colors at the carousel, except perhaps my luggage tags which rather stand out).
The bag's storage is great without really being bigger than my previous bag that could never have on its own worked as an overnight bag (IMHO this one would if I wasn't carrying a bunch of other stuff, and if it were a casual weekend overnight).
I fill the front two pockets with phones, a pocket camera, my keys, cables, noise cancelling headset. Laptop in the middle. Tom Bihn Freudian Slip in the back filled with papers, magazines, pens. I also carry my travel wallet with membership cards, coupons, discount certificates. In the middle of the rear a small packing pouch with wireless pocket router, travel power strip, and Kensington Empower Adaptor. Pretty insane, sure. But I have everything I need at my fingertips and my laptop bag has to support that.
Since the center of the bag isn't where the because the laptop goes, I have plenty of space. And since the laptop compartment is solid, with the two portions of the bag bulging around it, there's no risk to the computer when the bag is overstuffed.
The bag is high quality and price reflects that. The Tom Bihn folks advertise that their bags are made in the USA, as though that's a strong positive. The materials are very good, but my particular partisan predilections are such that I actually value a bag made in a less developed country where the workers can use the jobs, the income, the economic growth much more than in the US. But wherever the bag is made, it's great construction. I've been in the rain with it and the snow with it and no moisture seeps in. I've stuffed it with regulatory filings for a dozen states. Once that zipper closes it stays closed, and the seams seem more than solid.
The bag has a briefcase-like handle, and needs a shoulder strap — which is extra. The $220 bag really becomes $250, then, without packing cubes or other accessories like the Freudian slip. The laptop portion of the bag is quite customizable, they have a different size to fit most laptops so you don't have one larger than what you need.
One complaint I've seen about the design is that unclipping the bag to get the laptop out is annoying in everyday use, that it's a great bag at the checkpoint but not for every day. I disagree. I don't like unclipping the bag to take out the laptop, so I don't. I just unzip the side of the laptop compartment and slip the laptop in and out.
Ultimately I'm very satisfied with the bag both for carrying my laptop and as my everyday briefcase. It's not too large and it has plenty of room for everything I carry. I think investing in a high quality bag makes sense. I carry my laptop to and from work. I carry it on countless flights. It's expensive but I use it every day so it seems worth the price. If you see your bag as a tool on the road, well then not much has impressed me as much as this bag.