One of the things I try to do on this blog and in presentations is explain how to make the most of points, not just earn them. That's why I walk through the best tools to find available award seats, and point y'all to the routes with the best premium cabin award availability for a whole family.
At Frequent Traveler University this past weekend in Tampa, Lucky from the One Mile at a Time blog and I team-taught a session on the basics of award booking and then we put on another session together that we called Theory to Practice: How to Find Award Space and Construct Your Booking.
What we decided to do was to challenge each other to book a complicated award over the phone with an agent, live in front of a ballroom full of frequent flyers.
And it wouldn't be a simple award, either. Business class to Europe with United miles is something you can go to United.com, plug in cities, and then much of the time just complete a points reservation online. Where's the fun and education in that?
In this post I will describe my phone call to Delta and the lessons learned.
And in a subsequent post I will describe Lucky's call to US Airways and the key takeaways you can use in your own award bookings.
The Challenges of Booking With Delta
Lucky decided I was going to have to book a business class award to India using Delta miles.
I often describe the challenges of Delta:

Their website doesn't have many of their mileage redemption partners, so you have to call

Delta agents do not know who their partners are

Though Skyteam is getting better at this, various partners use different "booking classes" so agents don't even know the right inventory to look for

Delta's pricing engine is broken, they often quote higher mileage prices than make any logical sense

Delta no longer offers to 'hold' an award prior to ticketing.
The goal of this session was to illustrate many of the challenges of booking an award with Delta, and how to overcome those challenges. I was assigned New York to Delhi and return, with the outbound on Saudia and the return on Aeroflot.
In theory this should be a simple booking. It's a one-stop itinerary for two passengers using Skyteam members, not less closely aligned partners.. But it wasn't simple.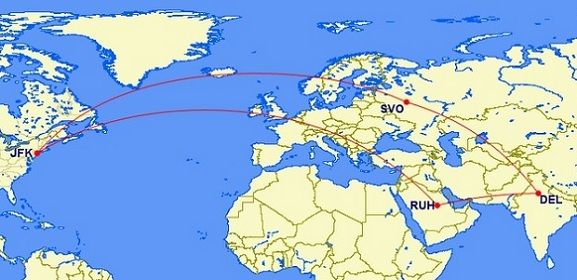 One participant tweeted a photo of Lucky pouring some (of HackMyTrip's) bourbon to prepare for an award booking call with Delta.
My Phone Call to Book Delta Skymiles Business Class Award Tickets to India
As I dialed Delta (using the general reservations line no less, the idea is to simulate what most people would experience making a booking) I gulped hard. After all, it's crazy to do something like this live. You never know the agent you're going to get. Who knows what curveballs will be thrown at you? You're in front of a few hundred people, all of whom have been asked not to chuckle or comment (that would make the call rather awkward). I muted the phone often, and took audience questions while on hold.
I was looking for: New York JFK – Riyadh (overnight) – Delhi, and then Delhi – Moscow – New York JFK.
I first asked the agent if she could check whether New York JFK to Riyadh was available in business class. She put me on hold, came back and informed me that Saudia was not a partner of Delta. She then speculated that perhaps my confusion was that they could in fact offer me seats on Middle East Airlines (another Skyteam carrier).
No, I assured her, I was looking at the Skyteam website (a bit of a fib) and it listed Saudia on it so could she check again?
Sometimes you want to just hang up and call back if an agent doesn't know their alliance partners. But this was a call to illustrate all of the pitfalls of award booking. I regularly say Delta agents don't know their partners, I suspect some readers think I exaggerate but here the very first agent I called was example one in this. Perfect!
After a long hold during which I took questions, the agent came back and explained that "Saudi Arabian Airlines was a partner" (that's Saudia's former name). She confirmed that seats were available in business class for the flight and asked for me return.
I then explained I actually wanted to see if the connecting flight the next morning was available to Delhi. It was.
For the return I asked for Delhi – Moscow and the agent stopped me. Sir, since you're crossing two oceans I'm going to have to transfer you to the round the world desk who can assist you further.
Umm… perhaps it would be a round the world crossing if my return transited the Pacific ocean. Delhi-Moscow does not. But instead of just correcting the agent's geography, I asked:
Ma'am, I appreciate your help, you're doing a great job for me and before you transfer me I'm wondering if you'd just check availability for the flight? That would make a big difference for me.
She did, she confirmed availability, and I explained that since we'd be flying back Moscow – JFK that would be another Atlantic crossing, so could she check back?
She insisted the flight wasn't available a couple of times, but after giving her flight number and flight time she finally came back with it. Then we went on hold for awhile to price it.
Eventually she came back with the correct 120,000 mileage price per passenger. The ticket included fuel surcharges for the return (Delta adds that for Aeroflot). All as expected, but there were bumps in the road:

I was told Saudia wasn't a Delta partner

I was told I couldn't fly Aeroflot back because that would make it a round the world ticket

I was told seats weren't available for the final Moscow – JFK segment
It's important to do your homework upfront — to know what airlines you can fly, and what routings, and to find seats that you're confident are available. Then — always maintaining good humor and a friendly rapport — to guide the agent along in what you want, to keep them on your side, and to ask again perhaps a different way when they give you an answer that isn't correct.
With Delta I'd be equally likely to get an agent that was less helpful than this one if I simply hung up and called back, so I kept going, and put together the award Lucky challenged me to.
Up next, Lucky's phone call to US Airways to book an award…
---
You can join the 30,000+ people who see these deals and analysis every day — sign up to receive posts by email (just one e-mail per day) or subscribe to the RSS feed. It's free. Don't miss out!