Six weeks ago I wrote about South American airline TAM's fantastic first class award availability.
TAM has pretty much never released first class award space, occasionally I saw seats when they first joined Star Alliance but more or less not at all since then.
So it was a surprise that so I was shocked when the floodgates had opened. First class seats are now (either by change in policy or mistake) available in droves. On some flights it's the entire cabin that's open.
TAM flies from New York JFK, Miami, Orlando and Mexico City to São Paulo.
They also fly from New York JFK and Miami to Rio de Janeiro, and Miami to Manaus, but that's with a 767 which doesn't offer first class.
Business class availability is also very good at present.
TAM's 777s offer a new first class product with just one row of 4 seats.
Some flights are on A330s with an older first class product.
Here's a current snapshot of New York JFK – Sao Paulo first class availability for two passengers, September 1-29. On several days where "JFK-GRU" shows up, it's actually both flights that are available.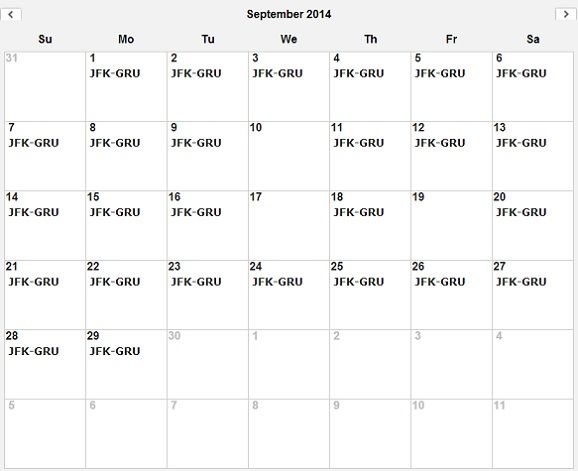 That's 26 out of 29 days where at least 2 first class seats are available.
Personally I do not expect this award availability to last.
This is purely speculation, but my hunch is that the massive release of award seats is related to TAM's impending exit from Star Alliance, entry into oneworld, and realignment of booking classes.
Of course, if that were true we probably wouldn't have seen the phenomenon start so early or last so long.
But a shift from releasing zero first class awards to releasing most first class seats as awards doesn't seem plausible, and thus won't likely last in any case.
My Own Experience Booking TAM First Class
My usual approach to South America is to book American Airlines flights and upgrade. As an Executive Platinum I can confirm upgrades at booking (if available) up to 8 times a year, from any fare.
But this really does look like the best inflight product between North and South America. (Korean's first class route from Los Angeles to Sao Paulo could be the 'exception' and American's 777-300ER flights are pretty good.)
And I'd like to try it, or at least have the option of trying it. And since my gut tells me the opportunity won't last I decided to make a pretty speculative booking. I may make more speculative bookings.
I redeeemed 125,000 US Airways miles for a simple New York JFK – Sao Paulo roundtrip many months into the future.
In fact far enough into the future that I'm guessing my American Airlines Executive Platinum status will get me free changes and redeposits. At that time I'll decide if I want to go beyond Sao Paulo, and where in the U.S. I'll be starting the trip from.
Total cost for the award was ~ $55 in taxes and a $50 Dividend Miles processing fee (per person).
Of course, since it's US Airways the telephone call took about 45 minutes, even though I knew the exact flights I wanted to book.
The agent asked if I knew the airport code "for San Paulo"? (I told her GRU..)

The original outbound date I selected, the agent saw only 1 first class seat available even though ANA and Aeroplan websites were showing 2. Since I didn't have a strong preference in dates I shifted slightly. Availability for the other flights I checked matched up perfectly.

It took a couple of phone calls with hold time for the rate desk to price the taxes, and a manager to take a credit card on the award. (US Airways offers 3 days holds of course as well.)
Whose Miles Can You Use?
To redeem for flights between North America and São Paulo and beyond,
You can use 67,500 Aeroplan miles each way (and no fuel surcharges). Aeroplan is an American Express Membership Rewards transfer partner, and points transfer instantly.
You can use 70,000 United miles each way (and no fuel surcharges). United is a Chase Ultimate Rewards transfer partner, and points transfer instantly. The price of South America first class awards went up only 2500 miles each way with the MileagePlus devaluation.
You can use 125,000 US Airways miles roundtrip (and no fuel surcharges). You can make bookings with US Airways miles for Star Alliance travel on TAM through March 30th, with travel to occur any time through the end of schedule. US Airways lets you put awards on hold for 3 days, and you can buy any needed miles to top off an account once the award is already held.
You can use 62,500 American miles each way (and no fuel surcharges). TAM is moving over to oneworld and is an American Airlines partner already. American allows 5 day award holds.
Of course, American Express Membership Rewards transfer instantly to Aeroplan. Chase Ultimate Rewards transfer instantly to United MileagePlus. And US Airways will bargain on the price of miles like the guy selling watches in Times Square (or Tijuana).
I chose US Airways miles because some folks have had great success booking the seats with American but some readers have had problems with agents seeing the first class availability. I figured it would just be an easier call. Hah.
I considered using United miles, I still have plenty and first class to South America is one of the better bargains when flying on a partner airline. However since TAM will be leaving Star Alliance, and I wanted to have flexibility to change dates and add on flights later (subject to availability) I wanted to book through an airline that will be a oneworld member rather than a member of Star. United won't have access to different TAM flights later.
I'd jump on the opportunity to book TAM first class to South America now, even speculatively, because while I hope this level of inventory lasts I do not expect that it will.
---